Tune Up Your Talent Practices Leveraging Exit Interviews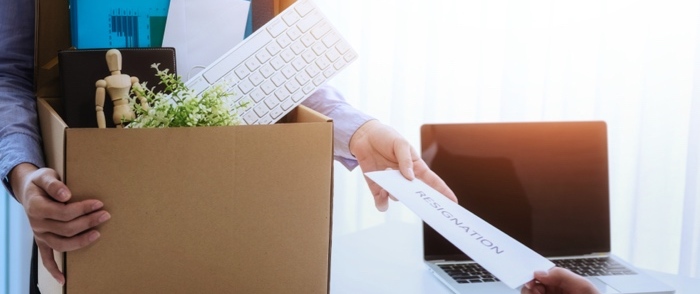 The exit interview can provide detailed information to help direct your business strategy.
If you're not measuring voluntary turnover through an exit interview process, you may want to consider changing that.
In 2018 the national fill rate in the U.S. reached an all-time low of 81 percent, indicating that for every 100 job openings there were only 81 employees hired. This significant and rapidly growing gap between workers needed and workers hired increased 12 percent between 2017 and 2018, reports the Bureau of Labor, and is a cause of significant concern for organizations of all sizes and industries.

With a shortage of talent plaguing organizations across the United States and unemployment near its lowest since the Vietnam War, there has never been a more important time to improve your organization's employee retention strategy.
The exit interview can be an effective tool for gaining high-level insights with real data to direct your business strategy. If conducted correctly, exit interviews can help identify voluntary turnover trends from terminated employees based on push and pull factors — both of which are critical to getting a full picture of your retention situation.
Push factors are likely what made the employee look elsewhere in the first place. These might include poor management or a hostile work environment. Pull factors are external market considerations such as a competitor who entices an employee to leave, possibly through the promise of higher pay or a promotion.
Exit interviews can also present opportunities to assess employee sentiments around voluntary turnover with hard data. Recognizing and monitoring this data is crucial to properly evaluating the effectiveness of an implemented retention strategy.
Perhaps most importantly, feedback from exit interviews tends to reflect real conditions and attitudes in the office. A study by Brooks Holtom, a professor at Georgetown University's McDonough School of Business, found that 3 to 6 months after the initial exit interview, former employees cited the same top three reasons for leaving 90 percent of the time.
Below are best practices to help ensure your exit interview program is effective and beneficial:
Have a formal policy regarding exit interviews. Let employees know as early as the onboarding process that their feedback will be carefully considered should they ever decide to leave the organization. This will enable them to anticipate this kind of outreach if and when that time comes and will also signal early on that their new employer values their opinions.
The exit interview program must be consistent across all locations. Staff conducting surveys must be trained on all relevant processes to ensure proper administration. They should also know how to track and categorize answers correctly to ensure consistency in data documentation. An online survey to be completed by the interviewer can help keep answers tracked consistently with clear categories.
Survey only voluntary terminations. Feedback from voluntary terminations can grant you insights from employees who are in good standing with the organization and have chosen to leave. These are the employees that a good retention strategy will ultimately aim to keep around.
Create closed- and open-ended survey structures. The ideal survey will have a combination of the two. The closed-ended sections will offer tempo data points on overall employee experience, which are crucial for evaluating the effectiveness of your strategy over time. The open-ended questions give employees the ability to share varied feedback, such as the reasons behind a departure. Also, keep the interview brief! Survey fatigue is very real, and the attention of an employee being interviewed may drop off drastically after just five minutes.
Third-party survey administration may be ideal. There are many compelling reasons why organizations should look to outsource their exit interviews. First, anonymity in the exit interview process allows the terminated employee to feel uninhibited in sharing genuine feedback. Top employees do not want to risk hurting their professional relationships or losing a good reference when they leave an employer. Second, a third party offers consistency across offices in varied geographies, which, as mentioned previously, is a critical component of an effective exit interview program. Finally, a third party tends to be cost-efficient and can ebb and flow with the demands of your business. This can dramatically reduce the time spent conducting interviews and training survey administrators internally.
Remember an exit interview's true purpose: It is best used as a tool for identifying high-level trends within an organization. You should also bear in mind that these surveys require a large enough sample size to generate actionable insights for your employee retention strategy. If you are looking for more detailed or narrow feedback, a Stay Survey or Engagement Survey may be a better tool.