Hiring Employees with Disabilities Benefits Culture and the Bottom Line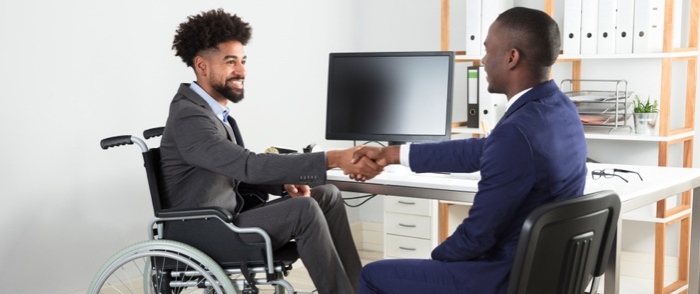 Demonstrating that you respect and value employees with disabilities gives them an opportunity to shine, improves job retention and boosts morale and production.
From a basic financial perspective, hiring people with disabilities can pay dividends just for the tax incentives.
But being an inclusive employer creates the kinds of advantages that go beyond a financial ledger. Demonstrating that you respect and value employees with disabilities gives them an opportunity to shine, improves job retention, and boosts morale and production. That's a lot to gain simply by being fair and accommodating.
"There is a focus on diversity and inclusion in the workplace, and there's a reason for it," says Joe Nuzzo, Vice President - Counsel for ADP Worldwide Sales and Marketing. "Companies that foster a strong culture of inclusion outperform those that don't."
Boost Morale and the Bottom Line
With the U.S. unemployment rate dropping to 3.75 percent in September 2018 — the lowest rate since 1969, notes The Wall Street Journal — employers are scrambling to find qualified workers. Employee retention is critical for businesses that want to thrive in this booming economic period. By hiring people with disabilities, organizations demonstrate their commitment to employing workers with the right qualifications and skills, even if they have to make accommodations for their workers to be as productive as possible.
CVS, for example, recently increased its hiring of people with disabilities, adding to the hundreds of such workers the firm already hires annually. CVS says the retention rate of employees with disabilities is double that of the overall workforce, according to reporting from USA Today.
"If you have an inclusive workforce and communicate your efforts in that regard, whether it's hiring those with disabilities or those from an underrepresented group, you will have a positive, engaged workforce," Nuzzo says. "You will have a workforce that knows you care, so you end up having better retention, better morale and a strong culture, which all helps the bottom line."
Tax incentives also help the bottom line. The Work Opportunity Tax Credit program offers tax credits with caps ranging from $1,200 to $9,600, depending on the employee hired and the length of employment. The credit is available to employers for hiring individuals from certain target groups who have consistently faced significant barriers to employment.
The Disabled Access Credit program offers a credit to small businesses that earned $1 million or less and incurred expenses to accommodate employees with disabilities. The Architectural Barrier Removal Tax Deduction lets businesses of any size claim up to $15,000 a year for the qualified expenses of removing architectural and transportation barriers to assist disabled employees.
The IRS provides complete details on these tax incentives.
Resources Can Help Attract and Retain Workers
The federal government also helps organizations recruit workers with disabilities and offers guidelines on how best to support them.
The Employer Assistance and Resource Network on Disability Inclusion (EARN) offers a wide array of services and resources, including a slew of job posting websites and a series of strategies on how to retain employees with disabilities and help them advance. The Workforce Recruitment Program for College Students with Disabilities (WRP) is a free resource that connects private businesses and federal agencies with qualified job candidates.
The government-funded Job Accommodation Network (JAN) advises businesses on how they can create the necessary accommodations for workers with disabilities. JAN offers free advice over the phone and through online resources and publications. Organizations can also seek out local resources in the form of equipment and other accommodation tools.
"The accommodation process is incredibly important," Nuzzo notes. "Every company should have a robust process. Managers should know it and understand it." Accommodation won't always be perfect because it's difficult for new employees to understand and articulate which accommodations their employer is lacking. The unknown should prompt employers to initiate the conversation in this case.
"They should have a true dialogue and find that solution," Nuzzo recommends.
Proper Communication Breaks Barriers
Proper communication is vital to understanding what a person with disabilities needs in the workplace to perform their tasks with ease. Even the act of verbally identifying those with disabilities can be challenging; thankfully, the CDC details the acceptable terms that employers and employees should use. For example, avoid using "disabled" or "handicapped" and instead say the individual is a "person with a disability." A person whose condition is "healthy" or "normal" is simply a "person without a disability" in this context.
Many organizations are encouraging the formation of onsite resource groups that allow employees with diverse backgrounds to discuss ways of educating their colleagues on how they want to be treated.
"Those kinds of groups can be impactful for the entire community," says Nuzzo. "They're helping everyone understand where the boundaries are and the right way to do things. It's a fast-changing world, and sometimes people don't intend to say something hurtful, but they just don't know."
When firms account for the needs of every employee, their workers appreciate that they are treated with dignity and respect. Businesses that are inclusive and considerate in this way are likely to enjoy the benefits of a happier and more productive workforce.