Give Your Employer Brand a Boost: How to Work with Marketing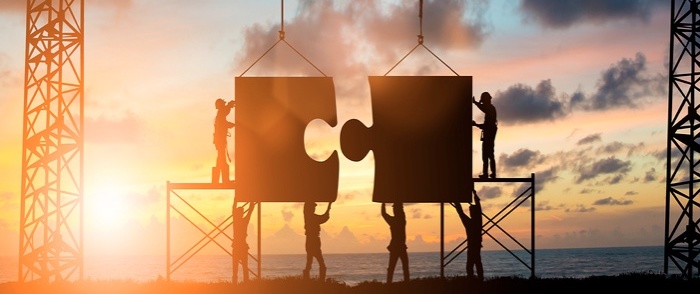 When HR understands how to work with marketing, it sets the stage for a powerful partnership and leads the way for collaboration to drive results in the organization.
Inspiring people with an employer brand is critically important in terms of business success and financial impact. Research reported by Harvard Business Review indicates that making up for a bad employer reputation can cost a company with 10,000 employees a significant amount of money—as much as $7.6 million in additional wages.
As HR professionals focus on building an employer brand that helps recruit and retain talent, it is essential that they understand how to work with marketing. A core function of both marketing and HR is how to motivate people. For marketing, it's the question of motivating the people who purchase a product or service. For HR, it's motivating the people who "produce" that product or service.
HR leaders who know how to work with marketing effectively can create an engaging employer brand, use the power behind a segmented search and embrace technology to reach current and future employees.
Creating an Engaging Employer Brand
A strong employer brand communicates to potential and current employees what your company stands for, as well as what they can expect from the organization as an employer. When it comes to creating an engaging employer brand, it's critical that HR stays aligned with the organization's marketing team.
"It's about building advocacy from the inside out and having your employees reflect your employer brand through their experiences," says Liz Gelb-O'Connor, VP, Global Employer Brand & Marketing at ADP. "What's on your career site and incorporated into your social and digital presence should inspire a connection to your brand and your employment promise."
You want to ensure the message you're sending not only reflects who you are as an employer, but also supports and represents the larger brand of the organization. When these concepts are in alignment, you'll be able to leverage that common focus to create a powerful experience for not only employees but customers as well.
Using the Power Behind Segmented Search
The marketing team dedicates time and effort to understanding the audience of people who purchase your product. They look at that audience not as a massive group, but as sets of people with different needs, goals, and interests.
HR professionals can leverage the power of this approach to enhance their segmented search efforts when it comes to acquiring talent. Work with the marketing team to understand how you can uncover the various elements of your talent audience:
What are their personal and professional goals?
What concerns and challenges do they face regarding employment?
How does their work-life stage affect their choices?
What are common themes in the audience regarding location, education, and occupation groups?
With this type of data, an organization can be more successful in targeting various talent personas. This type of information and the ability to segment your search is a powerful skill you can adopt from the marketing team. Research from an employer branding firm found that only 13% of firms surveyed said they use personas to inform their talent strategy, according to Harvard Business Review.
Embracing Digital Modes to Reach Current and Future Employees
In many ways, today's talent approach employment as they would a purchase. They are consumers accustomed to the convenience and personalization of online interactions with world-class brands. Just as today's customers expect an exceptional digital experience, potential and current employees expect an easy and engaging digital experience.
Marketing professionals are experts in how to communicate and engage with their customers across social platforms. An important way for HR to work with marketing is to understand how these experts in digital communication use technology to reach employees and candidates. With this insight, HR leaders can identify what digital strategies will resonate with their candidates and apply the same techniques to attract, retain and engage employees as marketing uses to engage with customers.
When the HR and marketing departments partner, both groups can augment their contributions to the effectiveness and alignment of the entire organization. Marketers can better understand the impact employee engagement has on the brand, and HR is able to understand the value of effectively communicating the organization's brand. Cross-functional collaboration is a critical component of a successful business structure. Once HR grasps how to work with marketing, it sets the stage for a powerful partnership and leads the way for collaboration to drive results in the organization.