Three Key HR Components for Successful Mergers and Acquisitions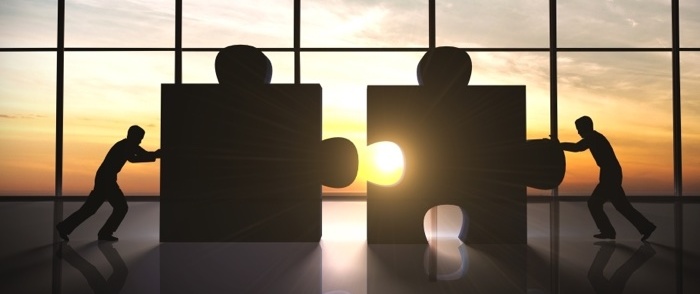 During mergers and acquisitions, a communication and activation roadmap is critical.
Winning a three-legged relay race requires teamwork. The running speed of each individual means nothing. To win, communication between each participant must be clear and timely so they can develop the best gait possible in the shortest amount of time possible.
During a successful merger or business acquisition, this analogy holds true. Effectively recognizing the synergies within a newly melded workforce means learning the nuances of the combined entity at a breakneck pace. Organizational leaders simply can't wait a year to find synergies and address conflicts in their newly combined team. Huron Consulting Group reports that, "the 33-year average tenure of companies on the S&P 500 in 1964 narrowed to 24 years by 2016 and is forecast to shrink to just 12 years by 2027." Clearly, leaders need to address efficiency right away to ensure success. An integrated, well-thought-out approach to a merger relies on three key components:
Establishing a strong people strategy
Overcoming cross-border compliance and visibility challenges
Embracing rapid and continuous transformation
The M&A Road Map Begins and Ends with Your People
Your people are what drives your transformation and, when you have attrition, it disrupts your outcome. Willis Towers Watson reports that Fortune 500 CFOs believe that mergers and acquisitions often fail due to a lack of buy-in from involved employees. Business leaders must work to ensure employees feel that they know the plan for mergers and acquisitions, as communication fosters a feeling of security. When handled poorly, turnover can skyrocket.
"Everything you do to build employee confidence is completely eroded the moment employees feel they're being undervalued and treated differently, and this puts both your pre-merger and newly acquired employees at a disadvantage, which could cause flight risks…That's why a communication and activation roadmap is critical," says Christopher Imm, ADP Global M&A Support Practice Leader.
"Coworker communication is at their fingertips, on their phones via social media, and no longer at the water cooler — which makes effective, timely and ongoing communications vital to informing and engaging your employees and maintaining their morale," says Imm.
This is where an external business process outsourcing (BPO) partner can be helpful, since the BPO model, by its nature, applies the same standard to all employees. BPO can deliver the much needed impartiality along with a framework of best practices.
A Smooth Business Acquisition is About Assessing and Activating Talent
Often times, a merger happens specifically because one organization wants access to the talent of the other. Activating your talent, both new and old, requires quickly assessing your workforce and identifying areas that need to change.
According to research from The Marcus Buckingham Company, an ADP Company, organizations must give their leaders the ability to focus on three core areas to activate talent and drive productivity. This is especially true during a merger. As Amy Leschke-Kahle, VP Performance Acceleration at ADP, explains, "The world's best leaders need to know three things and do one. They need to know the strengths of their people, the work they are focused on and their level of engagement. Then, they need to check in with their people to align what they are working on, how they are feeling and how they can help. This reduces confusion, increases collaboration and turns talent into performance by giving team leaders what they need to help individuals do more of their best work."
Cross-Border Mergers Supercharge the Challenges
Every HR concern inherent to mergers and acquisitions becomes more pronounced for global firms that operate in multiple legal jurisdictions. Global acquisitions can make it harder to identify commonalities between the existing organizations, since cultural and employment standards can be wildly different. If you don't have a specialist with expertise in all jurisdictions, it becomes necessary to maintain HR & Payroll specialists on both sides of the international merger, even after it's completed. BPO can help companies centralize global payroll and compliance functions and is often the ideal answer to addressing the need for global compliance with local governance.
Transform or Be Left Behind
The business world is changing faster than it ever has, making adaptability crucial. In the beginning, everything was done on paper. Then it was all just Excel spreadsheets. Now, everything from payroll to benefits to employee metrics require a complex technological solution to keep up – and while technology accelerates the speed at which synergies can be achieved, modern processes require dedicated solutions. That's why it's so important for companies considering an M&A to focus on all of HR's many roles, including communication, payroll and benefits and process management – so they can employ the right technologies to support their transition.
When you begin to combine teams, you are entering a very precarious three-legged race. Only those who can quickly recognize strengths and address inefficiencies in their structure without delay will be able to successfully integrate their workforces. If your organization can quickly activate and engage talent across the globe and implement HR technology solutions to sprint forward at the speed of modern business, you can be in a much better position for success.
Learn additional strategies during this ReImagine Series webinar on how to best put your capital to work with current market opportunities created by tax reform, related to M&A and investing in internal operations.