The Rise of Coworking Spaces: How Coffee Shops and Restaurants Are Redefining Office Space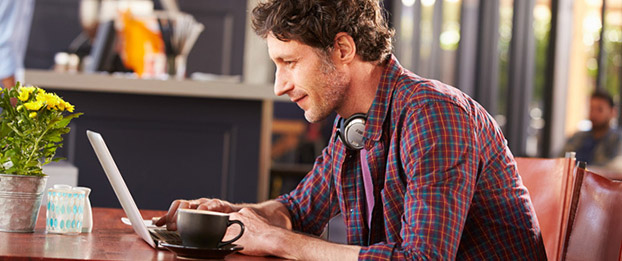 This article was updated on September 26, 2018.
While many small business owners value the independence and freedom that entrepreneurship offers, some start to miss the social aspects of being part of a larger organization. This need for camaraderie during the workday has spawned the rise of coworking spaces, where solopreneurs, business owners, freelancers and employees can set up shop for a few hours or a few months, paying a daily or monthly fee for access to a private area designated just for them.
The Downsides of the Corner Coffee Shop
Today you can still opt to head to the Starbucks across the street or the Panera down the road for a break from the solitude of a home office, but sometimes all the seats are full or the space is too noisy. And you also have to think about how long you can comfortably remain there, working away, while taking up a chair meant for paying customers. Do you buy coffee refills regularly to assuage your guilt? Or maybe a bagel or sandwich?
In response to this trend, some restaurants have now posted policies about how long customers are welcome to stay after making a purchase. As WQAD reports, a McDonald's restaurant in Queens, New York, set a 20-minute time limit to reduce the prevalence of "seat hoggers" in 2014. Over time, other restaurants have taken similar measures to prevent people, including small business owners, from camping out all day after purchasing a single cup of coffee. Some Starbucks locations have also introduced time limits to curb Wi-Fi squatters.
While popular work destinations are taking steps to discourage workers from taking up a single seat for hours on end, other entrepreneurs are creating coworking spaces from existing inventory.
Work for Yourself, Not by Yourself
As Business Insider reports, an organization called Spacious offers small business owners seats within New York City restaurants for $95 a month or $29 a day. The participating restaurants, which don't open until 5:00 or 6:00 p.m. each night, agree to make their tables and chairs available to Spacious members during the day. Spacious then takes care of providing Wi-Fi access, unlimited coffee, background music and hosts to ensure that members have everything they need.
It's a win-win-win. Small business owners have the opportunity to work in a pleasant environment that is not crowded, supplied with as much coffee as they need. And while these working customers may not necessarily purchase more food or drinks, the restaurant earns a percentage of the fees that Spacious collects from members, while Spacious gets to establish a growing revenue stream.
Other spaces, such as the White Rock United Methodist Church, in Dallas, Texas, have also emerged to meet a community need. Recognizing that much of the church's 60,000 square feet went unused during the week, White Rock UMC decided to partner with the Missional Wisdom Foundation to establish The Mix Coworking Space. This not-for-profit social enterprise has a variety of levels of membership, depending on how much access a business owner needs.
As coworking spaces continue to be on the rise, more and more businesses are seeking to cash in on this trend.