ADP Women in STEM Profile: Tiphanie Combre and Charlisa Callaway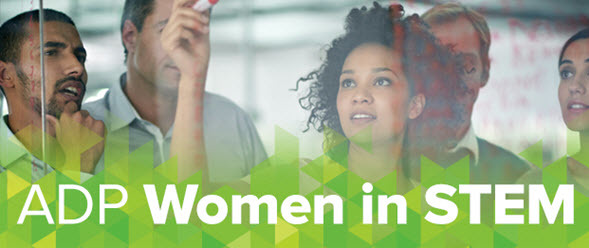 These twin sisters share more than just genes. They share an employer, a love for coding, and a passion for inspiring the next generation.
In 2005, the software development team that Charlisa was working on started looking to hire additional developers, as she would soon be going out on maternity leave. Charlisa gave a recommendation for the perfect fit for the position. A little less than a month after, they hired Charlisa's recommendation and Charlisa went out on parental leave.
The new hire caused some confusion because she looked exactly like Charlisa; it was her identical twin, Tiphanie.
Charlisa and Tiphanie will both tell you that one of the most common questions they get is, "What is it like being a twin?" To no surprise, you get the same answer from both of them. They don't know how to answer because they have never been a single. They've always shared intellectual interests, a love of technology, and a love for sports. They even have the same taste, often going shopping separately and buying the same clothes.
Coding All Their Lives
They were drawn to computers early in life. Both their parents were in IT. Charlisa and Tiphanie were around computers as long as they can remember. To get them interested and comfortable with computers, their father would pretend he needed help with software programs and would pay them to enter BASIC programs.
Without them knowing it, their father's secret intent of teaching them to code had worked. Mainframes, punch cards, and green bar paper were familiar, comfortable, and fun. During summer camp, they worked on computers and wrote programs that would have rocket ships flying across the screen. When IBM came out with personal computers, their dad took out loans to buy a PC for each of his daughters so they could learn and improve their skills while at college.
Charlisa and Tiphanie each majored in marketing and computer science at their father's suggestion. He wanted them to not only understand computers, but also to know how businesses worked. After college, both went on to Clark Atlanta University for their MBA degrees, again concentrating in Decision Science and Marketing.
Having a Ball
Tiphanie and Charlisa are accomplished athletes as well. Their soccer skills earned them scholarships to college. When Quinnipiac University recruited them, the coach said they had to come as a package deal to get a scholarship and soon the team had two excellent half-backs.
Both women attribute much of their success to playing team sports. Charlisa explained, "Sports taught us to understand competition, how to project-manage and work on teams, and how to lead and work with others." Tiphanie adds, "Team sports are a lot like work. I learned how to effectively work with other people and gained a lot of confidence from playing in very competitive environments."
Coming to ADP
During graduate school, they interned with an automotive company; then after graduation, both got offers working there in IT. Although there were mostly men, the company was supportive of women in both tech and leadership. It was the northern winters that pushed Tiphanie and Charlisa to return to Atlanta.
They have worked for media companies, software start-ups, and mortgage lenders doing everything from designing websites to developing financial and information systems. Charlisa was the first to do some contract work for ADP, and they soon brought her in full-time. Tiphanie was hired on just before Charlisa went out for maternity leave.
They continue to regularly use their business skills and curiosity to explore how technology and business work together. In 2014, ADP had a Codefest hackathon competition for employees to come up with new ideas. Tiphanie, Charlisa, and team came up with an app that compares employees' paychecks over time, identifies anything that is different from check to check, then automatically provides explanations for any changes.
Their team made it to the final round where the ideas are pitched to ADP's senior executives. They not only nailed the solid explanation of the programming idea, they also had a clear story about the value this new feature would provide to both ADP and its clients. Understanding both tech and business earned them the win and the opportunity to have their idea developed into a feature of one of ADP's products.
Both women have been with ADP for over a dozen years and work as Senior Directors in Application Development. Both are still enthusiastic about what they do because they get to create and learn new things all the time.
Never Stop Learning
When asked about the best career advice they have received, Tiphanie quoted their father, "Keep learning. You've got to keep learning."
Charlisa also is emphatic: "Never stop learning. If you stop learning, you stop growing. Put the effort in and find the time."
They walk their talk. Charlisa and Tiphanie get up early a couple times a week to study something new. They also started a group at ADP to develop management and leadership skills, noting that there is a big difference between managers and leaders. The group shares podcasts and gets together monthly to talk about challenges, solutions, and new ideas and skills.
One of Tiphanie's and Charlisa's highlights each year is when they go to a local school with other ADP'ers to teach fifth graders how to create their own web pages. It's important to them to share the love of technology their father helped them develop.
Charlisa's daughter enjoys coming to work with her mom and aunt and has been learning JavaScript and HTML. She recently earned some extra money designing a family website. Her mom thought it would be a great way to learn the logic of programming.
Making coding and tech fun, interesting, and normal for young people is one of the keys to change. Charlisa explains, "We want kids to get excited early. Exposure matters. I want kids to feel as comfortable working in a tech company as they do eating fries at McDonalds."

PHOTO: Charlisa, left, and Tiphanie, right, with their dad at the Disney 5k in 2010.