Severe Weather Policies: Questions and Answers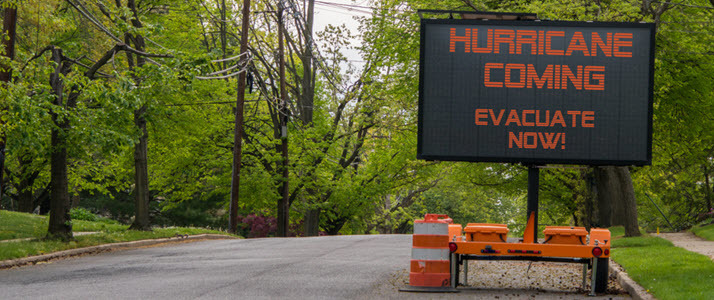 This article was updated on July 12, 2019.
Severe weather policies are important for businesses because they emphasize the safety needs of employees while also addressing business continuity concerns. Employees need to know if they should come into work or not, whether they can work from home if possible, if they'll be paid when the business closes early and more. Severe weather policies answer these vital questions before a weather emergency strikes, providing a level of certainty in stormy times. Be sure to include your severe weather policy in the employee handbook, and reiterate it to employees as severe weather conditions develop.
Any severe weather policy needs to address or answer the following questions:
Who is authorized to determine whether the business will close, close early or open later than scheduled?
Your organization can use outside determinants to make these decisions, such as following the lead of federal or state government offices or local public schools. If, for example, the local federal government offices are closed, you can close too. This has the benefit of clarity, and takes the burden off decision-makers inside the business. If you make the decision internally, you may confront more difficulty in communicating it to all employees.
How will employees be contacted in case of severe weather impacting work schedules?
If local power has been knocked out, you potentially face major difficulties in reaching all employees, so an all-of-the-above communication strategy works best. Create a telephone hotline, departmental phone trees, a notice on your company website, an all-hands email message and a post on your Facebook page that's accessible to the entire workforce. In general, the more advance notice you give employees, the better — and vice-versa. Ask employees to notify their direct supervisers as soon as possible if they plan on staying home during severe weather.
Will employees be allowed to work from home?
If your organization is open, but local schools are closed or transportation services are shut down, it may be easier for some of your employees to work from home. You'll need to decide whether such work is authorized, and under what conditions. Determine the qualifications and requirements for working from home and communicate all policies to the entire workforce.
What are the requirements for paying exempt and nonexempt employees if severe weather impacts their business schedule?
If exempt employees, those who are not eligible for overtime under the Fair Labor Standards Act (FLSA), come in for any part of the day (ready, willing and able to work) and the business closes early, they must be paid for a full day. Employers, however, can force the impacted employee to use paid time-off to cover the time spent not working. However, if the business remains open and an exempt employee does not come into work due to severe weather, the employer need not pay the exempt employee, who can be considered absent for personal reasons.
For nonexempt employees, those eligible to receive overtime under the FLSA, employers must only pay them for hours actually worked. If the business opens at 9 a.m. and closes at noon due to increasingly severe weather, you are required to pay your nonexempt employees only for the three hours they actually worked, while you'd need to pay your exempt employees for the full day. Some states, however, require employers to pay a nonexempt employee a minimum number of hours simply because the employee shows up. Therefore, employers should familiarize themselves with any "reporting pay" requirements that may apply in the states where they conduct business.
What about a declared "state of emergency" — does my business need to close?
A declared state of emergency generally asks people to stay off the roads and for businesses to close, but it has no effect on your relationship with your employees. It does not, absent express authority from the business, excuse employees from coming into work nor does it require you to pay employees should they decide not to come into work.
What other considerations should severe weather policies address?
Don't forget about data security and data access, which can be disrupted during severe weather. A redundant data center, perhaps through a cloud-based solution, allows you to protect and access data important for your business, even during a lack of access to your IT infrastructure. Additionally, an electronic payroll system, perhaps even one with a paycard option, offers employees the fastest way to receive payment in case of inclement weather.
Related articles
Handling Business Closures During Severe Weather
How Technology Can Help Your Organization Manage Its Overtime
How to Overcome the Challenges of Managing Remote Workers [PODCAST]