Celebrate Pride Month with Better Tools to Drive Diversity and Inclusion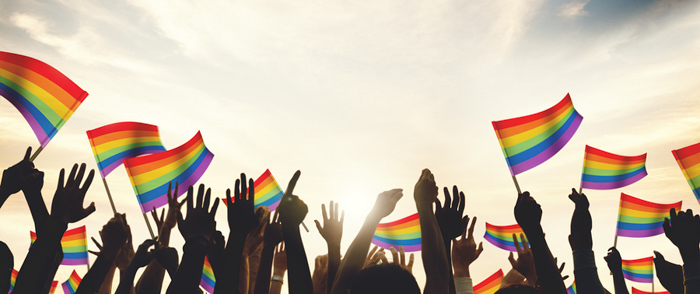 Make sure your company is prepared to support the diverse workforce of today and the future!
By Linda Mougalian, Division Vice President, Product Marketing and Strategy
Amid the tightening labor market, having a diverse and inclusive workplace isn't just the right thing to do, it's a business imperative. To attract and retain talent, companies need to provide comfortable, supportive, and inspiring environments where people of different ethnicities, genders and sexual orientations can thrive. Employee engagement happens when workers can be their authentic selves, build upon their strengths, and know that their employers and coworkers are invested in their career development.
This is particularly relevant during Pride Month which celebrates the social and political progress made by the lesbian, gay, bisexual, transgender or queer (LGBTQ) community. Still, the unfortunate reality is that many LGBTQ associates still don't feel comfortable in the workplace.
According to the 2017 Workplace Equality Fact Sheet by Out & Equal Workplace Advocates, one in four LGBT employees reported experiencing workplace discrimination in the previous five years. The unemployment rate of transgender Americans is three times higher than the national average, and more than three-quarters of transgender employees have taken steps to avoid mistreatment in the workplace. In fact in 31 states, it's still not explicitly illegal for employers to discriminate based on sexual orientation.
For employers, the message should be clear: those who create diverse and inclusive workforces will have a leg up in the war for talent. Further, numerous studies have shown that diversity of opinions leads to better problem solving and richer decisions. Diverse employees bring unique perspectives to the table driving innovation.
When it comes to diversity and inclusion, some employers have the best intentions but don't always have the tools they need to ensure they are being fair and equal and eliminating unconscious bias.
This is one of the reasons why ADP is offering LGBTQ employees the option to self-identify. We offer this to both our own associates and to companies that use ADP Vantage HCM or ADP Workforce Now. Employers can enable the Self-ID feature to invite employees based in the United States to voluntarily, confidentially and anonymously disclose gender identity or sexual orientation alongside dimensions such as race, gender, veteran status and disability.
The data gathered from this tool goes far beyond fulfilling diversity and inclusion hiring goals. For any employer, having richer data on their LGBTQ population can help:
Identify and address retention issues. Looking at retention rates among LGBTQ employees can help employers understand the level of engagement among this group. If an organization identifies a diminishing LGBTQ population, they can be more active in engaging those employees. This might involve establishing affinity groups that give these employees and their allies an opportunity to bond around common interests. You also want to make sure you have blinders on when it comes to fair hiring practices and pay. Companies can use tools like Pay Equity Explorer to uncover insights and identify potential areas of risk when it comes to gender or race pay gaps and Visual Search to help eliminate unconscious bias by removing factors like gender, ethnicity and pay so they can focus on the skills most relevant for the open position.
Signal values to new hires from day one. Many employers have the good intention to engage every employee — regardless of sexual orientation — right from the start. They don't always have the capacity to do so. A feature such as a Self-ID allows employers to visually represent their commitment to equality through technology, acting as a personal handshake when employees first come in the door. It can also help companies to better develop programs and benefits that meet the needs of LGBTQ associates to stay competitive in today's tight labor market.
Diversify and drive innovation. Diversity of opinions manifests itself when you have diversity of perspective. This, in turn, drives the innovation so desperately sought by companies today. Better mirroring the demographics of a market or audience is advantageous to any sales or product design team, because it brings in perspectives of the end-user or customer. Collecting data that shows where the needle is for LGBTQ employees, can also help recruiters more accurately pinpoint if they need to pursue a more diverse talent pool.
Technology that helps companies build the mechanisms and data needed to drive diversity and inclusion is worth investing in. Along with Self-ID, ADP is also developing a new app designed to help midsized companies start business resource groups (BRGs). The app will provide companies with a BRG toolkit that shares employer best practices, newsletters, videos and upcoming meetings and events. The future of work is about giving people the technology needed to promote their well-being and work smarter. Make sure your company is prepared to support the diverse workforce of today and the future!