Interviewing 101: How to Conduct an Interview Fairly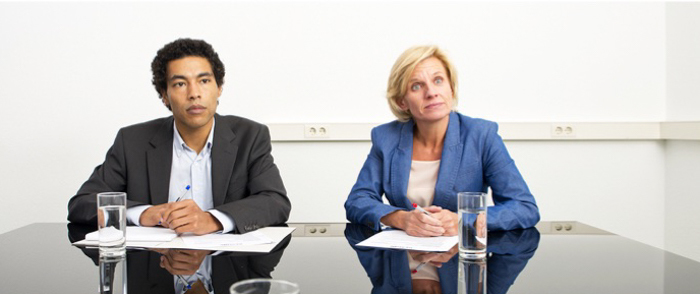 In the third installment of our "Interviewing 101" series, we cover some best practice tips to consider from a compliance perspective.
When recruiting, employers aim at attracting, evaluating and winning over great talent. The interview process itself plays a significant role in that strategy.
There's lots to consider when thinking about how to conduct an interview. Should you keep interviews formal or conversational? Stress company culture and values or focus on skills?
In part two of this series, we discussed setting up a successful interview process. In our third installment, we cover some best practice tips to consider from a compliance perspective. As you conduct interviews, it's essential to be aware of how subconscious bias can impact the hiring process. Without safeguards and training, bias may be able to creep into your interviews and affect your hiring decisions.
What Shouldn't I Ask?
It's crucial to understand which questions you should not — or even cannot — ask. In a 2015 CareerBuilder study, 20 percent of hiring managers asked a question during an interview that they later learned put the company at risk.
All questions that may cause an applicant to reveal attributes protected from discrimination under Title VII of the Civil Rights Act of 1964 or similar state and local anti-discrimination laws are considered illegal. For example, it is "illegal for an employer to discriminate against a job applicant because of his or her race, color, religion, sex (including gender identity, sexual orientation and pregnancy), national origin, age (40 or older), disability or genetic information," according to the Equal Employment Opportunity Commission (EEOC).
Among others, some problematic interview questions include:
How old are you?
Are you disabled?
Are you married?
Depending on the organization's location, an employer may not be able to ask about salary history, as USA Today reports. Several states and cities have banned employers from asking questions about previous salaries, attempting to bridge the pay gap between men and women. There may also be restrictions regarding inquiring about a candidate's criminal history. Work with experienced counsel to understand the restrictions specific to your city and state.
Training Is Key
Your interview process is likely to include a number of people in your organization. Clearly communicate to your interviewers what they can and cannot ask and consider formulating a structured set of questions in advance. Before allowing anyone to conduct an interview with a candidate, have them trained on best practices related to mitigating subconscious bias. Consider a formal workshop, a written policy, a one-on-one coaching session or any combination thereof. Have employees sign and acknowledge that they have received training and will abide by the guidelines you've set forth. If you have dedicated HR staff, make sure they sit in on every interview.
Culture vs. Skills
It's easy to get swept up in a candidate's skill set when considering how to conduct an interview. But it can be equally important to determine how candidates interact with others. According to Inc., workers who mesh well with their companies, colleagues and managers do better work, are happier doing it and are more likely to want to keep doing it. However, hiring a good culture fit can sometimes be misconstrued as "hiring someone like me."
Using attitude-based questions to determine a candidate's likely behavior in the role rather than relying on more general rapport may be able to help you avoid this pitfall. For example, consider using the following questions:
Describe a difficult situation you had with a supervisor and how you responded to it.
Describe a difficult situation with a co-worker and how it was resolved.
Who is your role model and why?
Above all, do not make a rushed judgment, advises Glassdoor. There's a reason people say "Hire slow, fire fast."