Payroll and benefits management demands attention to compliance. Here's what business owners need to know.
As benefit and payroll data shifts from physical to digital storage, HR compliance is critical — and complicated. According to PYMNTS.com, for example, a recent survey found that "most" payroll professionals take compliance shortcuts: 66 percent say their company "cuts corners" on payroll and benefits management compliance.
How can businesses boost compliance while handling HR complexity?
Perfecting Payroll (and Benefits)
As ADP's new "Employment Compliance 101: From Hire to Retire" e-book notes, "paying your people is an important part of your relationship — possibly the most important part."
Don't: Miss paycheck dates, delay benefits enrollment or skip data backups.
Because: Late payments diminish morale and may lead to unpaid wage claims, while lost data could violate certain recordkeeping requirements, prompting potential fines or penalties from the U.S. Department of Labor, as well as state agencies.
Do: Leverage automated systems and direct deposit to help ensure accurate and on-time payments. Link HR systems so data changes automatically populate.
Law of the Leave
Employee leave is often mandated by a combination of federal, state and local laws. Make sure you're prepared.
Don't: Refuse legitimate requests for leave — such as protected family, medical and sick leave — or play fast and loose with leave tracking.
Because: You could end up short-staffed if leave isn't properly tracked. And refusal of legitimate requests could lead to violations of anti-discrimination and leave laws, among others.
Do: Implement a single, central way to track and manage employee leave and ensure you're up to date with new legislation.
Continuing Compliance
Discover more best practices and tips for compliant payroll, benefits and leave mangement in ADP's e-book, "Employment Compliance 101: From Hire to Retire."
SIGN UP FOR THE SPARK NEWSLETTER
New Hire Onboarding Done Right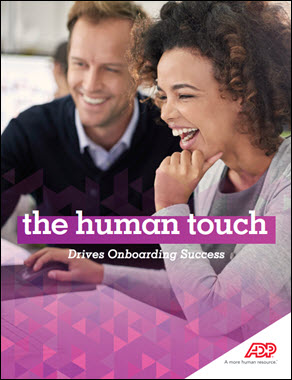 How you handle the onboarding process is critical to creating and keeping great employees.
Get the Report
Smart Small Business Payroll
Payroll's so important, you should spend less time on it.
Read the guide