Technology Can Help You Better Manage Your Manufacturing Workforce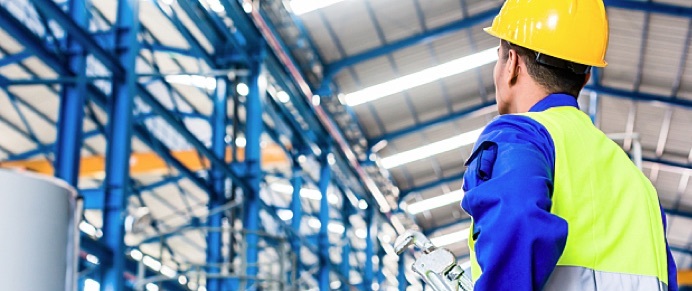 Technologies for labor optimization and scheduling can elevate workforce management for manufacturing organizations.
Technologies for labor optimization and scheduling can elevate workforce management for manufacturing organizations and introduce a critical advantage in highly-competitive markets. While adopting automation and Internet of Things (IoT) technologies for process monitoring can lead to productivity gains for manufacturing organizations, optimizing scheduling can decrease unnecessary payroll expenditures.
A dynamic, data-driven approach to optimization and scheduling can enable manufacturers to achieve accurate, proactive staffing. "Not only is there direct benefit through reduced cost, increased output, improved quality and even improved safety, managing your workforce with better technology makes you more competitive in the market and the business more successful as a whole," says James McGeady, senior director of product marketing at ADP.
Technology Is Crucial to Success
Today's manufacturing organizations are facing unprecedented cost burdens. The Chartered Institute of Procurement and Supply reveals that while output is increasing for organizations, the cost of manufacturing inputs is at record highs. Tools for optimizing labor and scheduling can support profitability in tough market conditions by allowing organizations to achieve lower cost of goods and reduce misalignment of people and manufacturing inputs in just-in-time environments.
The right workforce management tools can also help manufacturing organizations achieve their quality objectives. "Scheduling people with the right skills and experience for the right jobs can reduce scrap, increase yield and simultaneously reduce costs and increase productivity," McGeady says. Here are five technology tools for manufacturing organizations to consider.
1. Smarter Scheduling Tools
With tools that can capture staffing requirements at very granular levels, managers can achieve remarkable gains over legacy systems or paper-based methods of scheduling. HCM technologies allow organizations to begin tracking scheduling against output, to adjust worker schedules and to meet production goals.
2. Time Tracking
Tracking time against jobs can enable businesses to achieve more detailed cost-monitoring, while measuring worker productivity by team and on an individual level. Activity-tracking tools can add more depth to time-based worker analyses by allowing managers to understand how long activities take workers and teams. Not only do activity-based time analyses enhance worker scheduling, it can lead to more accurate cost-forecasting across the organization.
3. Absence Management
Worker absenteeism can have a profoundly expensive impact on organizations in any industry, costing the average supervisor several hours per week of time. For manufacturing businesses, unplanned employee absences can increase unit costs and lead to expensive machine idle time. Technologies that allow a fast response to absences can reduce the costs of filling empty shifts, reduce idle time and improve cost-per-unit with better workforce oversight.
4. Overtime Management
Overtime can represent a significant payroll expense, and unnecessary overtime may significantly reduce profitability margins. With smart, predictive tools for monitoring overtime, HR leaders can allocate funds for overtime more effectively. "These tools can help you understand when it makes sense to work overtime, and even who to bill the overtime to if you have to add overtime to expedite an order," says McGeady.
5. Analytics
Built-in reporting capabilities lets HR leaders and managers gain instant understanding of their organization's performance around key performance indicators for scheduling, activity tracking, absenteeism and overtime. Transparency enables data-driven decision-making throughout the organization and supports the ability to hit profitability goals.
Can Smarter Workforce Insights Lead to a Competitive Advantage?
Technology has had a dramatic impact on the manufacturing industry. PwC reports that 38 percent of U.S. manufacturers use IoT products and services. By adopting technologies that yield deeper insight into scheduling and labor optimization, these organizations can reduce unnecessary payroll expenditures and achieve lower cost of goods.
Scheduling and labor optimization is more than just a wise approach to managing talent — it's a baseline for competitive advantage.
Stay up-to-date on the latest workforce trends and insights for HR leaders: subscribe to our monthly e-newsletter.