Women in STEM with Rita Mitjans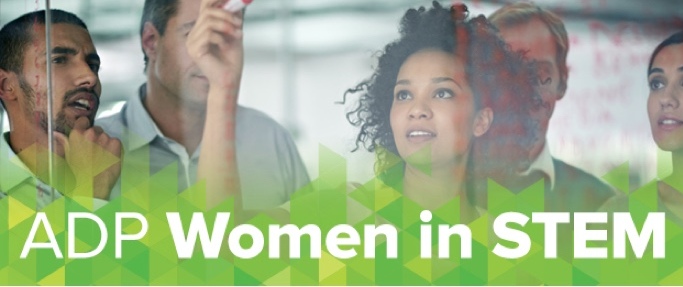 Part 1 in the ADP Women in STEM series
How does an organization change?
One conversation at a time.
Rita Mitjans, ADP Chief Diversity and Corporate Responsibility Officer, believes that lasting change starts with understanding what needs to change and why. It starts at the top, but you need to win the hearts and minds of everyone involved. Trust is essential, and to earn it, you must do your homework so you can build the case for why the change you are proposing will benefit the things they care about. It takes integrity, hard work, and thoughtful conversations with people experiencing the issues to understand what to do. To inspire real change, you need to make the case in many "languages".

Becoming Bilingual
Learning to speak the language of the person she's working with comes naturally to Rita.
When she was seven, her family left their home and everything they owned and were welcomed to the United States as political refugees from Cuba. When they arrived, the refugee program gave them a choice between staying in Miami or a one-way ticket to somewhere else. Her parents chose New York City where they had family and friends.
In the beginning, they stayed with people they knew, sleeping on floors and couches until her parents could find jobs. Soon, they settled in an Italian and Irish neighborhood close to good schools and work. But, no one in Rita's family spoke English.
When her mom enrolled Rita in second-grade, the school wanted to start her back in first-grade because she was learning a new language. Rita's mom knew how bright she was and refused to allow anything, even a language barrier, to hold her back. So, Rita started second grade in a new world, knowing only a few phrases of the language.
Meanwhile, her parents were having similar experiences at work, each taking two, and sometimes three, jobs to provide for the family. "My parents wanted a little of the American dream. They had a tremendous work ethic and valued honesty and integrity. We all worked hard to integrate into our new country and contribute to our new community."
Rita's mom made it clear that Rita's job was to learn. Education was the ticket to a better life. Rita took that to heart. "I've always enjoyed school and still love learning."
Speaking Marketing
Initially, Rita wanted to be a journalist. "My mom talked me out of it because she thought there was no money in journalism." Laughing, Rita explained: "My mom was an accountant." Rita started college majoring in accounting, but didn't really like it. As she explored other options in business, she fell in love with marketing because it involved writing, storytelling, and making a persuasive argument for doing something new or differently.
Rita graduated from college in a tough job market (unemployment rates were hovering around 9%). Her classmates weren't finding jobs, but she was determined to start her career. So, drawing on some of her marketing training, she sought to differentiate herself by printing her resume on colored paper and ordered laser printed pens with a clever message ("If you're looking for a creative problem solver, call Rita Mitjans") and contact information. She then put together packets with the pens, sending them out to potential employers.
Her creativity and initiative caught the attention of a large manufacturer, and she started her career in customer service and marketing. It wasn't long before Rita's boss decided she had the heart and drive for sales. He was right.
Rita quickly moved through the sales hierarchy to become the only female manager and the number one salesperson in the Division. When she was passed over to handle the company's largest account, she marched into her boss's office and wanted to know why. He was forthright, explaining the client liked to be wined and dined with late nights at private clubs. He did not want to put her into that position.
This was a wake-up call that maybe she needed to rethink where she was headed and what she wanted to do. True to her love of learning, Rita decided while she figured out what was next, she would get an MBA at Harvard.
Talking ADP
After business school, Rita moved back to New York and worked at an international bank, handling business strategy and investor relations. Meanwhile, a friend of hers had moved to ADP and suggested she talk to them. Rita interviewed and liked the company a lot, but the only opening would have required her to move. With a young daughter, Rita decided she needed to stay in New York and banking.
ADP stayed in touch. Then a position opened in Miami, near where her parents had retired. She agreed to talk to ADP about the job.
During the three-hour discussion, Rita learned about the Miami office, what ADP and the division were trying to do, and that the person she was talking to had also immigrated from Cuba as a young boy. They spoke the same language, literally, as well as in their approaches to business, leadership, and organizational culture. They still do. The interviewer was Carlos Rodriguez, who is now ADP's CEO.
Rita wrapped up a merger she was working on at the bank and moved to Miami. Her daughter and parents developed a wonderful relationship. And her daughter, who had only known English, learned Spanish from her grandparents and in school.
At ADP, Rita started as the VP of Marketing and Strategy for TotalSource and worked her way up to the head of marketing, back in New Jersey. As CMO, Rita launched the ADP Research Institute and reorganized the marketing department to centralize company-wide marketing and branding strategy, while allowing flexibility for the business units to meet their own needs. Rita also tackled the work of expanding awareness that ADP had grown far beyond its payroll roots.
The Language of Change
After years of telling the outside world about ADP, Rita set her sights on the organization itself. She became its first Chief Diversity and Corporate Responsibility Officer where she set about understanding the culture of ADP and working to make it more inclusive and diverse.
She started at the top. "I'm a big believer that for cultural shift to take hold, it needs to be driven by leadership." Rita understood that it was not enough to just tell the company's leadership what she thought should happen, even if she explained the importance of the issues. Once again, she needed to speak their language.
Rita dug into the organization's employee engagement scores. While the company's overall engagement was good, when she isolated the data for different demographic groups, the picture was not as encouraging. So, Rita started talking to people to find out what was going on and how ADP could be more responsive.
Rita also did her research on the business case for diversity and inclusion so she could demonstrate that making changes were good for innovation, for employee retention, and for attracting great people. She also increased the number and size of employee resource groups to create more awareness about diversity and help the organization recognize the value of inclusion and how our own biases can get in the way of better performance.
Under Rita's leadership, ADP has achieved significant improvements in hiring, promotion, and retention of women and minorities. After four years in the role, ADP has increased the number of women in executive leadership by 6% points and the number of people of color in executive roles by 5% points. This is significant when you consider that women make up only 14% of senior leadership roles in Fortune 500 companies.
Rita's approach to diversity and inclusion is to help all of us learn to confront our own biases so we can begin to see past them and become more open. Then we can avoid making snap decisions, which are often influenced by our biases, and see more clearly what is needed for the job and who would be great at doing it.
With a lifetime of experience as the only one who did not speak English, or the only Hispanic, or the only woman, Rita takes to heart the importance of appreciating people for who they are and inspiring them to become who they want to be.
"Don't be afraid to take a risk and try something new. Greatness happens when you are outside your comfort zone."
Start by connecting with others and learning to "speak their language."