Employee Appreciation: Why Saying Thank You Matters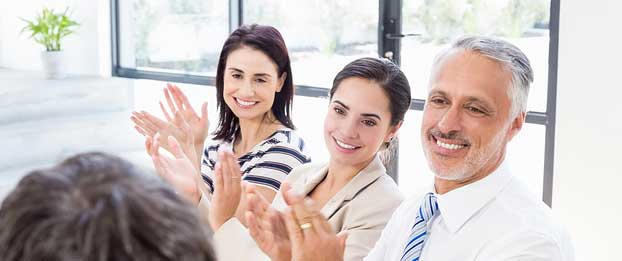 Showing employee appreciation, even if it's as simple as saying thanks, is important. Employee appreciation can build workplace confidence, promote learning, help build a culture of appreciation and get people to work harder. Bestselling author and behavioral economist Dan Ariely wrote in his book, "Payoff: The Hidden Logic That Shapes Our Motivations," that employees crave more recognition, and offering employees appreciation can drive individual growth and performance.
Show Appreciation to Retain Talent and Build Organizational Culture
Talented employees want to know how they're doing, so providing feedback offers them opportunities to learn and grow. Expressing appreciation for a job well-done is part of that vital, talent-engaging feedback process.
Moreover, expressing appreciation when it's deserved can build team cohesion and organizational culture. If customer focus is part of the collective culture you want to build, then saying "thank you" to an employee who resolves a challenging customer complaint sends a message that you value solving customer concerns.
4 Ways to Express Employee Appreciation
1. Align your efforts around specific behaviors that support your organizational goals
If you seek to prioritize collaboration or coaching, express appreciation whenever employees engage in these desired behaviors. In doing so, you engage employees around your business goals and help build your culture too.
2. Be specific when saying thanks
Don't just say, "Thank you, Sarah, for all you've done." It may be better to say something like, "Thank you, Sarah, for staying late on Thursday night to help us finish fact-checking the report. Because of your hard work and commitment, our team was able to meet the deadline."
3. Appreciate in public, when possible
Again, this can send a message to the entire team or organization about what behaviors you prioritize. People naturally seek praise from leaders, and want to be recognized by peers as well, so when you publicly reward an individual for "right" actions, you're effectively engaging that employee and also reinforcing behavioral norms for everyone in your workplace.
4. Don't hold back
As Ariely says, you should be erring on the side of too much recognition rather than too little. The ROI of appreciation is simply too high for you to ignore.
How will you and your organization look for untapped opportunities to say thank you? Those two simple words can have a powerful impact on your employee engagement and organizational performance.
Stay up-to-date on the latest workforce trends and insights for HR leaders: subscribe to our monthly e-newsletter.