4 Ways to Improve Your Employment Branding Strategy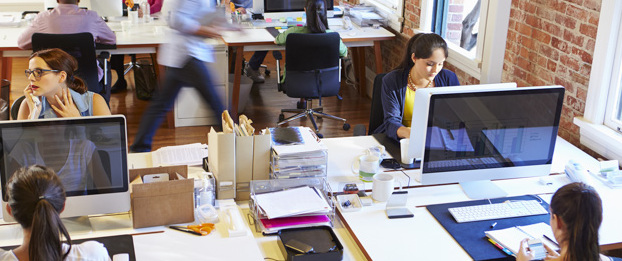 This article was updated on July 21, 2018.

An effective employment branding strategy is a necessity for any organization that wants to attract and retain top talent. Among modern business leaders, 31 percent are investing in employer branding initiatives to "secure our long-term recruitment needs," according to Harvard Business Review (HBR). An additional 31 percent hope to build their brand on a global level over the next five years, while 22 percent want to immediately differentiate themselves from their competition. Branding efforts are viewed as a bridge to both long- and short-term goals.
LinkedIn research finds that a strong employer brand — i.e., an individual having a positive impression of your organization as a place to work — is twice as likely to be linked to job consideration as a strong company brand. Additionally, professionals under 40 years old are 61 percent more likely to take branding into consideration, with global talent 37 percent more likely than average to do so. Regardless of the goals of your talent strategy, building a reputation as an excellent employer could sway top talent.
The following are four ways to improve your employment branding strategy so that it aligns with your overarching goals:
1. Understand Your Current Status
A first step toward determining necessary adjustments to your employer branding involves a baseline understanding of how your organization is perceived by talented candidates. HBR recommends surveying target audiences, such as final-stage job candidates or recent hires.
Although your HR team may have a solid awareness of how your total compensation stacks up against the competition, survey insights can reveal how factors such as work-life balance, opportunities for advancement and culture are perceived by outsiders. Use knowledge gained from surveying to discover areas where reputation management is needed and opportunities to improve your employer brand.
2. Develop an Employee Value Proposition
In conjunction with marketing, HR organizations should work to develop a unique value proposition (UVP) for their employer brand. According to the Society for Human Resources Management, your employer branding proposition should "reflect what's truly special about your organization" and align it with your organization's brand.
Knowledge of your candidates' top priorities can give you insight on how your value proposition can link up with recruitment and retention metrics. Your UVP should focus on three to five key themes that accurately represent what makes your organization's EVP "attractive, true, credible, sustainable and distinct," according to Universum. Lean in to the things you don't do well, and integrate with what you do, so that candidates understand the employment promise you are making to them. That could include having a flexible workplace, facilitating diverse experiences or offering work-life balance.
3. Advocate for Your Brand
When professionals think of organizations with a strong, positive employer brand, they're likely to think of technology brands, including Google or Facebook. In many cases, the success of those employers' branding strategies can be attributed to the organization's willingness to join conversations around employment branding, values and culture.
Dharmesh Shah, chief technology officer and co-founder of HubSpot, has been a prolific advocate of positive, customer-focused corporate culture, according to an article on Inc.com. He has even publicly released the company's "Culture Code," a slide deck that outlines its values. CHROs should endeavor to become chief cultural marketing officers and work to advocate for the organization's UVP publicly. For example, if the mission is to promote a culture of employee wellness, CHROs should work to develop recognition as promoters of employee health, by offering perks and rolling out initatives that truly help your employees achieve a healthy lifestyle. But Virgin Pulse warns that "your health and wellness brand needs to deliver on its promises to your employees" or it will never find sustained traction in the marketplace.
4. Engage in Employment Marketing
Marketing your employer brand should extend beyond position descriptions that address your culture and well-written talent acquisition statements. Entrepreneur recommends achieving unity across the social platforms candidates will lean on to get a taste of company culture, including videos, employee social media and other forms of digital content.
Microsoft is one of many major employers nationwide to develop multimedia content specifically for prospective employees. The tech brand's "JobsBlog" focuses on offering branded insights into the employee experience via interviews and videos, as well as job-seeker insights from the organization's recruiters.
In a tight talent market, employment branding can be crucial to both attracting and retaining employees. By working to develop an informed understanding of your brand's current status, improve your mission and become a visible force for your UVP, you can align your employer brand with your long-term talent goals.