5 Ways to Build a Retirement Benefit to Attract and Retain Top Talent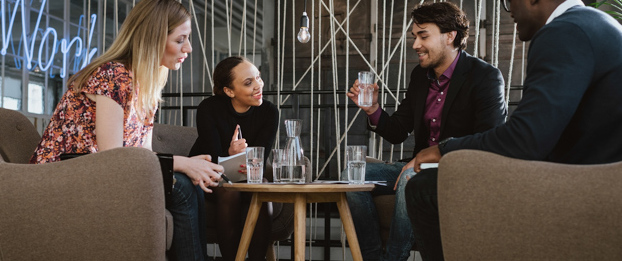 This article was updated on July 10, 2018.
If your business is having difficulty hiring — or keeping — skilled talent, you may want to take a look at your organization's retirement plan. Today's job seekers expect more from their employers because they know that a good retirement benefit package can amount to thousands of dollars in compensation each year, along with an attractive tax break. That's why employer-sponsored retirement plans have become a big consideration for job seekers when choosing a new position. Many employers are taking note. According to a Society for Human Resource Management (SHRM) survey, employers are increasingly leveraging benefits to recruit employees at all levels, especially highly skilled employees.
Exactly what makes a good retirement benefits package that job seekers and employees will value? One that is built to be easy to use and helps them succeed at getting retirement ready. Here are five ways you can build a better retirement plan for your workforce:
Use Effective Plan Design
Integrate plan features like automatic enrollment, automatic deferral increases and target date funds into your plan. These approaches are effective at getting employees to save early, save more and invest appropriately based on their projected retirement date. Immediate plan eligibility can also get employees off to a fast start.
Add an Employer Contribution
Matching contributions often encourage employees to participate in the plan, and generally, the more a broad base of employees contribute to the plan, the more that business owners can contribute to the plan themselves. It is therefore important to promote matching contributions in plan communications.
Make Sure Plan Fees and Expenses Are Reasonable
Over time, plan and investment fees can have a big impact on participant account balances. Keep fees in check to help participants keep more of their savings. And, don't forget, making sure that the plan's fees and expenses are reasonable is part of your fiduciary responsibility.
Optimize the Plan Investment Menu
Optimize the plan investment menu to help make investing decisions easier, reduce mistakes and get better investing outcomes for participants. A set of target date funds can provide a simple investing solution for employees who prefer a "do it for me" investment approach. And a simplified plan investment menu can improve usability by eliminating redundancy. Be sure to also offer adequate opportunity for diversification, best possible performance and cost arrangements and monitor investments to ensure they meet plan and performance requirements.
Promote the Plan and Communicate Regularly
Communications that help participants track their progress, stay engaged and get answers help them get retirement ready — and demonstrate the value that the plan delivers. Regularly promoting the plan benefit to employees can be a powerful tool in driving loyalty among existing workers.
Competing for talent and keeping workers productive and engaged in any economy can be tough. Combining the practices above can help employees prepare well for retirement, which will benefit them today and into the future.
How does your plan stack up? We can help you benchmark your plan and offer suggestions to make it more competitive and possibly bring participants better results.
Not offering a retirement plan yet? Thanks to technology that helps reduce administrative burdens, compliance risks and overall cost for plan sponsors, organizations of all sizes are increasingly able to include retirement plans among their company benefit offerings. Don't miss out on the recruitment and retention benefits of offering one.