Are you looking to improve employee morale? Consider allowing office pets. One marketing professional gives her advice on working with an office dog.
As companies get more creative with their employee perks, some are allowing office pets. Jessie Tracy from Velocity Partners, a UK-based B2B content marketing firm, has been bringing Zippy, her Jack Russell terrier, to work for two years now, and it's been a positive experience for her and the company.
She explains how she began bringing Zippy to work and the benefits of having a pet in the office.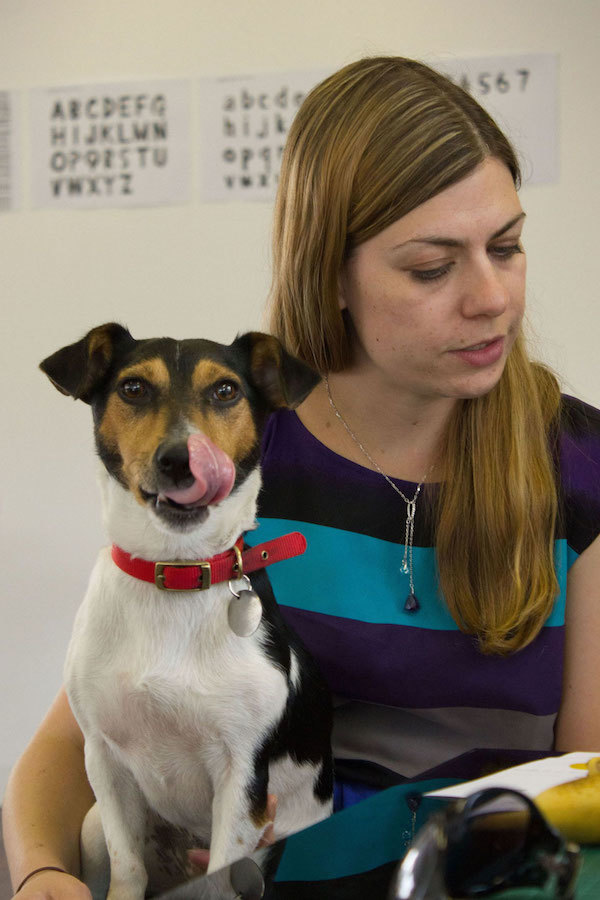 Zippy and Jessie Tracy collaborating on a project.
The Onboarding Process
"Zippy was a rescue dog, so I was worried about keeping him in boarding all day. I had also just moved and was now walking distance from the office."
She approached the owners about bringing Zippy in. While they were a little unsure about office pets at first, they agreed to give it a try. Zippy was a great fit for the organization and now comes in most days.
Learning and Development
If you're thinking of bringing in office pets, proper training is a must, as Tracy points out. "I had a dog trainer come with us the first few days to get Zippy used to the office. The trainer had some advice to make the workplace more pleasant for Zippy and my coworkers."
For example, a dog needs a quiet space for when the office gets busy or they need a break. Tracy keeps a dog crate under her desk, and one of her coworkers has a small bed for Zippy.
Tracy also had to teach her coworkers how to behave around Zippy based on his training. "I trained Zippy not to jump on people or furniture, but sometimes when people played with him, they would get him jumping."
A Complete Benefits Package
Having dogs in the workplace can help people unwind. "Zippy is great at helping [relieve] stress. Whenever someone needs a break, they go find Zippy for a little play or cuddle." Tracy was pleasantly surprised by the number of coworkers who like to play with and walk Zippy, even those she didn't think were "dog people."
Tracy has also found that an office dog can help create stronger workplace bonds and new friendships. "Coworkers who normally wouldn't interact get together when they play with Zippy."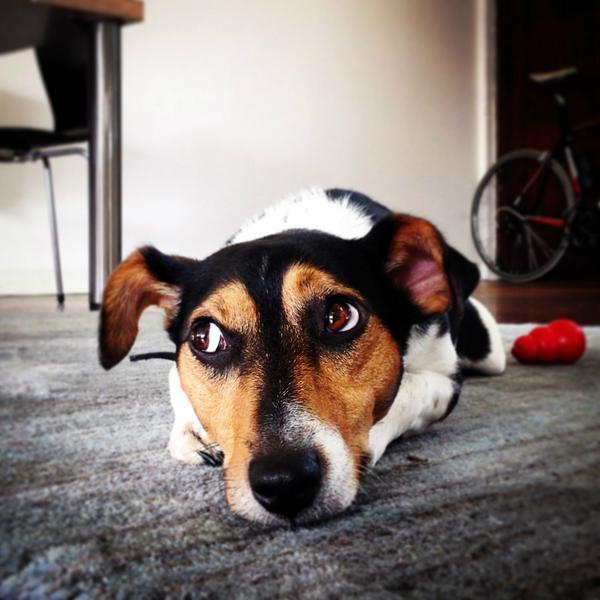 It's hard work being an office pet!
Client-Facing Meetings
While it's hard not to love Zippy, Tracy realizes that not everyone is fond of dogs. "Zippy runs up to every new person, which can be a problem. Some people are allergic or have phobias." She looks at the office calendar to see when clients are scheduled to come in so she can arrange to have him out of the office.
However, it's still a marketing agency, so there is a revolving door of people coming in; sometimes Zippy is in the office when a client drops by. "As soon as I find out someone has arrived, I put Zippy in his crate under my desk. That way, he's not visible."
Is a Dog Right for Your Organization?
Tracy warns that office pets might not be appropriate for every type of business. "We're a marketing agency, so the culture is a little more relaxed. An office dog could be disruptive for the wrong industry, like in the financial sector."
If you're interested in bringing dogs into the workplace, consider doing so on a trial basis first to see whether it's a good fit for your office.
Zippy sure is glad Velocity Partners gave him a chance to visit. He feels right at home in the office and is happy to be part of the Velocity team.
Stay up-to-date on all the latest trends and insights for small and midsized business owners: Subscribe to our monthly e-newsletter.
Photo courtesy of Jessie Tracy, used with permission.
SIGN UP FOR THE THRIVE NEWSLETTER