Check out our useful tips on how to attract and retain top talent.
For small business owners, the challenge of how to attract and retain top talent is critical. Skilled employees are, perhaps, your most valuable resource, and having a motivated, engaged workforce can be the key to your business's success in the marketplace. As part of National Small Business Week, we're pleased to share our essential tips for successful employee recruitment and retention.
Here's a quick look at some of our most popular articles about how to create a strong company culture and develop a competitive benefits package to help you connect with the job candidates and employees who will help your business thrive.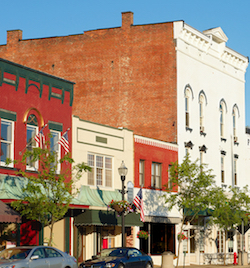 Part four of our series celebrating National Small Business Week
Build a Culture of 'Disciplined Freedom'
Micromanaging is the wrong approach to building a dynamic company culture. Instead, says Tom Kellogg of ParsonsKellogg, "Give employees the tools to do their jobs and let them go." When you recruit talented individuals and help them grow their careers, a strong culture develops organically. From here, it gets easier to tell who is a good fit for your company.
Read more: How to Create a Dynamic Company Culture: Tips from Tom Kellogg of ParsonsKellogg
Offer Millennials Benefits That Grow
According to the Pew Research Center, one in three American workers are millennials, and this generation is now the largest in the U.S. labor force. If you're wondering how to attract and retain top talent in this key demographic, aim for a competitive benefits package that includes a flexible range of standard and voluntary options. A Bentley University study of millennial workplace values found that 96 percent of respondents would choose to take a job based on the health care package offered. Human resources consultant Tess C. Taylor suggests focusing on high-deductible health plans, which typically offer the lowest monthly premiums and can be incorporated into low-cost voluntary insurance purchased at group rates.
Read more: Health Benefits for Millennials: Developing Attractive, Affordable Compensation Plans
Give Them Something to Believe In
It's shocking to consider, but according to Gallup, as many as 70 percent of U.S. employees aren't engaged in their jobs. A lack of engagement fuels employee turnover, a costly and time-consuming challenge for small business owners. Beyond compensation and benefits, says entrepreneur and consultant Jed Record, employees crave a public acknowledgment of their contributions on an ongoing basis. They also need to see a clear path for career growth and advancement with your company. Finally, engaged employees want to see a clear link between the work they do and the future of the business. Combine these elements and you're well on the way to having an engaged workforce.
Read more: Beyond Monetary Compensation, What Do Employees Really Crave?
Tomorrow, we'll be back to continue our celebration of National Small Business Week with our top tips to help you maximize your profits. See you then!
Stay up-to-date on all the latest trends and insights for small and midsized business owners: Subscribe to our monthly e-newsletter.
SIGN UP FOR THE THRIVE NEWSLETTER