Check out these tips on how to plan and organize a "Take Your Child to Work Day" at your business.
Every April, many businesses participate in Take Our Daughters and Sons to Work Day. If your business has never hosted this annual event in the past, you may want to consider taking part this year. A Take Your Child to Work Day can benefit your employees, their kids and your company as a whole. With planned activities and proper preparation, you can make this day a success.
How a Take Your Child to Work Day Can Yield Employee and Business Benefits
There are several ways in which your business could benefit from hosting this event. First, it can be mutually constructive for all the employees and children involved. This event gives children the opportunity to understand what adults do at work, while parents and employees get a chance to lead by example. When kids are able to witness or observe what it's like to work in different industries, they may feel inspired and, in turn, be in a better position to envision their own future. At the very least, this exposure allows children to see their parents in a role other than Mom or Dad.
As a business owner, this event is also an opportunity for you to show your dedication to your employees and your understanding that they have important lives outside the office. When you help your employees achieve a better work-life balance, you can help increase engagement and motivation.
Activities and Preparation
In advance of the event, designate a team that will be responsible for hosting the day and developing preplanned activities for the children. For example, you may want to suggest an office scavenger hunt for younger visitors. To set this up, you can simply create a list of various office items and have the children check off each item when they are able to locate it. Consider limiting the hunt to a certain section of the workplace, and be mindful of any potential safety hazards.
Older children may enjoy conducting a mock interview either with their parent or another coworker. If you plan on organizing this activity, you may want to instruct your employees to let their children get creative by allowing them to think up their own questions to ask. For an added layer of fun, you can suggest that parents reverse roles by letting the children act as the candidates.
No matter which activities you decide to organize, it's important that you communicate about the event in advance to encourage participation and preregistration so you can plan accordingly. You can relay the event information through a company newsletter, email or social media post. Additionally, you could post hard copy notifications on office bulletin boards or in other areas where employees may congregate, such as a break room. And make sure to encourage everyone in the office to bring a child. Employees who don't have children should feel free to bring in children of a close friend or family member. As there can be liabilities associated with bringing children into the workplace, you should provide every employee who is participating with a release form and ensure you receive the signed forms in advance of the event.
By following these tips, you can organize a Take Your Child to Work Day that your employees and their kids will remember for years to come.
SIGN UP FOR THE THRIVE NEWSLETTER
Keeping Pace with the Evolution of Work: Creating a New Employee Experience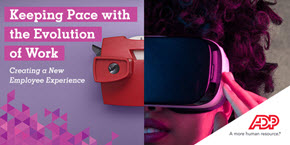 Many organizations find themselves facing a real disconnect with their employees. In short, they don't understand their people. Learn how to turn this disconnect from a potential disaster into an opportunity
Get the guide
Offer Educational Assistance Benefits to Help Attract and Retain Employees
Offering educational assistance benefits shows that you value your employees and their families.
Read Article
Ready for Some New Cute Coworkers? How to Set Up a Bring Your Baby to Work Policy
Growing numbers of organizations are allowing their employees' infants to accompany them at the office.
Read Article