4 Questions to Ask Before Choosing a PEO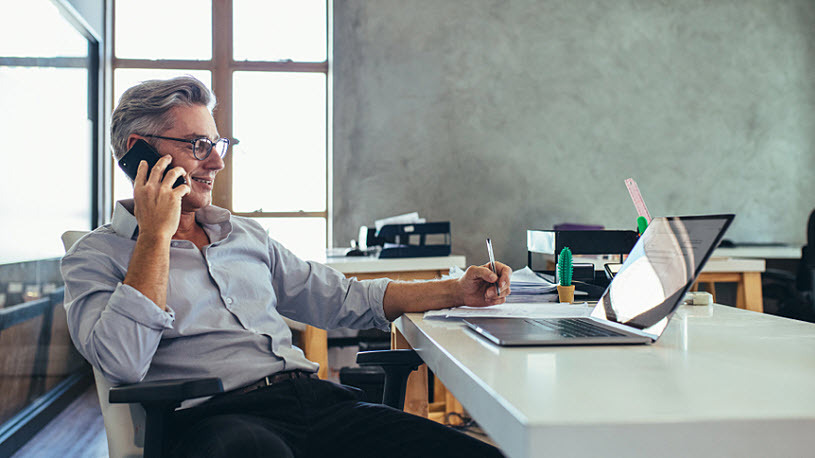 Working with a professional employer organization company, or PEO, has many benefits — but only if you choose the right company. Always ask these four questions before signing up.
Engaging with a professional employer organization (PEO) can be a game-changer. PEOs can take over much of your HR administration, including payroll, benefits, and compliance, freeing up time to focus on business growth and improving the employee experience.
Also, businesses partnering with PEOs experience1:
7-9% faster growth
12-14% lower employee turnover
27% ROI
However, these opportunities only exist with the right partner. To make the best choice, ask these four key questions:
1. What level of support do you offer?
Will the PEO partner with you and give you the support you need to make your business more successful? Some may claim to offer access to HR experts, but it might mean speaking to different people each time you have an issue. Other PEOs offer an assigned, dedicated Human Resources Business Partner (HRBP) who gets to know your business inside out, with experience across industries, states and ownership types.
Make sure that the support you will receive is proactive and strategic. Not just reactive and tactical. In addition, make sure the PEO stands behind its guidance. Some offer Employment Practices Liability Insurance (EPLI), which provides coverage for covered wrongful employment practices, including discrimination, wrongful termination, and harassment.
2. What software do you provide?
Many PEOs use one-size-fits-all, out-of-the-box 3rd-party software for their offering, so the capabilities may be somewhat limited. In contrast, some PEOs use their own comprehensive and proprietary technology specifically designed for SMBs like yours, so you can have confidence it can support what makes your business unique.
Make sure the PEO partner you choose also has a first-class focus on data protection. Keeping your employees' data and your business data private while supporting your needs is crucial. This is why some PEOs offer data-security technologies and protocols to help keep your data protected.
3. Can you scale with my business?
You'll want to confirm the PEO's technology is specifically designed to scale with your business as it develops, ensuring a seamless experience as your organization grows. This ensures the PEO can adapt to your business's evolving needs and growth opportunities – especially if you operate in multiple locations or in multiple states, which can add complexity.
Also, make sure they offer items like access to best-in-class benefits, workers' compensation insurance, employee perks, and more so you get the most bang for your buck no matter what growth stage your business is in.
While many PEOs offer the same basic solutions, ask what they offer beyond the norm. Some examples are talent services such as recruiting and onboarding, expertise and guidance for day-to-day questions, and risk mitigation to help compliance with employment rules, safety regulations and more.
4. Are you a certified or accredited PEO?
You want to make sure you choose the PEO that helps protect you and your employees and follows the industry's highest quality standards and financial protections for your business.
Certification is a critical factor. Look for ESAC Accreditation and IRS Certified (or CPEO).
ESAC Accreditation signifies compliance with over 40 industry best practices, emphasizing financial stability and ethical business practices. ESAC also provides surety bonds
IRS CPEO Designation signifies compliance with stringent U.S. Government requirements regarding tax status, bonding, and financial reporting
Remarkably, only 4% of PEOs hold both designations.
Choose the right PEO for your business
Selecting the right PEO is a decision that can significantly impact your business's success, efficiency, compliance, and employee satisfaction. It's crucial to evaluate the level of support, software solutions, scalability, and certification offered by prospective PEO partners.
Learn more
Download our guide: Choosing the right PEO for your business
ADP TotalSource® is a scalable all-in-one HR solution that helps business owners streamline their business operations which frees time to focus on core business and employees rather than on daily HR, benefits, and payroll challenges.
1. NAPEO: The ROI of using a PEO