Create a Future-Ready Workforce Informed by Data, Powered by Evolving Technology: Event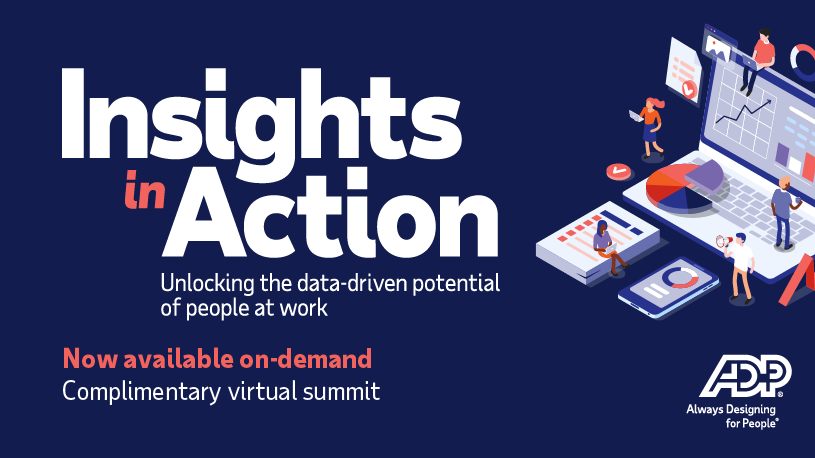 The Insights in Action virtual summit gathers expert presenters and panelists to explore how you can use workforce insights and new technologies to achieve better results for your organization.
Data-informed decision-making sets exceptional organizations apart from the competition. This is especially true when it comes to using people data and insights to achieve better results in a wide range of focus areas, including compliance, employee engagement and turnover; diversity, equity and inclusion (DE&I); and more.
Join keynote speaker Erik Brynjolfsson and other experts from organizations such as Amazon Web Services (AWS), Indeed and ADP as they explore the world of people data during ADP's first-ever Insights in Action: Unlocking the Data-Driven Potential of People at Work. The complimentary virtual summit took place in December 2023, but is available for on-demand replay now.
Here's an overview of what you can expect to experience in the Insights in Action virtual summit.
Explore the benefits of people data
During this interactive event, you'll learn about the evolving impact of generative artificial intelligence (AI) on the workplace, now and in the future.
Panel discussions will share recommendations and best practices for managing compliance, ethical and data quality issues — all foundational requirements for maximizing the benefits of people data.
You'll also learn how to use people data to reduce turnover and inform DE&I strategies and policies to create a stronger organizational culture and a happier, more productive workforce.
Hear from an authority on generative AI
In the keynote address, Brynjolfsson, a Stanford professor and the foremost authority on generative AI and the future of work, will discuss the challenges and opportunities that lie ahead as organizations try to prepare for an ever-evolving workplace.
Participate in sessions on ethics, growth and innovation
The agenda of the Insights in Action summit also includes three sessions. Each is designed to tackle a different aspect of the conversation around people data and its challenges and benefits.
"When Privacy, Data and Ethics Collide." Moderator Helena Almeida, vice president, managing counsel, ADP, will lead a panel conversation that seeks to demystify the challenges leaders are currently facing and provide best practices to usher in a new era of technology.
"How to Use Data to Ignite Growth and Progress." Leaders from AWS, Right Networks and ADP will share practical advice on using your data. Their insights will help you translate data-driven observations into positive change in the realms of retention, turnover, inclusivity and productivity.
"Generative AI and the Workplace of Tomorrow." Wall Street Journal reporter Chip Cutter will moderate a panel of experts, including the VP of HR from Steve Madden and ADP leaders, to discuss the practical ways organizations are using generative AI to increase efficiency, enhance the work experience, alleviate stress and transform how work is done.
Launch the on-demand replay of the complimentary virtual event at the Insights in Action registration page.