L&D Teams: Set the Stage for an Award-Winning Performance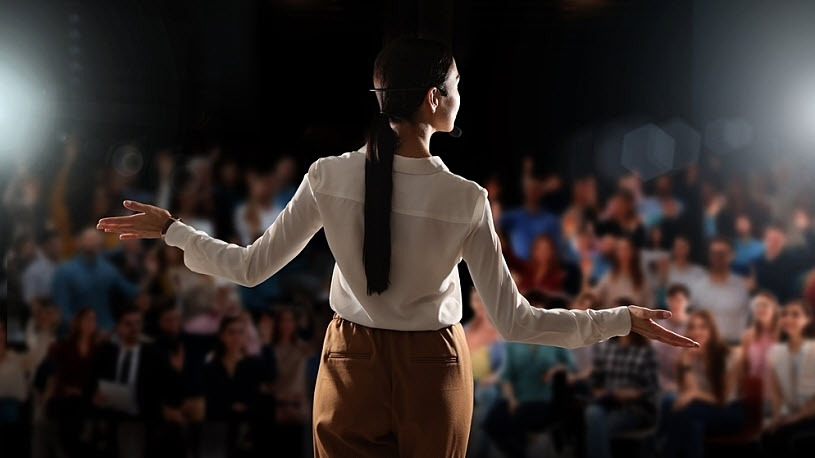 By Jennifer Serra, principal project/program manager, and Kathryn Ippolito, director of learning PMO, both at ADP. This article was originally published on April 7, 2023, by Chief Learning Officer.
Before the curtain falls on "The Great Talent Show," let's give a final round of applause to the stage managers — your project and program managers who coordinate and organize the production of your learning programs so each performance runs smoothly and efficiently.
If program and project managers do our jobs right, the producers (i.e., the stakeholders) will see their vision come to life, the playwrights (i.e., the instructional designers) will write effective scripts, the script coaches (i.e., the trainers) will help the stars learn their lines, the stars (i.e., the employees) will give a strong performance, and the audience (i.e., your customers) will be wowed — and you will hardly notice what the stage managers (i.e., the program and project managers) were orchestrating behind the scenes.
While your program and project managers may primarily be tasked with keeping the project team focused on delivering outcomes on time and on budget proficiently, you may want to consider having them incorporate some of these best practices to set the stage for an award-winning performance.
Orchestrate your producers' visions
After the business performance partner consults with the business to identify a learning solution, the project manager will get the green light to kick off the project. Just like instructional designers start with the learning objectives, project managers start with the project objectives, which include the desired outcomes and how success will be measured. After all, the project sponsor is making an investment in your project, so you want to define upfront exactly how they will be able to measure the impact of their investment.
Your project charter document will confirm your understanding of the project sponsor's vision by providing an overview of the project goals, timeline, budget, risks, stakeholders, and key deliverables. The upfront documentation and conversations are key to understanding the sponsor's goals, and validating the project charter will set a solid foundation for effective communication throughout the project to ensure all are working toward the same vision.
Devise the staging
A moment on stage with a single actor and one spotlight may camouflage the complex backstage activities. Even in the dark, the cast knows where they must be because they have a plan. Like a stage performance, a successful project starts with a well-defined plan.
Review organizational assets – The project manager starts by reviewing the lessons learned from similar projects. Project knowledge that occurs within and across projects is critical input that can help drive your project's success.
Select your project management approach – You may consider selecting your project management approach based on the instructional methods used by your design team. For example, an iterative design process may require an agile project management technique. Many project management approaches are available. The key is to select the right tools for your unique project.
Estimate the work and create a work plan – If time tracking is available, you can estimate your work using parametric estimating that applies historical data to your development ratios. Use your estimates to create a work plan while also considering the sequence and dependencies within your plan. If your project has resource or time constraints, prioritize your tasks so the team focuses on the most critical activities. Consider creating your work plan in a project management tool, so all team members have real-time access to the plan.
Identify risks – Discussing events that may impact the objective of the project early on will help you plan contingencies to avoid potential project risks. Discussing risks early and frequently empowers stakeholders to make better project decisions. Be sure to include the most critical risks in your project charter.
Create a change management plan – When projects depend on the adoption of new tools, processes, or skills, be sure to include a change management plan to help you effectively revolutionize employees' ways of working while also providing support that will drive the speed of adoption to help realize business outcomes.
Cast the talent
Like in theater, most learning projects require participation from a cross-functional team. Identify all stakeholders early in the project, including the subject matter experts who will be part of your cast. Consider the specialized skills you need to cast based on organization, technology, or process knowledge requirements. Include the entire lifecycle from design to implementation and evaluation of the project in your consideration.
When a show has a good director, the cast knows what is expected of them. In your project, consider a responsibility matrix to define each team member's role and escalation points if they need support. Facilitate a project kickoff meeting to introduce the team and project objectives. Highlight the importance of each team member and what they will bring to the project. During your kickoff, the project manager will review the project charter and continue to brainstorm risks. You will get the best results when the team has a shared vision and understands how the team will work together.
Ensure your project team is equipped with the capability to follow the defined project management processes. Increasing the organization's project management capabilities increases maturity, boosts project success, and decreases the cost of managing the project. It also ensures the team does not have to rely on the project manager to achieve the objectives and the project manager always has an understudy.
Share the spotlight
Just like stage managers, a project manager can help a team to share the spotlight. While cast and crew are typically your focus, don't forget to balance the input of the producers — your stakeholders. Include a representative stakeholder for each role up front so no one will be surprised by the final script and performance.
You should conduct stakeholder analysis and assessments regularly to pick up any early resistance, address specific needs, garner support, gain buy-in, and ensure active participation. That way, everyone will get their rightful place in the spotlight.
Also, consider that distinct roles may need different lighting. Conduct role-specific change-impact assessments to define support mitigations beyond training that your various teams of employees need to transform their ways of working. For instance, your new learning program won't be successful if the standard operating procedures or toolkits still drive employees to the old ways of working.
Also, consider how the new act will impact the supporting cast outside the spotlight of your learning program. Do they have inputs and outputs with the spotlighted team that will be affected, too? Cast a wide spotlight so no one is left in the dark.
Script the stage direction and ready the props
When partnering with the producers or their cast of subject matter experts to transform ways of working, ensure you're scripting the stage direction by building the desired behaviors into their existing workflows so every step on stage can be smoothly executed. Also, prepare the props they will need by providing a framework of resources for on-demand learning, support, FAQs, and more in their flow of work, so employees are ready to shine onstage without fumbling.
Perform dress rehearsals
Dress rehearsals are the perfect opportunity to monitor performance and provide feedback. Project managers will monitor project progress by reporting on traditional metrics such as quality, time, and cost as well as metrics that are unique to your project outcomes.
The project manager will continue to facilitate project status meetings to check in on how we are meeting the original goals, follow up on action items, continue risk discussions, and provide status updates. The frequency of the meetings will vary based on the project's complexity, reporting requirements, and availability of information in your project management tool.
Unlike a good mid-story plot twist on the stage, unexpected changes in a project can impact your project objectives. Changing requirements may lead to scope change or delays. Change requests allow you to record the impacts of the events and provide data for the sponsor to decide the action. Make sure you continue to refer to the project charter as needed.
Share lessons learned throughout the project so you can adjust your approach and change direction as needed. The lessons learned will also become organizational assets for future projects. Encourage the project team to share details on what is going right and what is going wrong with equal importance.
Overcome stage fright
Your learning program provided a clear script for your employees to follow, and the cast practiced their lines offstage (with either traditional role-play, coaching/nesting and practice environments—or with a state-of-the-art, AI-powered coaching tool). Your stars should be ready to shine. Yet even the brightest stars sometimes need a little encouragement to overcome stage fright before they get out in front of an audience of customers. To promote and accelerate your employees' engagement and adoption of desired behaviors to realize your business outcomes, you may want to consider the following at showtime:
Method acting — Define their "character's motivation" with an awareness and amplification campaign that speaks to the heart, including presentations in team meetings, learning roadshows, emails, promotional videos, and more so employees clearly understand what is expected of them and are engaged to act.
Line, please — Provide feedback loops and a listening strategy with a clear way for employees to seek assistance or request troubleshooting support if they forget their lines onstage. You may want to have a short hypercare period in which subject-matter experts are poised to provide in-the-moment support via a chat tool before transitioning to your standard employee service model.
Cast party — Reinforce transformation with human-engagement activities such as change agent forums, launch parties, games, contests, and awards as appropriate to rally the supporting cast to act and celebrate their performance.
Read the reviews
After the curtain closes, remember to read the reviews to determine how you did and to celebrate your accomplishments. While there should not be any surprises, you will record the results of your targets, benefits achieved, capture final lessons learned, and add the project assets for future projects during the final phase of your project. Use your results to revise your processes for the next project. Facilitate a project closing meeting and provide data to show project stakeholders the results of their investments. Share the findings with your project and key business stakeholders, and give your team the standing ovation they deserve for a job well done.
Learn more
Work is personal. Your talent strategy should be, too. Visit ADP.com/ItsPersonal
---