L&D Teams: Get More Standing Ovations with Learner-Optimized Design and Delivery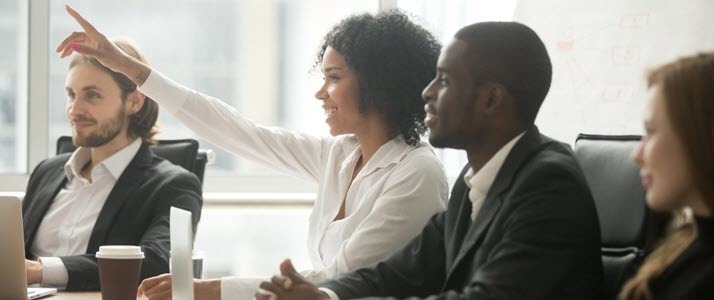 By Carol Munir, senior director of COE design, and Heather Granger, senior director of COE delivery, both at ADP. This article was originally published on May 31, 2022, by Chief Learning Officer.
The Great Talent Show is coming soon to organizations everywhere. While many have pointed to a talent movement often termed "The Great Resignation," not all have reflected on the new priorities and needs of the talent that are at its root. This reflection presents an opportunity for learning and development (L&D) teams to enter the spotlight. If there was ever a time to shine as L&D professionals, that time is now.
But how can organizations ensure their learning troupe doesn't simply get a ticket to the show, and is instead cast in a starring role?
We all have seen that one performance that deeply resonated with us. It moved you to rise to your feet, applaud and think: This performance was made just for me. Simultaneously, you heard thunderous applause coming from fellow audience members. As you looked around, you saw them joining you in a standing ovation.
Just like there are common themes in theatre that unite us — such as familial love or the relentless pursuit of a better future — there are also elements of instructional design and delivery that speak directly to learners.
But how do you design and deliver learning experiences that are deeply relevant to audiences while not stretching your team too thin? The answer is found in the innovative creativity of your design team and the diverse performances of your delivery team.
Make performances feel personal
While you do not need to put on a different show for each learner — your audience — they should feel like you are performing just for them. Every learner comes to you with unique skills and knowledge. To assume that there is a one-size-fits-all solution for your learners is a disservice to them and to your team. By customizing learning and development experiences, your team can reduce seat time and boost effectiveness.
A simple, but effective way to match content to your learners' knowledge and skill level is to use pre-tests to help individualize the lesson for the learner. Furthermore, by leveraging adaptive learning platforms, learners can approach the subject matter through an exploratory lens, with content served up based on demonstrated knowledge gaps.
Beyond that, proactively analyzing data empowers your L&D team to pinpoint which content to offer learners to help them improve. Rather than waiting for learners to tell you where they are struggling, look at business and key performance indicators. This might include trends in call interaction data for service professionals to identify the types of calls that are challenging for learners, and then create relevant, personalized learning based on employee performance metrics.
Keep the knowledge flowing without learners having to break character
As much as we wish it were not true, learners do not want to stop what they are doing and attend a multi-act production in your learning management system. Afterall, your audience is used to having access to learn anywhere, at any time and with any medium — videos, podcasts, e-learning, mobile, social media, articles — without leaving their seat.
To keep today's learners engaged while reducing their time to mastery, we know that we must set the context quickly and as close to the point of application as possible. Here are several innovative ways your team can put relevant resources at learners' fingertips:
Point-of-need learning walkthroughs and tooltips that are embedded into the applications your learners use every day.
Structured on-the-job activities.
Social learning communities and peer-to-peer mentoring.
When getting answers quickly is the goal, a knowledge management library with a powerful search engine enables talent to find answers mid-task. In a search-first world, this will feel natural to your audiences since they are accustomed to exploring the internet to find their own answers. Not only does this build employee confidence, but it also empowers learners to complete their tasks accurately and more efficiently.
Make peer-to-peer and self-directed learning your co-stars
Great learning talent is sitting right there in your audience. Cast them! By embedding teach backs into your curriculum, you change how your audience consumes, interprets and interacts with learning content. Take a step back from lecturing and put your L&D audience into the spotlight. Not only does this help them to create lasting connections with one another, it also creates opportunities for learning that surpasses what you can accomplish with one-way communication.
Exploratory self-paced exercises also allow learners to guide their own learning playbill. Internal social learning platforms are another great way to connect learners with one another so they can crowdsource solutions. By investing in the right authoring tools, your L&D team can even equip peers and subject matter experts with the ability to easily record videos. By empowering SMEs to share expertise on demand with those who need it, you can maximize their time investment by increasing audience reach.
Set the scene for context and application
Rehearsals are helpful, but they don't always prepare you for the feeling of performing in front of a live audience. To prepare learners to apply what they learn, it is important to set realistic context in the classroom. This is rooted in mirroring the ways learners will apply knowledge and skills on the job. But how can you do this? You can set the stage with themes, personas, role plays and exploratory learning to simulate real-life scenarios. Although these are tried and tested approaches, there is always room to innovate. By using artificial intelligence or augmented reality tools to simulate real-life, on-the-job interactions, you can provide learners with a controlled and authentic environment to learn in the context of application and — in some cases — a personalized coach.
Bolster confidence after training
Nothing can ruin a performance like stage fright. If you want learners to be ready to take center stage after training, you must bolster their confidence. The best approach is to deconstruct the learning to avoid overwhelming them. By partnering with stakeholders, your team can be more strategic about how and when to deliver learning topics. By breaking up content into levels that include foundational essentials, refreshers, and advanced proficiency, you give learners time to acclimate and build confidence with on-the-job application in between to support long-term behavioral changes.
This can also help your team have a positive impact on improving attrition. Learners who rank their confidence as low might be waving a red flag that they're considering an exit. By leveraging mentoring and performance support, you can help them feel supported with the right resources along the way — boosting confidence to help curtail turnover.
By showcasing these learning results to stakeholders, you reinforce that your learners' success is the main stage of your design and delivery strategy, and that you are committed to helping your audience achieve standing ovations of their own.
Learn more
Work is personal. Your talent strategy should be, too. Visit ADP.com/ItsPersonal