The ACA and Workforce Dynamics: Impact of New Hires, Rehires and Leaves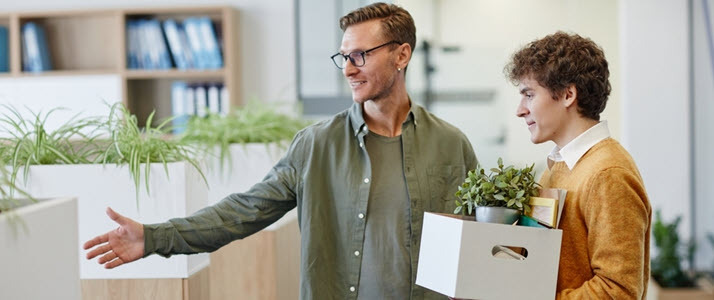 ACA compliance is complex and filled with landmines that can lead to steep penalties for noncompliance. Three areas that can be particularly difficult to navigate and manage are: employee new hires, rehires and leaves of absence.
Many employers have ventured into the arena of managing the requirements of the ACA and its complex workforce dynamics, with no external support, as a cost-saving strategy. There are many complexities to ACA compliance, though, that can fly under the radar, even for those trying to carefully navigate the nuanced regulatory landscape. It is a landscape that presents many potential landmines along the way for employers putting forth their best efforts to be fully compliant with the ACA's workforce dynamics. It is often these obstacles that can go unnoticed until it's too late, and employers are faced with large penalties under pressing IRS deadlines.
We have seen that the three areas of the ACA that often cause employers problems are managing new hires, rehires and employees on leaves of absence. These three areas make it clear that, in the long run, leaning on trusted experts may prove to be the more effective strategy for reducing an employer's overall financial risk.
New hires
Hiring new employees has many legal considerations and requirements for employers, and the ACA should certainly be included in that list. For example, when an employer hires an employee who will average working 30 hours a week or more, there is an obligation to offer health insurance coverage that meets certain requirements earlier than the employer might normally consider if it's even considered at all.
Even though there is a beginning period when the employer will not be assessed a penalty, the clock starts ticking from the date of hire. On the other hand, new employees who work a variable schedule, where the number of hours they work each week fluctuates based on business needs, have different obligations regarding the timing of being offered health insurance.
Any misstep can prove detrimental to an organization. Not offering health insurance during months that are required dramatically increases the risk of penalty. Every employee who isn't managed according to these unique considerations can contribute to the exponential growth of that financial risk.
Rehires
Understanding that the ACA essentially describes two new hire "types," with unique requirements for managing each is just one rock that has to be pushed uphill. Another area that can cause challenges for employers is correctly managing offers of health insurance for individuals who are rehired after experiencing a break in service.
To comply with the ACA and reduce penalty risk, rehires who were away from the organization for 13 weeks or less (26 weeks or less for educational organizations) in most cases should not be placed in an employer's typical waiting period prior to being offered health insurance. The ACA labels an employee that fits this scenario a "continuing employee." Continuing employees who were previously designated full-time under the ACA Lookback Measurement Method must be granted the same ACA status they earned prior to terminating their employment. That ACA status is also valid for the same time period (known as the "Stability Period") as it was prior to the termination.
Tracking this correctly for every rehired employee within an organization can be a large administrative burden that, if not done correctly, can directly cause exposure to penalty risk for not following these provisions of the ACA employer mandate.
Leaves of absence
Under the ACA Lookback Measurement Method of determining an employee's eligibility for health insurance, there are unique rules for averaging the hours per week for an employee who is on one of three specific leaves of absence.
The three specific types of leaves that require these special considerations are:
Family and Medical Leave Act (FMLA)
The Uniformed Services Employment and Reemployment Rights Act (USERRA)
Jury Duty
These are referred to as "special unpaid leaves" throughout the ACA regulations. In general, when employees are on special unpaid leave and, therefore, are not contributing hours of service, employers should not include these "zero-hour" weeks when determining the average hours per week at the completion of a measurement period.
In other words, employees on special unpaid leave should not have their hours negatively impacted when it comes to determining their eligibility for health insurance. Manually tracking all of this sounds simple, right? Wrong.
Another common employer business practice that creates potential penalty risk is ending an employee's health insurance when they are on a leave of absence. If an employee was determined to be full-time, taking coverage away during a stability period can result in a penalty assessment.
Having a management strategy for achieving a high level of ACA compliance is the only truly proactive way to mitigate potential penalty risk.
These are some of the critical questions to consider when managing an organization's ACA compliance around these workforce dynamics:
What is the best way to track the different types of new hires and when to offer each type of health insurance?
When employees are rehired, are employers able to identify which employees are continuing employees and which are new hires?
How are employers successfully tracking each employee's measurement period year over year?
What is the best way for employers to gain awareness of the regulatory nuances around which hours should be used to determine an employee's eligibility for health insurance and which should not?
Are employers able to manually track special unpaid leaves and correctly account for them when doing the math for the Lookback Measurement Method?
Employers who work with an experienced vendor are employing the most effective risk management strategy. In order to successfully navigate risk, employers have to first find a way to gain insight into that risk. Without awareness of their risk exposure, there is no real way to deploy a proactive winning strategy.
Learn more
[Guidebook] Key considerations to reduce organizational risk with ACA compliance management