Strategies to Combat 4 Year-End Small Business Challenges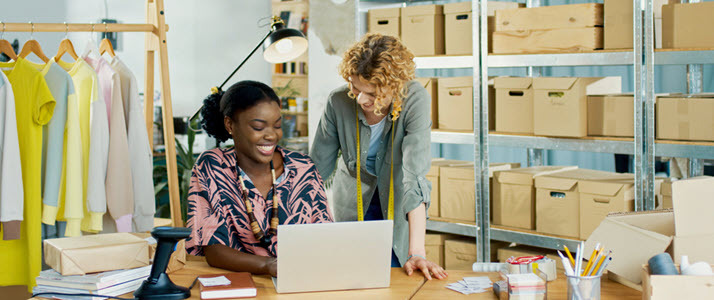 For small businesses, the holidays can often signal the beginning of the craziest time of year. Rushed orders, increased sales, and running short on staff can present challenges that all affect the bottom line.
While the holiday season is usually full of twinkling lights, special festivities and good cheer, small businesses face several unique challenges. These challenges aren't specific to the holidays, but the demand for goods, services, travel and accommodations increase exponentially during the holiday months which means these small business challenges are amplified more than ever.
Visits to family and friends, big meals and gift exchanges all bring about a spike in market demand. While big corporations may face similar challenges throughout the year, planning for increased production or hiring seasonal staff is vastly different for small business and even critical to business success. Knowing the challenges is essential for making plans to face and overcome them. For that reason SPARK is recapping an on demand webinar, hosted by ADP, where the experts discuss this topic: Small Business at Work Fall 2022 Outlook: Preparing for a Changing Landscape. Drawing on research conducted among ADP's small business clients, expert Julie Arzonico — senior director of market insights at ADP— discussed trends and challenges.
Consider the following guidance as you face these four challenges, even as they are magnified by the holiday hustle and bustle:
How do I find qualified employees?
Attracting talent continues to challenge small businesses in the current labor market. "Finding qualified employees has overwhelmingly been the primary challenge our clients are facing," says expert Julie Arzonico. It was cited as the topmost challenge in the recent ADP client survey. And of course, this challenge has an even more profound impact on small businesses as they deal with the holiday rush. Whether it's barista staffing at a local coffee house or salespersons at a furniture store, having a staff shortage not only adds stress to other workers trying to pick up slack, but it also impacts the bottom line. However, there are a few things small businesses can do to attract workers. Make sure to list open roles on platforms that are highly trafficked by jobseekers. Also, when possible, offer benefits that jobseekers value. The research revealed that things like flexible hours and special bonuses were two of the incentives small business clients felt were the most important for attracting new employees.
How do I keep my employees?
Another leading small business challenge is employee retention. As many business owners have experienced firsthand, retaining employees since the COVID-19 pandemic has been a challenge like none other. This trend shows no signs of reversing, and the holiday rush will only serve to heighten the need to keep staff on board. All business owners know the value of employee retention — from maintaining morale, to the impact on profit margins. When considering retention this holiday season, consider what Julie Arzonico shared regarding the researched on this topic: "Special bonuses and increased pay are perceived as the most important thing to offer employees to get them to stay." You can also use things like career development opportunities to keep employees engaged and coming to work.
How is the economy doing?
The economy has been a source of stress for many business owners as rising inflation has forced many to raise prices or take on more work to make up for falling margins. Thirty-five percent of the small business clients surveyed reported the economy is a major challenge for them. It's everything from increased goods prices, production costs and delays, to supply chain disruptions and lower cash flow. As you might imagine, these economic issues have the potential to impact small businesses in a more profound way than they do larger corporations.
While the economy may not be the biggest small business challenge this season, it's still interconnected with some of the top cited challenges like finding and retaining employees. Julie Arzonico says, "We know that 35 percent of our [small business] segment is indicating that the economy is a big challenge for them. And now we're seeing that the uncertainty about the economy is starting to impact their hiring plans."
If companies are tightening their budgets to accommodate the shifting economy, then having margin to hire or provide additional incentive for existing employees may not be an option. But not all incentives are monetary.
How do I deal with employee absenteeism?
Absenteeism has been a problem since the COVID-19 pandemic began. The ADP client survey shows that it's something that some business owners are dealing with. Even if it's not as hot of a topic as recruiting or retention, it's still a point to consider when evaluating overall employee engagement, which, as many business owners know, affects the business. Employee absenteeism can be amplified within the sphere of small businesses because the numbers and margins are different. Having one or two employees missing during the week may severely impact the bottom line for a small company, whereas for a larger business, it may cause an inconvenience, but there may still be enough employees to cover the shift or meet output requirements.
Some suspect absenteeism is due to the push for greater flexibility with work and the need to take care of children or the elderly. Expert Julie Arzonico shared what the research suggests, which is that absenteeism can be combated by creating more support for employees through increasing work flexibility as much as possible: "The predominant way that it's being handled, if it's being handled, is by offering flexible work hours and schedules." This will allow small businesses to accommodate employees' personal and family needs while at the same time building a supportive relationship, which lends itself to employee retention and consistency.
The wrap up
If you're a business owner, coming up with a plan to face these small business challenges could be a game changer for you and your organization. While these challenges are not new, the holiday season will amplify them.
Launch the webinar here: Small business at work fall 2022 outlook: Preparing for a changing landscape.