Looking for Workers? Consider Hiring Veterans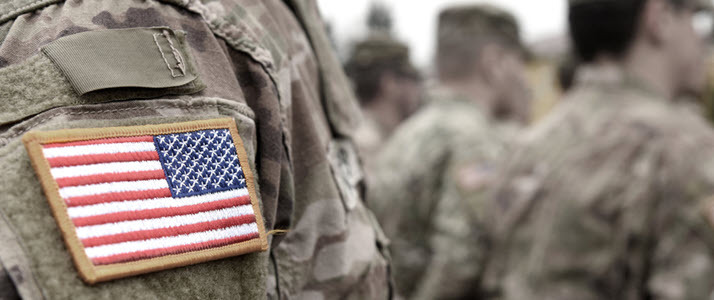 Veterans can bring valuable qualities to any organization. A Veterans hiring program, coupled with helping Veterans grow and develop, can yield positive long-term benefits.
Hiring Veterans can be worthwhile for any small, midsize or large organization. Depending on their experience, Veterans can offer tactical and logistical points of view, the ability to problem-solve creatively and manage well under pressure, a solid commitment to teamwork and loyalty, hard and soft skills acquired from their job specialties, insights into the military's relationships with the private sector and more.
To truly understand the value of hiring Veterans, ADP's chief diversity and talent officer, Bob Lockett, interviewed Bobby Herrera, author and president/co-founder of Populus Group, and Gregory Gadson, co-founder of CulturePop. Later, to understand the value of Veteran business resource groups (BRGs), SPARK spoke with the co-chairs of ADP's Military Strong BRG.
Why Veterans stand out in the talent market
Herrera says Veterans' ability to build trusting relationships is one reason they stand out as attractive candidates.
"Veterans build trust better than anyone out there. It's something that's embedded deeply into the fabric of any Veteran that has served," he says. "If you look at any organization at their core, building trust with whomever their customer is matters above all. Veterans bring that unique characteristic embedded deeply, and [they] immediately raise the average of any team they become a part of."
Gadson says Veterans' experiences navigating the military's organizational structure and the time they've spent immersed in a unity-driven culture of gratitude and respect are some of their unique talent differentiators.
"Our military communities are the most diverse organizations in our country. We learn to get along with each other. We learn to value and respect everyone," he says. "Having somebody with that kind of experience touches your organization."
Overcoming barriers to hiring Veterans
Gadson says focusing on local community involvement and visibility can help organizations make strides in hiring Veterans. In short, don't wait for Veterans to come to you.
"Overcoming barriers to hiring Veterans is about actively going to places and making yourself accessible to Veterans," he says. "It's not this plan of hoping you stumble across them. I would encourage organizations that are actively pursuing Veterans to have a single point of contact or a few people that have the final say on whether a Veteran is not suitable for an organization. You've got to talk to them. You've got to understand how to interview them. You've got to sell that Veteran on your organization."
Herrera says attitudes and human systems can also influence Veteran hiring success.
"Zoom out and look at your human systems, all the processes you have in place for how you select people to become a part of your organization," he says. "When it comes to looking at Veteran candidates, [are] the attitudes you're looking for, for the team that you're looking to [hire] someone for, discerned and built into the questions you're encouraging your hiring managers to ask? Because that's where the beauty really comes to life from what these wonderful Veterans bring to the table."
Why some organizations struggle to hire Veterans
Organizations struggling to hire Veterans may need to learn how their knowledge and skill sets translate. Additionally, they may not be helping Veterans recognize their translatability.
"There are examples I see [where] the time isn't taken to help these Veterans discern what they bring to the table," Herrera says. "If you look at a military occupation… we were in artillery… What in the world does that mean for a civilian job? There's no directly translatable skill there, but the soft skills that we learned, the planning, the managing turmoil, the managing chaos, all the things we brought to the table, if an organization can instead look at discerning what [Veterans] learn from those skills and what gifts they're bringing forward, I think that will enable them to provide a tremendous amount of support and place them in the right roles on the right teams."
Likewise, Gadson recommended that organizations look beyond just the daily tasks Veterans completed while enlisted.
"Our military service is not necessarily about what we did but whom we become. I often say to Veterans, 'We weren't cannoneers or trigger pulls. We were leaders. We were problem-solving.' That whole skill set is inclusive of so many skills: Adaptable, mission-focused, that's who we are, what we're about, not the fact that we were a mechanic or a rifleman or whatever," he says. "As hiring managers, understand that this person has some dynamic abilities. We've got to look beyond exactly what someone did on a day-to-day basis."
Veteran hiring support and onboarding
For Veteran hiring support, Gadson recommends looking into the United States Department of Defense (DOD) SkillBridge program, the U.S. Chamber of Commerce Foundation's Hiring Our Heroes program, United Service Organizations (USO), the Wounded Warrior Project and the Disabled American Veterans (DAV) charity.
"There's really no lack of resources in that matter," Gadson says. "It's about being persistent. It's about being committed. I know those organizations will work with you to help you get what you're looking for."
Gadson also recommends contacting transition assistance offices. Most military installations have a transition assistance office for their servicemembers.
"That would be a great place to start," Gadson says.
Herrera recommends Bunker Labs, which helps Veteran entrepreneurs. He also mentioned the importance of Veteran onboarding, saying it should go beyond just pushing Veterans into on-the-job training.
"Are you welcoming, or are you onboarding?" Herrera said. "The difference there really is simple. Are you engulfing these Veterans into the mission and into the story and into the cultural aspects of the organization versus just throwing them into a job shadow? Usually, that's what happens with an organization. That's the difference between a welcome and orientation. Are you helping them become a part of the mission from day one? Veterans are deeply wired to be part of something bigger than themselves. And when [you] do things like that, you will capture the loyalty of these already loyal candidates into your organization very quickly."
Veteran hiring: A long-term endeavor
Herrera is interested in debunking the myth that hiring Veterans is easy. It's not, he says, adding that only a small percentage of the population has served, meaning employers have access to a much smaller talent pool in general. Like Gadson, Herrera recommends that organizations establish community ties with Veterans to help pipeline them into their workplaces. But that won't happen overnight.
"One of the challenges when attracting and recruiting Veterans is you have to play the long game in building not only how you're going to recruit them long-term and near-term, but you also have to make sure you're building the right support networks to continually go out and be a part of those organizations and get involved in those organizations," Herrera says. "It's a long-game process that I feel is overwhelming to some folks. That, to me, feels like the biggest obstacle: building the resiliency around playing the long game to become a Veteran-friendly organization."
Post-hiring: Veteran mentorship
During their transition into the private sector, many Veterans must acclimate to new or updated ways of doing things. A mentor can help them adjust or re-adjust to working as a civilian.
"I think every HR professional would agree that any form of mentoring where you have properly matched individuals is incredibly valuable," Herrera says. "I think it's most valuable in helping Veterans acclimate to an organization where they can rewire themselves. [Veterans] bring a lot of hardwired acronyms and vernacular and sometimes outdated and conventional thought processes to an organization. An organization needs to mentor them with someone that's going to tell them what they need to hear versus what they want to hear, and [that will] flatten the curve quickly to assimilate them."
Gadson says mentoring doesn't have to be administered traditionally. It can take multiple forms.
"I've always been a mentor that's worn my mentorship outwardly, communicating often and exposing people to the different ways that mentorship may be occurring," he says. "Someone doesn't always have to put their arm around you and say, 'Hey, I'm mentoring you.' Recognize that there are lots of ways to grow. It's about your intellectual curiosity. If someone's not necessarily reaching out to you, don't be afraid to reach out to them."
Post-hiring: Veteran business resource groups
A Veteran business resource group, or BRG, can help organizations engage and honor Veteran employees, their spouses and their allies. It can also be a powerful employee retention tool.
"Having BRGs can help employees feel more supported and encourage them to stay with your organization longer," says Sam Finley, vice president, benefits, ADP, and co-chair of ADP's Military Strong BRG. "Happy employees who have the resources to overcome challenges may feel more invested in their work and envision a future with your organization instead of looking for employment elsewhere."
Consider the percentage of your workforce that would relate to or engage in BRG activities and events. If the numbers are higher, fostering sustainable engagement and participation would be easier. Leaning into Veteran holidays and events, such as Veterans Day, is also imperative.
Michael Donohue, vice president/general manager, ADP, and co-chair of ADP's Military Strong BRG, says that sponsoring and participating in Veteran career and vendor fairs or supporting local charities is also paramount to driving beneficial hiring outcomes.
"Like with any BRG, you need passionate people who can dedicate time toward fostering community and motivating local leaders to engage and drive events that encourage networking, recruiting and career development opportunities, to name a few," Donohue says. "In addition, it's critical to have the support and sponsorship of senior leadership, including their participation and funding of key internal and external events that support the mission of the BRG."
Attracting and retaining Veterans: Next steps
Veterans can bring valuable qualities and abilities to any organization. Organizations of all sizes can develop better Veteran recruitment and retention initiatives by intentionally engaging Veterans, creating partnerships and exploring fellowships. A strategic Veterans hiring program, coupled with helping Veterans grow and develop, can yield positive long-term results.
Replay Attracting and Retaining Top Veteran Talent, part of ADP's 2022 Inclusion Summit.
Additionally, visit ADP's for more on how your organization can do and be its best.
ADP's Military Strong BRG focuses on fostering a strong community for its Veteran employees, their families and their allies. Its activities seek to honor and build an internal network while engaging external entities to give back to local and national military charities and organizations. The BRG's celebratory month is in November, aligning with National Veterans and Military Families Month and Veterans Day.
---