Maintaining Cybersecurity Should Be an Ongoing Commitment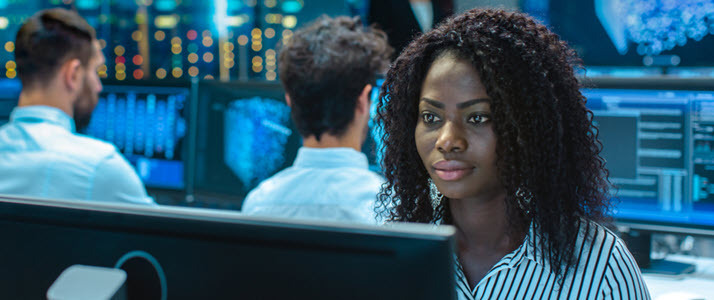 October is Cybersecurity Awareness Month, but protecting against threats should really be a top priority year-round. Here's a look at different resources that can help your organization assess and reinvigorate its approach to security and compliance throughout the year.
When Cybersecurity Awareness Month comes around each October, many organizations take the opportunity at that time to acknowledge updated threats and bolster their security protocols. It's definitely a good thing to mark on the calendar, but cybersecurity efforts really need to be top of mind throughout the whole year.
As countless surveys show, cyberattacks are likely to continue to grow and exact a heavy toll on organizations that fail to invest in a robust security program. It's estimated that by 2025, global cybercrime will cost a staggering $10.5 trillion annually. Additionally, as the threat environment becomes increasingly treacherous, the global average cost of a breach could rise from its current all-time high of $4.65 million. While businesses may foot the bill initially, consumers often bear the brunt of the loss in the end.
Maintaining your focus on cybersecurity year-round requires an ongoing commitment, which includes paying close attention to the evolving threat landscape and being willing to conduct periodic evaluations of your cybersecurity program's effectiveness. Here's a look at different resources that can help your organization assess and reinvigorate its approach to security and compliance throughout the year.
Measuring the effectiveness of your cybersecurity program
Effective internal controls, relevant policies, up-to-date procedures and employee education are some of the cornerstones of a robust cybersecurity program. Nonetheless, creating these building blocks is only the first step in securing your organization.
To ensure your program functions as designed, you should revisit each element at least annually. Just as importantly, should you uncover gaps or weaknesses, make sure there's an action plan for remediation. Planning ahead can help your organization effectively respond to threats immediately upon encountering them, potentially reducing the repercussions.
Honoring your commitment to customer privacy
Due to never-ending headline-grabbing data breaches — and the monetization of personal data as a key component of many business models — many consumers are increasingly uncomfortable with giving businesses free rein with their personal data. In fact, a growing number of consumers view privacy as a nonnegotiable right.
Until relatively recently, privacy was largely an afterthought for businesses and consumers alike. Today, a privacy-first strategy recognizes that privacy is a regulatory obligation and essential to creating customer trust. Simply put, if a consumer doesn't trust a business and its ability to be a good steward of their personal data, they will seek alternatives. Putting privacy first puts the consumer's needs first, which is good for business.
Creating and enforcing a virtual security perimeter
In an increasingly digitized economy, the traditional IT perimeter no longer exists. Instead, many organizations use cloud-based solutions. Regardless of where data exists, an identity and access management (IAM) strategy is crucial to protecting your business.
A proper IAM strategy should allow certain individuals to access specific resources at certain times for specific reasons. While IAM comes with a cost, a well-planned approach can reduce the volume of technical support calls needed and make it easier to demonstrate compliance to regulators while also helping to ensure the safety and security of customer data.
Strengthening HR and data security
Given their access to employee data, HR plays a critical role in data security. HR must engage with the workforce and communicate their role in protecting the organization's data. Just as importantly, HR can champion cybersecurity education and make it less likely an employee will click on an infected email and inadvertently open a virtual door for an attacker to enter.
Cybercriminals aren't always looking to steal money; employees' personal information can be just as valuable. Accordingly, HR departments should consider partnering with IT security teams to protect the various forms of employee data in the department's possession.
Attracting and retaining IT security talent
Given how important cybersecurity is for organizations of every size, many IT departments find it a challenge to hire suitably qualified security professionals. This could become an even larger problem as time goes on and cybercriminals become more sophisticated with their attacks.
Winning the war for IT security talent will require creativity. For example, instead of chasing candidates with the ideal background, hiring motivated individuals and being willing to invest in training programs can fill critical vacancies. Establishing relationships with local schools and colleges can also let you tap into talent pools that others might overlook.
Security matters every day
While cybersecurity awareness is in the spotlight every October, the attention it receives should not fade in November or any other month. Your organization can take action year-round to protect against bad actors and evolving risks.
In an era where there's no shortage of threats, having an effective security program is critical to the safety and security of your organization. While cybersecurity requires a sustained investment, mitigating threats can hlep protect your business from dangers that will only grow in size and severity. Over time, the resources devoted to maintaining security and compliance can benefit your bottom line and help your organization grow even stronger.
At ADP, security is integral to our products, our business processes, and infrastructure. Learn more about data security and privacy at ADP, and get resources that can help your business. Visit ADP.com/trust.