This Labor Day, Employers Step Up as Workers Stand Up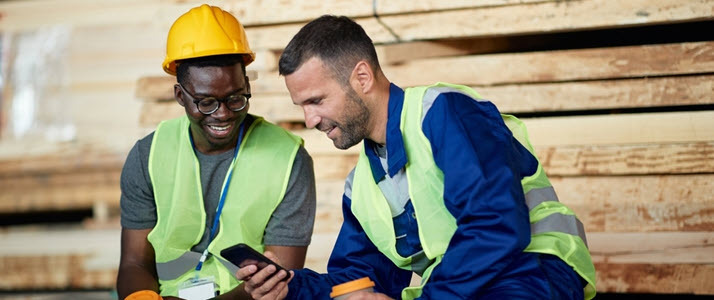 The Labor Day holiday has a rich history which has greatly impacted the working world as we know it. Here's a look at the holiday's conception, the labor practices it has influenced and how organizations can simplify compliance and employee satisfaction simultaneously.
Labor Day serves as the unofficial end of summer, but there is more to this significant day than barbecues and back-to-school shopping. In fact, the historic federal holiday can be linked to employee unionization and current worker benefits such as overtime pay, paid time off, family leave, pay equality, restrictions around child labor and safe working conditions.
Here's a brief look at the impact on employers, and how many have stepped up to manage compliance as a strategy for attracting and retaining labor.
Built upon 140 years of history
Labor unions originated as a way for workers to show solidarity in their fight for shorter work days and more paid time off during a period when workers averaged 60-hour weeks.
The first official Labor Day took place in New York City, as a street parade followed by a picnic, on September 5, 1882. After the majority of the states designate Labor Day as a legal holiday, the United States Congress declared it a federally observed holiday in 1894.
A Bureau of Labor Statistics report shows that 15.8 million wage and salary workers were represented by unions in 2021. Additionally, the data shows that 75% of people who joined a labor union in 2017 were younger than 35.
Unions also played a significant role in establishing many laws, the most significant of which being the Fair Labor Standards Acts (FLSA) of 1938 and the Family Medical Leave Act (FMLA) mandating a minimum wage, extra pay for overtime work and basic child labor laws. Laws like these were preceded by the series of programs and projects President Franklin D. Roosevelt instituted, collectively called The New Deal (1933-1934) and The Second New Deal (1935-1936).
Recently, employee unionization efforts at several high-profile businesses have made headlines, and younger workers are seeing the benefits of unionization.
Worker rights and compliance challenges
As industrialization in the United States progressed, national labor organizations were formed to advocate for regulations, and the bargaining power of these organizations contributed to the creation of the Department of Labor by Congress, primarily to administer labor laws guaranteeing the right to safe, fair and healthy working conditions.
Put into place during the Great Depression to provide jobs and stabilize the economy, Roosevelt's programs set a precedent for politics, workers and employers for decades to come. Thanks to these laws, employers and governing bodies receive clear guidelines for creating a safe workplace, allowing workers to reduce their need and reliance on unions.
Whether its compliance with wage and hours laws or specific union agreements, employers must have processes in place to simplify education and administration or face financial penalties and employee grievances and attrition as a result.
Challenges include:
Tracking and payment of overtime. Calculating hours and applying the law accurately, so that regular and overtime rates can be determined and applied.
Time off and family leave. Tracking entitlement and accrued benefits, including meal and rest breaks, sick time, vacation time and holidays.
Child labor. Limitations and safety regulations so that when children do work, they're given certain protections and are held to a specific set of standards.
Wage standards and equal pay. To ensure living wages for a wide variety of jobs, and working to implement fair and equal wages.
Safety and working conditions. Labor unions dedicate significant resources to monitoring and improving workplace safety and health conditions.
Technology can help
Balancing the needs of the workforce with the needs of an organization is always a challenge, but it's especially difficult when it comes to aspects of employment that fall under compliance restrictions for laws and regulations. Employers must maintain a large amount of documentation and maintain high standards for accuracy and integrity within that documentation.
Fortunately, workforce management technology is available to help employers monitor and stay on top of compliance with tools such as the following:
Rules engines allow businesses to tie pay and wage rules to specific worker populations, such as overtime pay to non-exempt employees.
Work rules track warnings and violations and deploy soft and hard blocking of schedule violations.
Data collection allows businesses to capture punches from the source (mobile, clocks, etc.) for accurate records and calculations.
Digital audit trails, approvals and attestations allow businesses to maintain accurate time edits and record keeping.
Accrued time off accounting enables organizations to calculate earnings and usage of both paid and unpaid time off.
Attendance policy management makes it easier for businesses to track instances of events like unplanned absences and tardiness and take disciplinary actions.
Leave case management supports easy management of workflow and documentation for intermittent and continuous leave cases.
Through these tools, workforce management technology solutions help to simplify compliance by removing subjectivity from the data collection and storage process and making it easy to capture proof in record-keeping when needed. By streamlining these functions, employees are protected and, in turn, happier.
Turning compliance into an advantage
Organizations with sound compliance management can enjoy better relationships with workers and their unions, which can lead to advantages such as the following:
Reduced employee turnover. Research has long shown that unionized workers are more likely to remain in their jobs. In a recent study, union members were found to have significantly higher levels of job satisfaction than non-members.
Lower hiring and training expenses. When businesses experience less turnover due to unionization, they spend less on hiring, recruiting and onboarding new workers. Organizations can benefit from significant cost savings in increasing their retention rates.
Increased productivity. Data from the last decade shows that union organization led to a 24% increase in manufacturing and a 38% increase in the construction sector.
Access to a highly skilled talent pool. Many unions offer their members a wide range of skills development training programs, apprentice programs and labor management partnerships that provide unique opportunities to develop in-demand skills.
Whether or not you plan to spend the day grilling in the backyard, take a moment to reflect on the meaning and origin of Labor Day. It's a holiday that offers organizations and employees a chance to step back and recognize the hard work and dedication of both the frontline workers and those committed to creating a safe and fair workplace. And it's much easier to celebrate the day when the whole organization can rely on workforce management technology and know that the business's compliance requirements are in order.
Learn more
Organizations that prioritize people first will rise to the top. Find out how to make HR more personalized to adapt to today's changing talent landscape. Get our guide: Work is personal – Your guide to a people-centered approach to the workplace