8 Ways to Celebrate Hispanic Heritage Month at Work [2023 Update]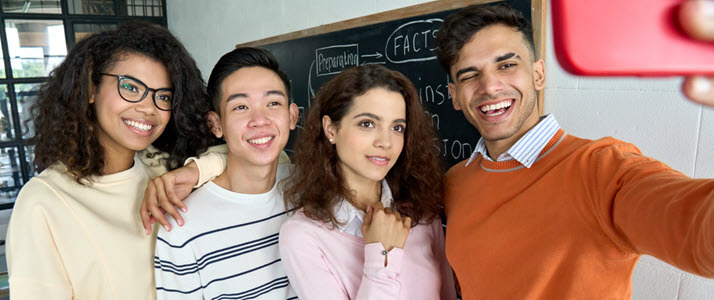 Promote inclusion and cultural recognition during Hispanic Heritage Month 2023 with these eight ways to celebrate.
Each year, organizations celebrate Hispanic Heritage Month, recognizing the contributions of their Hispanic and Latino employees and educating their broader workforce about Hispanic and Latino cultures. It's easy to understand why. According to the United States Department of Labor (DOL), Hispanic workers in the labor force grew from 10.7 million in 1990 to 29 million in 2020. That number is projected to reach 35.9 million in 2030. Hispanic workers are also projected to account for 78 percent of net-new workers between 2020 and 2030. These figures, awareness of diversity, equity and inclusion (DE&I) and a humble curiosity about Hispanic and Latino communities are excellent reasons to celebrate Hispanic Heritage Month in the workplace, not just this year but every year.
"Celebrating Hispanic Heritage Month can help companies demonstrate that they appreciate the diversity of their workforce, customers and the communities they serve," says Helena Almeida, vice president, managing counsel, ADP. Almeida is also the chair of Adelante, ADP's Hispanic and Latino business resource group (BRG). "It's crucial to educate allies and supporters who may not identify as Hispanic or Latino about our unique cultural heritage."
What is Hispanic Heritage Month?
Enacted into United States federal law on Aug. 17, 1988, Hispanic Heritage Month (HHM) is a celebratory period honoring Hispanic and Latino communities. To celebrate, your organization or group can choose a theme; for example, in 2023, ADP's Adelante BRG is aligning with the Hispanic Star and has selected "Latinos: Driving Prosperity, Power and Progress in America."
"We chose this theme because it aligns with the state of our community," says Harley Falvo, lead program manager, client experience, ADP. Falvo is also the vice chair of Adelante's national board. "The Hispanic experience in America comprises a journey of dreams, sacrifices, pride and hard work. It is imperative that we understand the impact our diversity and contributions have across all aspects of American society: economic, cultural, artistic and commercial. Hispanics are leading and redefining what the American Dream can look like and are determined to break barriers and trailblaze a seat at the table for generations to come."
What will your theme be? You can align with Adelante's choice or come up with your own.
When is Hispanic Heritage Month?
Observed annually from Sept. 15 to Oct. 15, the period during which HHM is celebrated is significant for several reasons. Sept. 15 is the independence anniversary of Costa Rica, El Salvador, Guatemala, Honduras and Nicaragua. Mexico and Chile celebrate their independence on Sept. 16 and Sept. 18, respectively. Columbus Day, or Día de la Raza, is also observed during HHM, on Oct. 12. In 2023, the first day of HHM (Sept. 15) is on a Friday, and the last day (Oct. 15) is on a Sunday.
How do you celebrate Hispanic Heritage Month at work?
There are many ways to celebrate HHM in the workplace. You can feature culturally inspired music, food, films and art, discuss Hispanic and Latino DE&I, host an educational session led by Hispanic and Latino professionals at your organization and recognize the contributions of your Hispanic and Latino employees. Ensuring your events and activities are respectful, inclusive and guided by factually sound information is crucial. Avoid singling out or otherizing your Hispanic and Latino employees. Don't pressure them to participate or overburden them with planning and logistics. Additionally, avoid Hispanic and Latino stereotypes. Do your research, prioritizing education and fun while including various Hispanic and Latino perspectives.
"Hispanic Heritage Month honors the commonalities and connections between Hispanic and Latino communities; however, it's essential to recognize that these communities are not homogenous," Almeida says. "They originate from a variety of Hispanic and Latin American countries, each with unique characteristics and differences."
To help you prepare your HHM agenda, here are eight ways to celebrate HHM in the workplace, inspired by ADP's Adelante BRG:
8 ways to celebrate Hispanic Heritage Month at work
1. Get your leaders talking
Having leaders discuss the significance of HHM communicates to your workforce that your organization is committed to honoring Hispanic and Latino people. You can also ask your Hispanic and Latino leaders to discuss their career journeys, achievements, heritages, cultures and identities. For example, in an interview with Almeida during a previous HHM, Alex Quevedo, president, human resources outsourcing (HRO), ADP, spoke to ADP associates about his life and career. Historically, other Hispanic and Latino leaders at ADP have done the same. Consider hosting a similar discussion to foster education, relatability, networking and relationship-building within your workforce.
2. Recruit speakers to discuss key topics
Do you know any experts specializing in Hispanic or Latino issues, cultures or communities? Consider celebrating HHM by inviting them to share their work and perspectives with your employees. For example, during HHM 2023, ADP will feature American University's Ernesto Castaneda-Tinoco, director, Center for Latin American and Latino Studies, Department of Sociology, for an internal session entitled "Latinos: Prosperity in America." Castaneda-Tinoco will discuss the population growth of Latinos in the U.S., their spending power, the Latino voting block and more. Is there a similar expert in your community or network who can discuss similar topics with your workforce? Consider the context of your chosen theme and which topics would benefit your unique employee population.
3. Spotlight businesses in your community
Nearly one in four new businesses in the U.S. is Hispanic-owned, with almost 5 million Hispanic-owned businesses contributing more than $800 billion to the American economy every year. Consider partnering with Hispanic and Latino businesses in your community and promoting their products and services to your employees. You could organize a vendor fair featuring culturally inspired food and activities, set up a discussion panel with the businesses' leaders, partner with them on raffles and giveaways and more. This event also familiarizes you with Hispanic and Latino businesses in your community and their wants and needs, creating opportunities for future business partnerships and recognition. For example, during HHM 2023, ADP will spotlight one of its Latino business clients in its internal "Accessing the Latino Market" session, featuring CT Mobley, division vice president, sales, small business services, diverse business channels, ADP. Mobley is a sales leader working on initiatives for diverse businesses that are prime candidates for ADP's small-business solutions.
4. Provide a DE&I update
HHM is a time to celebrate your organization's DE&I commitments and achievements. If you're working on programs related to Hispanic and Latino populations — for example, building Hispanic and Latino recruitment pipelines, closing unfair pay gaps for Latina women or fostering Hispanic and Latino inclusion — HHM is an excellent opportunity to discuss updates, next steps or commit to Hispanic and Latino DE&I for the first time. You can do all of this in a DE&I presentation informed by the appropriate experts. For example, during a previous HHM, Drew Lewis, vice president, diversity and talent, ADP, spoke to ADP associates about the organization's DE&I Talent Task Force, designed to advance Hispanic and Latino and other underrepresented talent into leadership positions. Consider your DE&I journey, workforce and DE&I data. Where do you stand? What would an update look like for you?
5. Offer a cooking lesson
Food plays an important cultural role in Hispanic and Latino communities, with many regarding a solid appetite as a sign of good health. Food is also a universal uniter and can be used as a draw for people from other backgrounds. Accordingly, consider hosting a culturally inspired cooking class, breakfast or lunch. You can share recipes, food-preparation tips and expose your workforce to authentic cuisines. For example, during a previous HHM, Emmy-award-winning television producer and food blogger Nicolette Medina hosted a cooking class for ADP associates called "For the Love of Food." She shared her family recipe for albondigas soup, or Mexican meatball soup. Could you arrange a similar cooking lesson? For a more health-oriented approach, consider hosting a healthy eating class with a medical doctor or other qualified medical professional.
6. Host a musician
The impact of Hispanic and Latino music is undeniable. Artists such as Anitta, Maluma, Ricky Martin, Shakira, Rosalía, Enrique Iglesias, Alejandro Sanz, Gloria Estefan and many others have amassed billions of streams across streaming platforms. Hiring these big names would be challenging, but you can still incorporate musical performances into your HHM agenda. For example, during a previous HHM, ADP featured singer Innis, who shared his personal story, performed his hit song "Dime Dónde, Dime Cuándo" and answered questions from ADP associates. Are there Hispanic and Latino musicians in your community or workforce who might enjoy contributing to your celebration? You could also feature a musical playlist curated by Hispanic and Latino employees.
7. Offer a dance class
Hispanic and Latin American countries are home to numerous world-renowned dance styles, including salsa, merengue, samba, mambo, bachata and tango. Not only is dancing important in many Hispanic and Latino communities, but it's also good exercise and can be fun and educational. For example, ADP's Adelante BRG has offered culturally inspired dance classes to ADP associates during past HHMs, teaching them new moves and getting them excited for the month. Consider offering a dance class on one of the above styles. You can host it virtually and in person to include your on-site, remote and hybrid employees. A qualified dance instructor, professional dancer or someone at your organization proficient in a particular style can lead the class. Most importantly, have fun, learn something and be safe.
8. Feature artistic works
Consider exhibiting artistic works created by, with or featuring Hispanic and Latino people, exploring the works' impact. Consider asking artists in your workforce or community which of their creations they'd be willing to showcase and under what terms and conditions. With the appropriate and necessary permissions, you could also consider showcasing works by or featuring prominent Hispanic and Latino actors, instrumentalists, singers, songwriters, filmmakers, photographers, painters, poets, authors and more. Experts in HR, DE&I, art and history can help you add important background information to these displays.
Celebrating Hispanic Heritage Month at work
Celebrating HHM in the workplace shows your Hispanic and Latino employees that you're committed to honoring their cultures and contributions. But it also encourages you to learn more, do more and be your most supportive from a leadership perspective. As you plan, remember to be respectful, do your research, avoid stereotypes, represent the diversity of Hispanic and Latino communities and gather input from your Hispanic and Latino employees without forcing them to participate or burdening them. When in doubt, seek feedback from the experts. When executed strategically, an HHM celebration can be a positive, thrilling and informative experience for all involved, year after year.
Visit ADP's DE&I Resource Hub for more on how your organization can do and be its best.
Adelante honors Hispanic Heritage Month
Hispanic Heritage Month is Adelante's principal opportunity to celebrate the diversity and contributions of Hispanic and Latino people. Hispanic and Latin American countries have rich traditions, customs and cultural expressions, all of which have global influence. Additionally, Hispanic and Latino people are steady contributors to the global workforce, economy and cultural fabric. Their contributions deserve to be honored with authentic, meaningful action. The BRG invites leaders everywhere to explore how they can make a difference that counts.
About Adelante
Since March 2009, Adelante, Spanish for "moving forward," has supported ADP's commitment to DE&I. One of the first ADP BRGs, Adelante aims to fully engage, empower, educate and add value to ADP associates and the communities where they work and live. The BRG comprises a body of local chapters led by a national board and celebrates its members' roots yearly during Hispanic Heritage Month.