Mother Jones Looks To Ensure Equitable Pay Within Its Workforce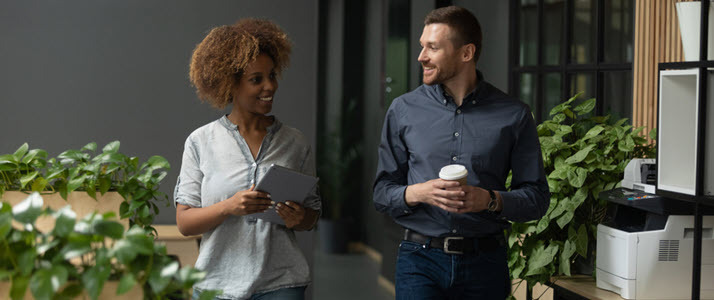 Learn how leadership at this magazine publisher took action when their employees requested a pay parity audit.
Since it launched in 1976, Mother Jones has made an indelible mark as a leading progressive American magazine by focusing on news, commentary, and investigative journalism. Today, it is among the country's largest independent news organizations, reaching more than 8 million readers monthly across multiple platforms including digital, email, events, podcast, and print.
A nonprofit entity, Mother Jones uses ADP Workforce Now® to manage payroll and HR for its 85-employee workforce. Recently, employees requested a pay-parity audit to ensure the organization was compensating its workforce equitably across race and gender — and for good reason.
The U.S. Census Bureau reports that although the gender pay gap has narrowed since the signing of the Equal Pay Act of 1963, women earned 82 cents for every dollar a man earns according to 2020 data from the Bureau of Labor Statistics. Also, according to the Federal Reserve, the average Black and Hispanic or Latino households earn about half as much as the average white household.
As for the Mother Jones staff's initial reasoning in challenging the organization's pay-parity situation, Vice President of People & Culture Marla Jones-Newman says that, as investigative reporters, employees share a healthy, skeptical attitude about most everything. "They ask very pointed questions," she says. "We believe that by conducting a pay equity audit, we will answer their questions and concerns with our research."
To help meet this objective, Mother Jones and Jones-Newman turned to Trusaic, whose PayParitySM solution makes it easy for organizations to conduct pay equity audits. The solution is available through ADP Marketplace, a digital HR storefront of solutions that integrate with ADP®.
PayParity customers can view compensation data to identify pay disparities at the intersections of gender, race/ethnicity, age, disability and more. It also can measure progress in real time and help organizations course-correct when necessary.
Before PayParity was in the picture for Mother Jones, some of the magazine's staff did what Jones-Newman describes as an "anecdotal check" on pay equity, which included comparing salaries and open roles in other companies, among other findings. And because of their effort, there was a feeling that there were inequities between gender and ethnicity.
"Bottom line, we needed to determine if there exists any racial or gender disparities in pay within our workforce," Jones-Newman says, noting that when she first joined Mother Jones, the project had reached "sort of a stopping point."
After deciding on the PayParity solution, Trusaic's first step was to create a survey to compare the staff's findings and hypotheses with actual data from the company.
Now, after receiving all relevant data from Mother Jones, Trusaic is verifying that the data submitted is correct. While the Mother Jones team awaits the final written report, Jones-Newman says she received a preliminary verbal analysis and the good news is, according to the survey, there are no disparities between employees based on gender or race when purely looking at pay.
Next, she'll need to communicate any data disparities between the original informal employee research effort and Trusaic's findings. Pay equity audits matter and the impact pay equity (or inequity) can have on an organization is measureable. For example, aside from equitable pay being the right thing to do, regularly conducting transparent audits can help boost employee trust in the company, which in turn can help improve retention.
"Because the PayParity data is not completely aligned with what the employees reported, there will be a lot of communication work on my end," she says. "We verified the information from 2021 data. We'll also do another run where we verify the information so far in 2022, because there's been obviously a lot of changes since 2021. I believe the research will continue to show that there are no systemic disparities."
Jones-Newman says she found the ADP Marketplace experience to be an easy way to source a solution to meet Mother Jones' pay equity challenge and, so far, customer service from Trusaic has been top notch.
Jones-Newman says Mother Jones will use the pay-parity project as a retention tool, because it will offer tangible, reliable evidence that Mother Jones pays its employees fairly. Along the same lines, Mother Jones recently created and released a compensation statement for each employee that conveys not just how much employees are paid, but also what added compensation they receive by quantifying the cost of a very generous benefits package.
"That gives our people a true understanding of how good their overall compensation plan is," she says, noting that Mother Jones includes the new compensation statement as part of its job offer letter.
In the end, Jones-Newman says Mother Jones is, most of all, meeting employee expectations with the help of ADP and Trusaic.

"The entire process has been transparent, which is a critical part of our culture," she says.
Company: Mother Jones
Headquarters: San Francisco, CA
Industry: Nonprofit
Employees: 85
ADP Marketplace partner: PayParitySM Pay Equity Audit by Trusaic
About Trusaic

Trusaic is a leading workplace equity technology company focusing on advancing social good resolving HR's challenges across people, data, and compliance. They help create a better working world by helping organizations achieve pay equity, foster diversity and inclusion, and ensure employee access to affordable healthcare. Learn more about the Trusaic integration with ADP.
About ADP Marketplace
ADP Marketplace is a digital HR storefront that enables you to connect and share data across all your HR solutions. Simplify your HR processes, reduce data errors and drive your business forward with easy-to-use apps that integrate with your core ADP platform. Easily discover, try, buy and implement ADP and third-party solutions, all with the simplicity of single sign-on, single data input and single billing. Learn more at apps.adp.com.