What Do Employees Really Want?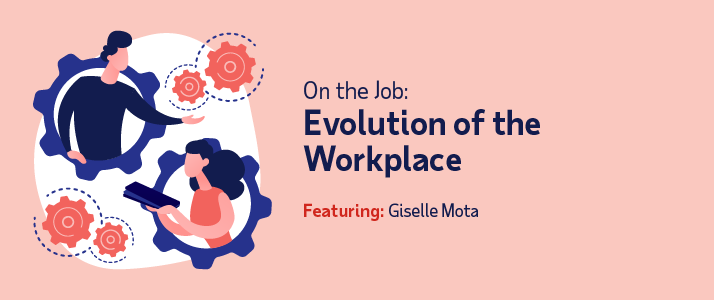 In this "On the Job" segment, Giselle Mota, Principal, Future of Work at ADP, chats with Cheddar News about what today's employees expect from their employer, their work and their careers.
In the workplace, the needs and expectations of employees have shifted – and employers are grappling with how to adapt.
Above: Speaking with Cheddar News, Giselle Mota (GM), Principal, Future of Work at ADP, says it comes down to treating people like people.
Q: What are employees looking for or expecting now that they probably never thought about two years ago?
GM: People want to be seen as people; more as humans than as a human resource. Flexibility is a top concern, so is choice. From the time a person is hired to the time that they succeed in an organization, they want choices along every step of the way. So, employers should think about alternative payment methods, hybrid and remote work, flexibility and scheduling. Consider an employee who is a caregiver, and they have an appointment to take care of … can they choose when to work and get certain things done? And finally, employers should focus on skills. Employees are thinking, "Can I take my career and truly map out where I want to go next? Can I work on projects throughout the organization?" That's flexibility and choice.
Q: What are employees looking for in workplace culture?
GM: I think that one is more of a "meet me where I am" point of view. We all know the pandemic happened and there was a global shift, even in societal perceptions. Now there is more focus on diversity, equity and inclusion, and not just focusing on DE&I, but also they're thinking, "What is my organization doing to commit and take action so I can hold them accountable?" ESG goals (environmental, society and governance) is another one. And then finally, employees are thinking about their skills. Can they advance their career, can they have equitable opportunities while at that organization? Organizations are being held to a higher standard.
Q: What are employers doing to attract and retain their top talent?
GM: To answer that, we must deconstruct what work, the workplace and the workforce is and has been for so many years. Organizations now are looking at job titles and roles and they're deconstructing them by asking questions like: Do I really need to require certain skills and qualifications from an individual, or can I get someone who perhaps was an ex-felon or someone who doesn't have the exact skills listed for this role? If they have a base level, can I skill them up?
Organizations are looking at those kinds of things. They are taking a step back and being decentralized by offering remote and hybrid work so they can fish from a broader pond of candidates.
Q: How do you see the demand of employees evolving in the future? What do you think we'll see more of and what do you think we'll see less of in our post-pandemic world?
GM: It's going to be less hierarchical structures like our grandparents and our parents saw work before. Those days are evolving, and as a society evolves, as technology evolves, the needs and the wants of employees are going to continue to evolve too. Employees are thinking, "Give me flexibility. Give me choice. Allow me to take on gig work." They want to expand their skills and be more like a startup, like an entrepreneur, even within their organization.
We're seeing more of a desire for employees to take ownership and agency over their careers. And they are holding their organizations accountable for certain things that matter to them as individuals and to the society that keeps evolving.
Learn more
In the post-pandemic world of work, the organizations that prioritize people first will rise to the top. Find out how to make HR more personalized to adapt to today's changing talent landscape. Get our guide: Work is personal