Don't Read Just Any Review When Choosing HR Software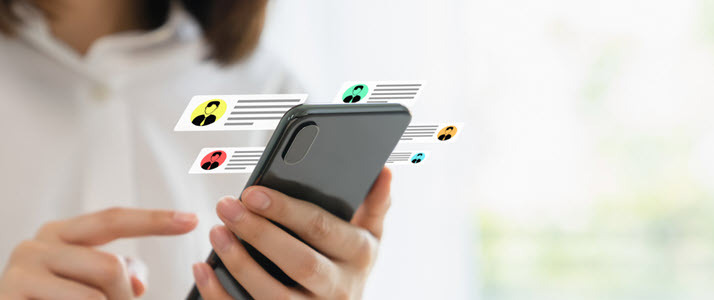 No matter where you are in your HR software journey, verified customer reviews can be a helpful addition to your decision-making toolkit.
It's happening. You're thinking about replacing your HR software, so you start browsing for the right fit. Maybe you've never even used this type of software but are interested in how it could benefit you, so you start looking up reviews. Or perhaps you have software with which you're satisfied but are curious about what others think of it and its competitive alternatives. Regardless of your situation, verified customer reviews can guide your consideration and decision-making processes and help you find the best HR software for your needs.
That's right. No matter where you are in your software journey, verified customer reviews can be a source of reliable insight for you. Their purpose? To give you credible information about a product or service — which could help you decide whether to stay, go or start your journey.
But what makes verified customer reviews so great, anyway? What's wrong with looking up any old review and using that to help guide you? While there's nothing fundamentally wrong with reading online reviews, many are unverified, making their credibility and reliability suspect.
Here are five benefits that make verified customer reviews the optimal choice:
1. You get a more reliable point of view.
Anyone can write and publish an online review about a product or service. It can be hard to know whether reviews on the internet are accurate, fair-minded and written by someone who has direct experience with a product or service. That's why it's crucial to seek out reviews published by organizations that validate their reviews and confirm their reviewers have purchased, implemented and used the reviewed product or service — in this case, HR software.
Look for reviews published by a research-driven organization with validation built into its review process. The organization should also examine the reviews they receive with a fine-tooth comb before and after publication. This helps ensure that what you're reading is legitimate and trustworthy. Whether you're a first-time purchaser of HR software, are looking to replace your current software or want to see what people say about yours and others, reading verified customer reviews can help you make an informed purchasing decision based on facts and direct experiences and find the best HR software for you.
2. Your experiences may be validated.
Even if you're satisfied with your current HR software, regularly reading verified customer reviews can still be a worthwhile activity. This could include reading reviews about your existing software and the software you decided not to go with in the past, no matter the reason. Sometimes, we purchase, implement and use what we thought would be an excellent piece of software. But despite our research and best efforts, it doesn't meet our expectations. It may be slow, clunky, messy, confusing or hard to use, adding extra stress to our lives.
On the flip side, it may meet or exceed our expectations. If either sounds like you, you're not alone. Whether your software stresses you out, is outstanding in every way or is just right for you, others probably have similar experiences. Keep reading those verified customer reviews and comparing them to your experiences. If you find that you're content with your current software and vendor, that's all that matters. But if you find that you're not pleased or that others have issues like yours, it may be time to explore different options, especially if those issues never seem to get resolved.
3. Your preconceptions may be challenged.
Verified customer reviews can challenge our beliefs about products and services. Suppose Customer A writes a glowing verified review about several key features within their HR software. Customer B, who used that software a few years ago, comes across the review, grimaces and remembers having issues with those features. These issues ultimately led Customer B to end their partnership with the software vendor.
Since ending the partnership, Customer B has told some of their peers who have never used the software how bad those features are. These peers then repeat similar sentiments to others. People in this peer group believe what's being said because, in many cases, they, as peers, trust each other. As a result, many preconceptions about these features have developed. Now, a select few people in this group believe their peers at first but later recall having once heard great things about the features. They do a quick Google search and find Customer A's review and other verified reviews different from what they've heard. Now, it's up to them to consider the differences in opinion and determine what's accurate.
4. You may discover new features.
While reading verified customer reviews, you may discover new features within your current HR software solution or the software solution you're considering purchasing. It can be exciting, like opening gifts on special occasions or finding money in your sofa cushions. Think about it. You're reading about your current or potential software, and there it is: a verified review mentioning several features you didn't know existed. You rush to access your existing software or contact a salesperson at the vendor you're considering partnering with: "What? You're kidding! It can do this?" As it turns out, it can, and now you've learned something new that will most likely enhance your day-to-day HR management.
The benefit of reading a verified versus unverified customer review in this scenario is that you know with near absolute certainty that the features are or could be available to you, whether now, once you play around, or after you've implemented your brand-new HR software.
5. You may consider switching vendors.
After all this review reading, you may ask yourself a few different questions, depending on where you are in your HR journey: "Am I satisfied with my current HR software vendor?" "Would switching vendors be better for me?" Am I ready to take a leap and start using software to help manage my HR-related tasks?" None of these options are good or bad. Whether you decide to stay, go or are beginning your HR software journey, your needs, budget and circumstances should guide you every step of the way.
No matter the situation, remember that verified customer reviews are a trustworthy source of information that can help guide your decision-making. After all, this is the management of your workforce that we're talking about. You want to ensure that you're making the most informed, evidence-based decision possible — and one of the best ways to do that is by reading a verified customer review before deciding on your next step.
Consider ADP, backed by verified customer reviews
ADP is proud to be recognized by its peers as a Customers' Choice in the 2022 Gartner® Peer Insights™ Voice of the Customer: Cloud HCM Suites for 1,000+ Employee Enterprises report.
This recognition comes from real feedback from real end users who have experience purchasing, implementing and using ADP solutions.
"ADP is so efficient! ADP has made processing payroll save so much time. I love being able to enter our time worked and submit our leave requests through ADP. It's so convenient to have everything in one place. The representatives have always been very helpful with any questions that I've had." — Knowledge specialist in government industry
"Overall, ADP has been an asset to our company, aiding with pre- and post-hire management, payroll and benefits administration. Our experience when upgrading to Vantage HCM was extremely positive, with great support from the implementation team both prior to, during and after the switch. We were really able to take the time to thoroughly train and prepare our staff to utilize ADP to its fullest capabilities." — HR Generalist for Deployment Architecture using ADP Vantage
To learn more about the recognition, download the report.
GARTNER is a registered trademark and service mark, and PEER INSIGHTS is a trademark and service mark, of Gartner, Inc. and/or its affiliates in the U.S. and internationally and are used herein with permission. All rights reserved.
Gartner Peer Insights content consists of the opinions of individual end users based on their own experiences with the vendors listed on the platform, should not be construed as statements of fact, nor do they represent the views of Gartner or its affiliates. Gartner does not endorse any vendor, product or service depicted in this content nor makes any warranties, expressed or implied, with respect to this content, about its accuracy or completeness, including any warranties of merchantability or fitness for a particular purpose.
Gartner Peer Insights Customers' Choice constitute the subjective opinions of individual end-user reviews, ratings, and data applied against a documented methodology; they neither represent the views of, nor constitute an endorsement by, Gartner or its affiliates.