Redefining What It Means to Lead and Succeed: A Conversation with Abby Wambach and Glennon Doyle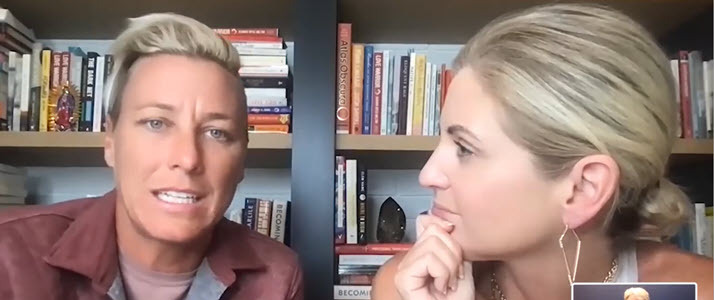 In the closing address of the Inclusion Summit, 2021, Abby Wambach and Glennon Doyle share deep insights into the nature of real inclusion and what today's business leaders need to do to confront internalized bias and create work cultures that encourage people to bring their whole, authentic selves to work.
Inclusion in the workplace isn't just an imperative placed on business leaders. It's also an achievable goal if leaders are willing to do the hard work needed to foster an inclusive environment for their employees. That was the main takeaway from New York Times best-selling authors Abby Wambach and Glennon Doyle, who closed out ADP's virtual Inclusion Summit 2021 with an address called, "Game Changers: Elevating Inclusion at Work."
Abby Wamback and Glennon Doyle know a thing or two about fighting for equity and inclusion. Wambach is a world renowned soccer player and coach, a two-time Olympic gold medalist, a FIFA Women's World Cup champion, and a member of the National Soccer Hall of Fame. Doyle is an activist and the founder and president of Together Rising.
Led by Debbie Dyson, ADP's President of National accounts, the session outlined the nature of true inclusion and how organizations can achieve it.
Changing the Game
In their closing address, Wambach and Doyle argued that business leaders have the power—and the responsibility—to effect meaningful change in the world. Wambach's experience in sports taught her about the complex dynamics of teamwork and how success relies on each individual as much as the whole team. Doyle's extensive work as a writer gave her valuable insight into the power of authenticity. Together, their perspectives merged to provide a unique view into the nature of leadership and the future of work culture.
Much of this, according to Wambach and Doyle, relies on developing leadership in new ways. When the goal is to create a more inclusive work culture, current leaders must acknowledge and support the contributions of those around and under them. Together, we are at a point of reckoning, they argue, and there is an urgent need to redefine what it means to succeed in the context of today's workforce.
"How do you both hold an individual and engage them in a way that makes them want to perform together collectively as a team?" said Wambach. "The modern form of leadership is getting all of the best people in the room and asking everybody individually what they think to drive toward the best solution to whatever the problem we're talking about is."
"Real leadership in this moment," Doyle added, "has to get a lot more comfortable with discomfort and chaos … The best leaders are curators of conversations. They don't quiet everybody. They create an environment that almost celebrates dissent. So the more awkward the conversation is getting, that's when the real leader knows, 'Oh, this is the good stuff.' This means people actually feel safe enough to say, 'This is how I feel.'"

Abby Wambach, left, with Glennon Doyle during "Game Changers: Elevating Inclusion at Work," Inclusion Summit 2021.
Authenticity at Work
Creating a work culture where everyone feels safe and comfortable bringing their whole, authentic selves to work is not an easy task—and it's not for the faint of heart. Wambach and Doyle challenge business leaders to develop new skills and improve their strategies for building the most accepting and inclusive workplaces possible. Leaders can do this, Wambach and Doyle say, by embodying authenticity themselves. "Sometimes if we don't see it, we don't feel like maybe we can even be it," said Wambach of the employee experience. "So [for leaders], being your authentic self is not just liberating yourself. It's liberating everybody who's watching you do that."
This is what Doyle refers to as "heart-forward humanity." It's about moving beyond the talk and the motivational posters and actually "showing up with your full humanity" at work, so that others feel free and supported to do the same. "Great leaders don't make you want to be like them," she said. "They make you want to be like yourself." This is the foundation of real inclusion.
Navigating Cultural Change Together
Dyson acknowledged that many leaders are grappling with ways to support employees amid all the unprecedented change since the pandemic began and the uncertainty that still lies ahead. Doyle sees this moment in time as ripe with opportunity. "The old normal and [the ways that] many family structures and institutions and companies were set up were really not serving everybody," she said. "They were not serving people at work, [or supporting] bringing their full selves to work. People weren't allowed their humanity. … There were a lot of things falling through the cracks, especially for women and all marginalized people. So I think it's a very exciting time for leaders, especially right now, to build something new."
Getting Better at Inclusion

Wambach and Doyle's perspectives align closely with new research from ADP Research Institute showing that, while we're making progress in diversity and equity, real inclusion is lagging. "We've gotten better at diversity, which just means that now we have some different looking people at the table," said Doyle. "But still none of the people are allowed to speak freely. … Inclusion is when everybody feels fully safe."
"The challenge of modern leadership is how we create these communities where people feel both held by the group and free to express themselves fully," Doyle said. "Both held and free — that's the genius of leadership. How do we all feel like we're going to belong no matter what we bring to this table and these people? Inclusion."

Different experiences; stronger together.
Register now and launch this powerful virtual session. Get ready to learn how diverse experiences strengthen your team.