ADP Women in STEM Profile: Sandy Angevine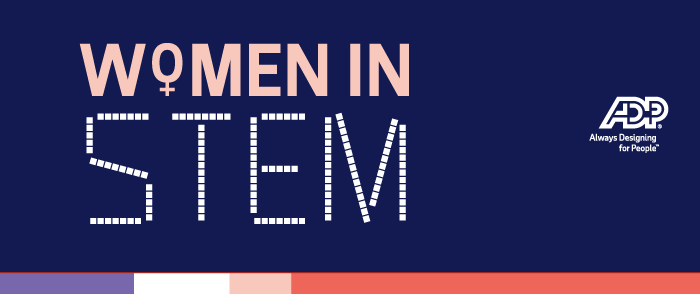 Asking tough questions and driving for better solutions.
When you meet Sandy Angevine, you immediately get the sense that she's a strong team player who doesn't want or need to be in the spotlight. In fact, it took a while to get this story out of her, as she is humble and reticent to speak too much about her accomplishments. But, as I dug deeper, I found that Sandy is a strong strategic thinker and problem solver who has been instrumentally involved in several of ADP's critical innovations and strategic decisions starting from when she joined ADP through her role today as VP of Market Insights and Pricing Strategy.
More than anything, Sandy is the person in the room who looks to make sure the most difficult questions are asked and the company finds the right and best answer to those questions. She has a quiet self-confidence and is comfortable challenging everyone to be honest and find solutions for difficult issues. And in so doing, she makes ADP a better place and a much more robust competitor.
Sandy grew up in Mexico – her father had emigrated from Europe and started a business there. She moved to the U.S. when she was 17 years old and later majored in business at New York University before starting her career on Wall Street. Sandy still remembers in her first review she was told that she's "disarmingly honest." It was the kind of feedback she was comfortable receiving and became part of her approach in all her future roles.
"I always felt I would distinguish myself based on the quality of my thinking, hard work and through building collaborative relationships," Sandy says. Although it sounds basic, it suited her style and enabled her to be herself in most situations.
Sandy got her MBA at Duke University and initially returned to the banking world, gaining a significant amount of expertise in banking operations, something that would prove highly valuable when she joined ADP. After seven years at Bankers Trust she joined ADP in 1995.

Sandy Angevine
Women in the workplace at ADP
When asked about gender diversity, Sandy says that since joining ADP, she has always felt that her point of view has been appreciated and her expertise valued. ADP was ahead of the curve in that there were women in leadership positions as she started her career there. She had mentors and role models ahead of her, both women and men, who helped her learn how to succeed in a corporate environment that was quite different than the banking world.
Sandy believes women can be some of the strongest supporters of diversity at work. "Women in leadership roles can help coach those starting their careers, guiding them to ensure they know how to manage hurdles that come up along the way," she says.
A collaborative career path
Sandy started at ADP in product management. Her banking background made her a natural to work on the Money Movement products, later moving into tax and financial services, where she helped establish some critical banking partnerships for ADP. From there, she has worked in most divisions of the company, focusing on strategy and marketing. One of the most satisfying aspects of her work has been her contributions in product innovation. Sandy was a key member of the team that launched ADP's Total Pay solution, and when she was head of marketing for ADP's small business services, she was also instrumental in the introduction of the RUN Powered by ADP® payroll solution, as well as the start-up of the franchise program. All of these innovations are collaborative efforts, and Sandy is the first to say that her greatest career accomplishments have been to be part of the teams that developed these market-leading solutions.
"I enjoy working with people who challenge me," she says. "It elevates everyone's thinking and delivers a better outcome. I work hard to be a good listener and know I'm not the one with all the right answers; as long as I help get us to the right answers, I'm satisfied."
This kind of thinking is what has brought Sandy to her current role. As VP of Market Insights and Pricing Strategy and Analytics, she has the opportunity to always be asking questions, embracing them as the means to move forward. She aspires to generate insights that will help ADP win and compete more effectively.
"In order to solve complex problems, it's critical to challenge our thinking, create new paradigms and leverage our analytical skills to illuminate the path toward the right strategic direction." Sandy says. "We are in a highly competitive space, and to be successful, we have to constantly get better and have clarity about where we need to improve to best meet our customers' demands.
"Pricing is the economic link between the company strategy, business unit strategy, and the customer interaction: in essence, how our company will communicate and get paid for the value it delivers."
Sandy feels it is directly connected to ADP's strategic differentiation. "Pricing is in many ways a quantification of this challenge, with the strategic question being, 'What is the value proposition that we can uniquely own to build our pricing model around?' With the right value proposition, we can deliver a strong pricing strategy. This requires innovation and differentiation."

Sandy Angevine, left, with son Jake, middle, and husband Brad on safari.
Mentoring and advice
"I enjoy mentoring and paying it forward. It's humbling when someone comes to me for advice," Sandy says. "I am not always sure I am as effective at it as I should be, but I try to let people decide what is the best way to handle their challenges. I will share how I would approach it, but I also want to help them find what is right for them. Sometimes, we go through the pros and cons. I often ask whether they would be happy in a year or two if things went a certain way.
"As a mentor, I think it's important to listen and understand:
Where do you find balance and happiness?
Do you like and respect who you work for and with?
Do you have a voice?
Are you making a contribution?
"For me, more than anything, it's about having a voice and the ability to add value. My self-worth comes from my knowing that I contributed to solving a challenging problem.
"If people are looking for answers from their mentor, I may not be the right person to talk to. But I will listen, care, and value their experiences. At the end of the day, I hope I can help give them the confidence to navigate the journey they're on."

Sandy Angevine relaxing in nature.
Final reflections
"When I joined ADP, it felt like a family," Sandy says. "I would see senior executives in the cafeteria every day. Although we've grown a great deal over the years, I'm glad to see how hard our leadership team works at being accessible and transparent. There's also more open mindedness than ever, allowing people to bring their own leadership style and authenticity to the table, which contributes to the diversity and creativity that is growing at ADP.
"In terms of career paths, I believe it's important to own your career. If you feel you're ready for a new challenge or that you want to move forward, speak to someone about it. You can start with a mentor, who can help you design a path forward to achieve your career goals. In my case, there were times I felt I wasn't a good fit for my role and wanted to explore other positions. I networked and eventually was able to have a new role that fit my skill set and career aspirations. Some career changes happen organically; some happen because you raise your hand.
"I have always been comfortable seeing things independently and have been willing to take a risk, as long as it reflected my true values and point-of-view. I figured if it doesn't work out, at least I have been true to myself. I'm still here though, because ADP has always provided me with new things to learn, new ideas to explore, problems to solve and new relationships to build. The company continues to grow and evolve. I stay because I enjoy the learning and intellectual stimulation.
"ADP has come a long way. When we first organized our 'Women in Leadership' group, there were seven of us. Now there are hundreds!
"We are all unique in how we approach things. Having different perspectives and points of view at the table is critical. By doing so, we can all learn from each other and develop new collaborative approaches to solving problems."
Ready for more?
Explore the stories of these and other ADP Women in STEM, and learn about careers at ADP.