5 Trends in Employee Benefits and Compensation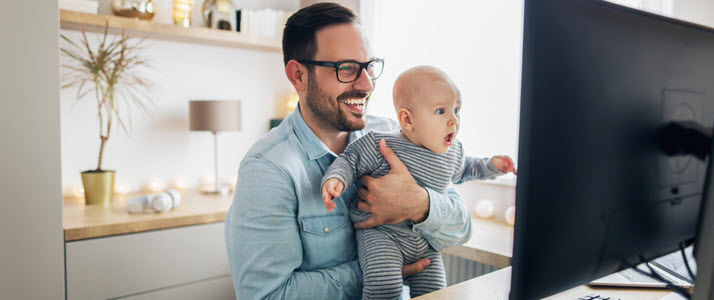 Considering how COVID-19 abruptly changed many aspects of our work lives, it's not surprising to find many companies today rethinking their employee benefits and compensation practices.
Special thanks to ADP Marketplace partner Compt for this article.
The way companies approach employee benefits and compensation has always followed trends in the talent market. Two common examples include increasing salary ranges to hire hard-to-fill roles and expanding parental leave and caregiver benefits as that's become a focus for candidates. But today, new trends are emerging.

Considering how COVID-19 abruptly changed many aspects of our work lives, it's not surprising to find many companies today rethinking their benefits and compensation practices. Below, learn about five emerging trends in employee benefits and compensation that companies of all sizes and industries can implement in their efforts toward employee retention, recruiting and engagement.
Location-Based Salary
Companies typically consider a wide range of factors when determining their compensation approach, including the organization's reputation, supply and demand of talent, experience and education of the candidate, performance, and cost of living.
Employers learned recently that a lot of their workforce can successfully work outside of the actual office - and remote workers have left high-cost-of-living cities in droves — cost of living is no longer the same across an entire workforce. Location-based compensation can answer this new challenge because it allows employers to consider the cost of living where the remote employee resides along with the cost of labor in that new location.
Location-based pay isn't going to work for every company, and some find it controversial. The argument, especially from those who used to work in expensive cities like New York City and San Francisco and have since moved away, is that "people doing the same jobs and providing the same value should be paid the same."
If you're considering adopting a location-based compensation model, be sure to communicate proactively: Employees will definitely have an opinion about it one way or another.
Schedule Flexibility
After more than a year working remotely, working 9 to 5 from Monday to Friday isn't something all employees want to go back to (and in some cases, neither do employers). For that reason, many employers today are supporting and encouraging employees to choose the schedule that's most productive for them, as long as they can get their work done.
This particular trend bodes well for employee engagement and retention because employees have wanted schedule flexibility long before COVID-19-induced remote work. A 2019 survey showed that 80 percent (up from 75 percent in 2018) said that they would be more loyal to their employers if they had flexible work options, and more than 25 percent said they'd take a 10-20 percent pay cut for more flexibility.
Now that remote work has proven to be just as productive as, if not more than, in-office work, employees are starting to expect it. 42% of current remote workers say if their current company does not continue to offer remote work options long term, they will look for a job at a company that does.
Work flexibility can encompass any of the following:
Varied arrival and departure times (or if remote, "log-on" and "log-off" times).
Ability to work from home full- or part-time according to preference.
More or unlimited PTO.
Ability to choose work shifts.
Opportunities for career breaks without losing seniority.
Guaranteed caregiver leaves.
Home Office Reimbursement (WFH Stipends)
In many companies, the global health event gave employees no choice but to take on personal expenses to equip a home office. In response, some employers have opted to pay for some of the incurred costs, even though they technically aren't required to do so.
Six states now require employers to reimburse employees for these expenses, including California, Illinois, Iowa, Montana, New Hampshire and Pennsylvania.
Employers cannot require employees to pay for work-at-home expenses if doing so would cause the employee's salary to fall below minimum wage. The Fair Labor Standards Act (FLSA) covers this law in more detail.
As a result, home office reimbursements — or some version of a remote stipend — have risen in popularity even among companies that don't have to offer it. This is particularly true in states like California where, under state labor laws, employers must reimburse employees for any expenses necessary to fulfill their job duties.
Three common ways to offer a home office reimbursement include:
A one-time lump sum for the equipment needed for remote work.
A monthly stipend that covers just internet.
An ongoing, flexible work-from-home stipend (renewing monthly, quarterly or annually) that can cover costs including productivity tools, internet, cell phone, tech, food, wellness, learning and more.
A major advantage of a remote work stipend is that everyone benefits from it. A director of people operations at a fitness and nutrition company explained: "We had a lot of input from our teams on what benefits they'd like to see: Covered cell phones, internet, gym reimbursements, pet insurance, travel benefits, etc. The problem with some of these offerings is you can't satisfy everyone." His team decided to offer an all-inclusive stipend using Compt, and the best part about doing it this way is that "most of this is up to the employer as to what they cover. We wanted to give as many options as possible, so we opened it up wide for our employees."
Increased Caregiver Benefits
COVID-19 has forced many employees to not only bring their work home, but also figure out how to juggle their work with caregiving responsibilities such as for young children or older dependents. There's even a term for the current generation who have primary responsibility for minor children and elderly parents at the same time: the sandwich generation.
No matter the circumstances, increased responsibility for caregiving can be stressful for everyone. Employers can offer even more meaningful family support by offering benefits including:
Flexible stipends that cover back-up childcare or eldercare, or to help pay for general life expenses, even if not directly related to caregiving (such as food or wellness stipends).
Allowing employees to use at least some of their paid time off (PTO) while taking family medical leave (FMLA).
Implementing an employee assistance program (EAP) that provides workers with free or reduced cost access to resources, such as caregiver referrals, crisis intervention services, low-interest loans, and family or personal counseling.
Allowing for flexible scheduling or telecommuting.
Mental Health and Wellness Support
Even before the global health event, the untreated mental health conditions of employees across the world resulted in lost productivity. The problem has only grown after COVID-19. But since everyone's mental health journey is unique, offering flexible support for your employees' mental health has become an ideal solution.
Here are specific ways companies can support employee mental health:
Start a tradition of weekly "no-meeting days" where everyone can focus on their work without needing to log into a meeting on that particular day.
Bring in therapists, coaches and/or mental health and wellness experts to hold optional team workshops or sessions for employees who could benefit from them.
Offer a flexible health and wellness stipend where employees can choose what's important to them, whether that's yoga classes, a meditation app, a gym membership, therapy sessions, a massage, home gym equipment, self-help books, etc.
By considering these benefits, employers can help attract new talent and show support for current employees who have stayed through a challenging year.
There are many ways to implement these types of benefits and Compt is one of them. Compt is employee stipend and rewards software that helps companies offer fully customized stipends for health and wellness, learning, family, and more. Compt streamlines monthly payroll reimbursements, ensures tax-compliance, and automates employee communications.
Learn more about Compt on ADP Marketplace.