Fostering the Next Generation of Women in STEM Careers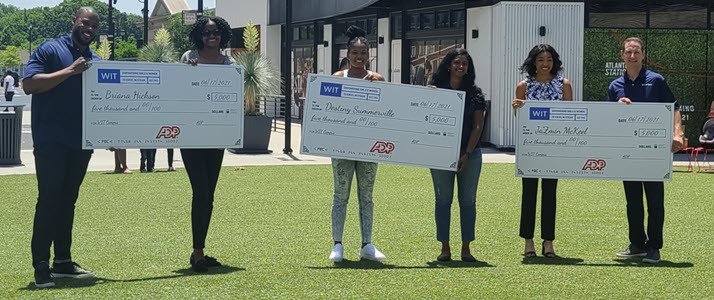 In its continued effort to encourage and support women to pursue tech careers, ADP sponsored three scholarships through the Women in Tech (WIT) organization.
Women remain underrepresented in the professional fields of science, technology, engineering, and math (STEM) despite improving the 1970 stat of 8% to 27% in 2019. A diverse workforce – in terms of gender and in all the other ways humans are different – is a significant driver of a company's success. Consider this: inclusive companies are 120% more likely to hit financial goals. Why? Diverse teams are more innovative, and more innovation can lead to more revenue. A BCG study showed that companies with more diverse management teams reported innovation-related revenue 19% higher than those with below-average diversity of leadership.
Diverse workforces begin with education
Encouraging and empowering women to pursue STEM and STEAM (+arts) careers requires a concerted focus by those in both the education and employment realms.
A successful example comes from the organization Women in Tech (WIT), an Atlanta-based non-profit whose mission is: "To empower girls and women to excel in science, technology, engineering, the arts, and math (STEAM) from the classroom to the boardroom. This is done by providing female students in middle school, high school, and college with education, exposure and experience."
ADP has partnered with WIT for several years in support of the WIT Programs and as a scholarship sponsor for celebrating student academic achievements. In 2019, ADP Global Product and Technology (GPT) division hosted a WIT Campus opening event at ADP's Alpharetta, Georgia, office, inviting 80 women from 13 college campuses, helping prepare them for a career journey ahead. This year ADP is a WIT President's Circle Sponsor.
"At ADP we are passionate about nurturing and fostering female talent because that's key to moving the workplace forward," says Melanie Shook, VP/GM, ADP Small Business Services-Service & Operations and executive sponsor for WIT on behalf of ADP. "These scholarship investments, through our partnership with WIT, is one way we look to advance technology talent forward."
Each year, WIT, presents several college scholarships to winners selected from its WIT Girls and WIT Campus programs. In 2021, ADP sponsored three $5,000 WIT Campus scholarships with representatives from ADP's GPT business unit attending the check award ceremony held at Atlanta's Atlantic Station with winners announced during the WIT Connect event on June 17, 2021.
The ADP Scholarship winners are:
Briana Hickson, Georgia Gwinnett College, Info Tech – Digital Media
Destiny Summerville, Clayton State University, Information Technology
Ja'Zmin McKeel, Agnes Scott College, Computer Science

Big checks created big smiles at the June 17 WIT Connect event. Pictured left to right: Quinton Ryan (Director-HRBP, ADP-GPT), Briana Hickson (Scholarship Recipient), Destiny Summerville (Scholarship Recipient), Manjula Ganta (Director, Application Development, ADP-GPT), Ja'Zmin McKeel (Scholarship Recipient) and Aaron Smith (SVP, ADP-GPT).
"We are proud to be able to contribute towards the success of WIT through these scholarships which are one of the ways ADP illustrates its commitment to advancing women," says Aaron Smith, Senior Vice President, ADP Product Development, who attended the WIT Connect event. "Our technology success will depend on our investment, commitment, and support of this and similar organizations."

Above: Destiny Summerville
When asked what the ADP-sponsored WIT Campus scholarship meant to them, after expressing gratitude for having been selected, the recipients also said:
Destiny Summerville: "Winning this scholarship means I have the opportunity to not only grow as a woman in technology but to continue my education without worrying about any financial debt before or even after I graduate college. I am truly thankful for being a part of Women in Technology."

Above: Ja'Zmin McKeel
Ja'Zmin McKeel: "This scholarship has not only become a financial support, but it has also allowed me to meet an array of people in various stages in their career. Whenever I think about this scholarship it puts a smile on my face because of all the wonderful memories that are attached to it."

Above: Briana Hickson
Briana Hickson: "I am extremely thankful to have been chosen as one of the scholarship recipients by ADP and WIT Campus. This money means that I can continue my education at Georgia Gwinnett College and pay off my student loans. It also has allowed me to connect with some many amazing women who were there to support and uplift me."
"ADP provides tremendous support to women in tech, creating a diverse workforce and a talent pipeline," said Manjula Ganta, Director Application Development, ADP GPT, and a WIT volunteer. "It is a fulfilling experience to pay it forward helping girls and women find their passion in STEM."
"At ADP, we believe that diversity drives innovation and we aim to create a workforce that's as diverse as the clients we serve, which is why we're focused on providing leadership and development opportunities for women technologists," said Don Weinstein, ADP's Corporate Vice President, Global Product & Technology.
"Products such as our Diversity, Equity & Inclusion (DEI) dashboard, candidate relevancy tools, and of course, the award-winning Pay Equity Explorer, are a testament to our focus and commitment to creating products that support the future of work and are reflective of our core values."
This year, ADP has earned a place on the 30th Annual "Top 50 Employers" in Woman Engineer Magazine. This award is a reflection of ADP's strong reputation with technologists because it was chosen by the readers of Woman Engineer Magazine, who selected the top companies in the country they would most like to work for or whom they believe would provide a positive working environment for women engineers.
Learn more
More about WIT
Women in Technology (WIT) empowers and educates women and girls about opportunities in science, technology, engineering, the arts, and math (STEAM) by educating middle and high school girls, and young women in college, and by sharing the stories of successful professional women in STEAM. WIT's team of more than 300 volunteers delivers professional development and networking opportunities to more than 3,000 professionals, and programs at no cost to more than 1,500 students. From the classroom to the boardroom, WIT is committed to bringing the best STEAM content and programming to women and girls in Georgia. The organization raises awareness and funds to help support women pursing an education in STEAM careers. The WIT Foundation has raised more than $3.2 million to support the development of young girls and women to fund grants to local non-profits and to award scholarships in conjunction with corporate sponsorships.