Design Thinking in HR Software: Prioritizing the People-First Approach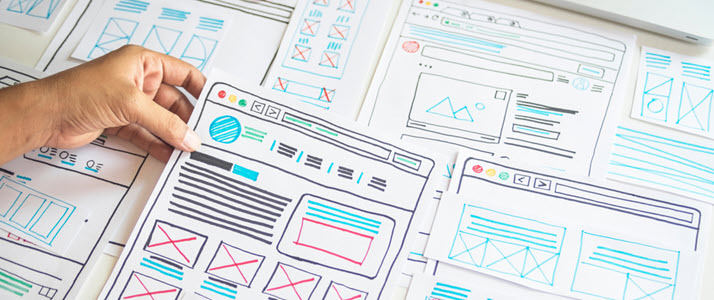 To design and deliver next-gen HCM tools, enterprises must prioritize a people-first approach.
Christopher Fahey, Sr. Director of UX (user experience) for ADP Design Systems and Head of Lifion Platform UX, isn't afraid to call out the biggest problem with human capital management (HCM) tools: For most people, they're not easy to use.
"Historically, software has prioritized the expert user and relied on training and support to get users from novice to expert," he says. At Lifion – where teams are building ADP's Next Gen HCM, the UX team has adopted a new approach to design thinking in HR software development — an approach that prioritizes people-first, UX-driven outcomes to deliver better HCM technology. Here's how it works.
Identifying HCM shortfalls
Despite the name, most HCM tools aren't built with humans in mind. They're created to deliver key functionalities, such as booking vacation time, scheduling performance reviews and conducting surveys, but these familiar functions are often paired with unintuitive interfaces and cumbersome controls.
As a result, many HR software solutions fall short in three key areas:
Simplicity — While it's possible to complete key tasks with most HCM solutions, the path from access "A" to function "B" isn't always straight or simple. "We don't think it's good enough that you should have to download a PDF or watch a 10-minute video just to book vacation or enter employee data," says Fahey.
Self-service — Most organizations are now using some type of employee self-service (ESS) solution, but there's still room for improvement. According to Fahey, "Ninety-five percent of users are not experts at HCM software" — and they don't want to be. They're familiar with the self-service and usability offered by consumer-focused solutions, and they want the same experience with HCM technology.
Adaptability — Every organization has different HCM needs. For example, Fahey notes that "Different countries have very different laws about what kind of HR data can be used to prevent bias," so software must be able to adapt to unique geographical requirements. And organizations need to be able override HCM software defaults to configure controls for specific use cases.
Investing in what matters
Breaking free of current HCM constraints means laying the groundwork for continual improvement and employee success. Fahey points to key investments that can help boost the impact and efficacy of HR tools, such as:
Multi-device support — While desktop computers aren't disappearing anytime soon, Fahey notes that "users may not want to use software on a desktop computer." ADP's Next Gen HCM tools offer native mobile support with chatbot integration. If users type "request time off" into the application search bar, the chatbot will respond with start and end date choices.
Dynamic teams infrastructure — Familiar "org charts" remain the heart of many HCM tools, but Fahey says this doesn't account for the rise of dynamic teams infrastructure, since "staff may have more in common with people on the same shift than those doing the same job." Modern HCM technology should allow employees to belong to multiple teams and empower enterprises to build custom teams on-demand.
The no-code, low-code approach — As ZDNet notes, no-code and low-code approaches to app design are gaining popularity as the focus of software development shifts from solving computer science problems to meeting user needs. This approach offers users consistency across form and function and enables customization of key processes.
Implementing the three-step process
For Fahey, the key to next-gen design thinking in HR begins with understanding what users want from the HCM technology experience. This starts with "a mission to maximize the amount of user contact," while long-term success depends on a three-step process:
Voice — To improve HCM tools, enterprises need to know what users want. Achieving this goal means giving users a voice in design and development. Fahey recommends scheduling regular discussions with end-users to see what's working, what isn't and what needs to change.
Visualize — Next in the next-gen design thinking process is thinking outside the box. Develop new ideas based on user feedback and then iterate on them to see what happens.
Validate — Finally, it's critical to validate new HCM solutions with end-users to see if they deliver. Fahey suggests starting with mock-ups and then moving on to the real thing, with repeated testing at every step to validate software value.
It bears repeating that staff don't use HCM tools because they want to; they use HR software to achieve a specific goal and then get back to work. As a result, organizations need to adopt people-first design priorities that focus on identifying shortfalls, investing wisely and implementing iterative design thinking to meet evolving employee expectations.
Learn about ADP's Next Gen HCM.