What's Driving the Future of Work: Security Guidelines for the Modern Workplace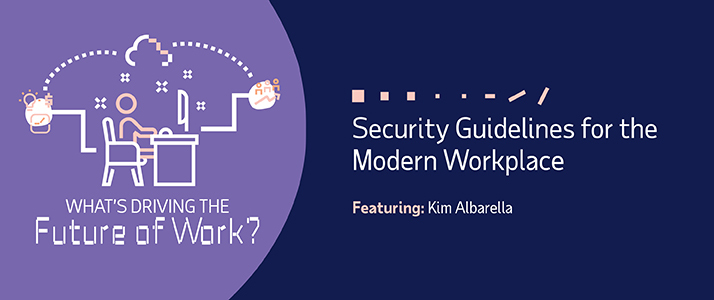 In this segment of Cheddar news, learn about the about trends in digital and physical security that are shaping the future of work.
Watch this segment from Cheddar News (TV network) sponsored by ADP, featuring Kim Albarella VP, Risk and Security Advocacy at ADP. She shares insights about new security measures employees may see when returning to work, threats to physical and digital security, protecting data in the hybrid workplace and security guidelines employers can leverage during the pandemic and beyond.
Watch this video to learn more about trends in digital and physical security that are shaping the future of work.
The video segment covers these topics beginning at these times:
0.55
All companies should look at workplace security and safety in three areas; physical space, health-related, and meetings and travel.
1:07
Changes in the workplace environment for greater safety
1:35
How the ways people do business is likely to change
2:25
Safety requirements business owners need to ensure their employees and customers feel safe
3:12
How cyber threats have changed as the pandemic continues to evolve
3:36
The opportunities scammers are targeting to prey on unsusceptible individuals, including government stimulus packages, Paycheck Protection Program (PPP) loans, rent stabilization, and unemployment fraud
4:08
How employers can ensure their digital data is protected in the hybrid work model
4:24
Why having a Virtual Private Network (VPN) and Bring your Own Device (BYOD) policy helps ensure security
5:30
5:51
Cyber and physical security guidelines for employers to follow now and into the future of work
6:10
Tips to building future resiliency in your supply chain and workspaces
To learn about the other episodes in this series, visit this page.