What's Driving the Future of Work: Journey Towards Creating an Environment of Belonging and Inclusion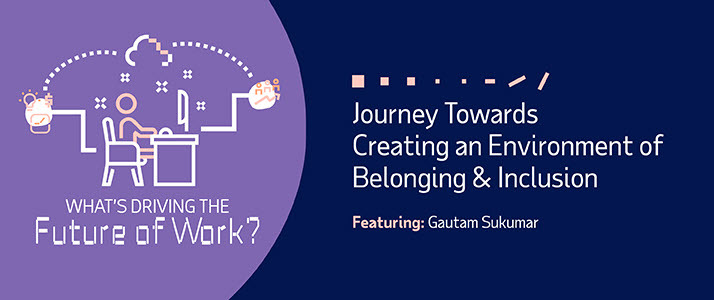 Tapping into diversity data can help employers make more informed decisions.
Watch this segment from Cheddar News (TV network) sponsored by ADP, that features Gautam Sukumar, Senior Vice President, Product Management at ADP. He shares insights about using technology to help move the needle on diversity, how businesses can be held accountable for diversity efforts, how technology and reliable data can help employers build and stay on top of diversity initiatives and why more diverse workplaces leads to better financial results.
Watch this video to learn more about diversity, equity and inclusion (DE&I) technology trends that are shaping the future of work following the recent social justice events and the impact on the workforce.
The video segment above covers these topics beginning at these times:
0.45
Why employers should look at data, target setting and transparency
1:15
How business can be held accountable for diversity efforts
1:47
Why transparency allows for management to communicate with their workforces and share how they plan to reach their diversity targets
2:11
Why technology is core to tracking diversity, equity and inclusion efforts at companies
The value of aggregate data in HR and HCM systems without having to use multiple systems
2:40

Visualization and AI tools that provides insights that can enable managers to take action

3:21
Tools for tracking DE&I initiatives in the workplace
How self-reported, reliable, anonymized diversity data can help employers make more informed decisions
3:38
The power of "nudging" managers and employers with data and insights about what baseline compensation should be, to help them make better decisions
4:15
Why managers should acknowledge there is an issue with DE&I
4:25
4:48
Ways leadership can make strides towards DE&I and building diverse workforces in the future of work
See how easy it can be to view your workforce data and get DEI insights into your organization with ADP DataCloud people analytics. For tips and tools to help foster diversity, equity and inclusion in your workplace, visit our DE&I content hub.
To learn about the other episodes in this series, visit this page.