How Accounting Professionals and Magic Johnson are Approaching the Changing World of Work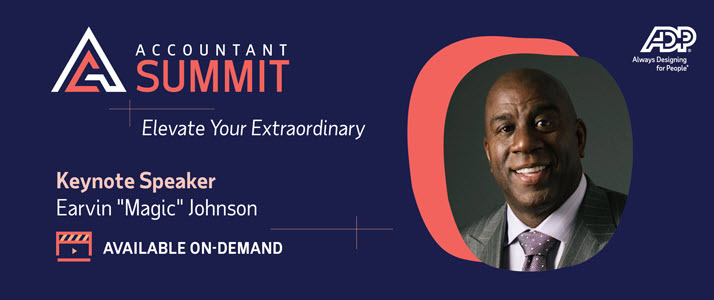 The ADP-hosted virtual Accountant Summit, now available on-demand, offered expert insights on the economy, COVID-19-related stimulus and tax topics, and the "future-ready accounting firm." Here's a look at what was presented, including valuable insights into Magic Johnson's business success and dedication to helping minority and women business owners.
A recurring theme for most professions is that the economic downturn of 2020 created new challenges and forced them to strategically approach their work from new angles. The same can certainly be said for accountants. Suddenly, they were having to focus on securing tax and stimulus benefits in addition to monitoring balance sheets and navigating the complex regulatory landscape. But one fact remained the same; their clients continued to look to them as a trusted advisor amid the chaos.
With the business world now looking to reopen, resume normal operations and adopt new initiatives, ADP hosted the Accountant Summit, a free virtual conference for accounting professionals held on May 20, 2021.
Today, as the world of work evolves faster than ever, it becomes even more important to have the right guidance to navigate through it all, and your expertise continues to be a vital piece of that road map," said Carlos Rodriguez, President & CEO of ADP, during his opening address.
The online event had sessions hosted by 16 speakers, including accounting thought leaders, ADP executives and 12-time NBA all-star Earvin "Magic" Johnson. During each session, speakers shared exclusive insights meant to help attendees modernize their offerings and position themselves as indispensable partners to their clients in the years ahead.
The virtual conference is available for replay on-demand; below is an overview of the sessions, including valuable insights into Magic Johnson's business success.
Finding value in the accountant summit sessions
The ADP Accountant Summit had four presentations, concluding with Johnson's keynote. Following Rodriguez's welcoming remarks, the event kicked off with a Strategic & Economic Update from ADP thought leaders, such as Senior Vice President & General Manager Jim Sperduto who interviewed ADP's Chief Economist Nela Richardson. They shared their economic forecasts, and Anand Pandya, Chief Product Owner for ADP Small Business Services, reviewed new ADP products designed to support accountants and their clients.
In the second session, "The Future-Ready Modern Firm," Tom Hood from AICPA and Darren Root from Rootworks explained the value-added services and technologies accountants should consider as they prepare for a rapidly changing world.
The third session covered COVID-19-related stimulus and tax benefits for clients. A panel of experts, ADP's Pete Isberg and Allinial Global CEO, Mark Koziel, moderated by Accounting Today's Editor in Chief, Dan Hood, reviewed recent new legislation and benefits, such as the Payroll Protection Program, Employee Retention Credits, the American Rescue Plan Act and Paid Sick Leave.
The Accountant Summit schedule was punctuated with Johnson as the final keynote speaker. ADP's Small Business Services President Joe DeSilva interviewed Johnson about his exciting career, which has seen him transition from an NBA star to an incredibly successful entrepreneur as Chairman and CEO of Magic Johnson Enterprises.
Naturally, any conversation with an NBA all-star would have to include some basketball discussion, which is why DeSilva started the interview with some sports questions. Johnson entertained the crowd with stories of his early basketball days. While the audience definitely enjoyed these stories, the conversation about Johnson's business success that followed seemed to make an even greater impression.
Understanding Magic Johnson's business success
Partway through the interview, DeSilva changed gears to talk about Johnson's business career. Johnson started by explaining his first venture, where he worked with Sony Retail Entertainment to build movie theaters in underserved communities around the country.
He then discussed his strategic partnership with Howard Schultz of Starbucks. which allowed Johnson to launch franchises in urban communities, something that was not on the organization's radar at the time.
Johnson also talked about his passion for supporting minority and women-owned businesses, including his work to create a $325 million PPP fund specifically for these business owners, who were often left out of early rounds of funding.
He also answered a couple of questions from future entrepreneurs who wanted to know how Johnson picked his business opportunities and if he had any words of advice and inspiration for those trying to get through the pandemic. In his answer to one last question, Johnson explained what he liked most about his own accountant — a true crowd-pleaser for this audience.