ADP Women in STEM Profile: Nela Richardson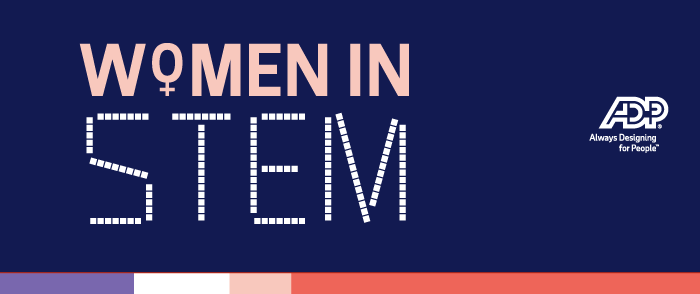 "Don't stick too closely to other people's paths; find people who will support you. Go with the opportunities you have and make the best of them." – Nela Richardson, Senior Vice President and Chief Economist, ADP.
I was a nerd.
Nela grew up in Richmond, Indiana. She was shy, so her mom encouraged her to perform with the community theater, which she loved. Nela was also on the speech and debate team throughout high school.
"I was a nerd. I spent my Friday nights preparing for debate tournaments. I was interested in science and chemistry and went to science camp in the summer," Nela said.
Eventually Nela realized she liked to figure things out more than memorizing elements. She started college at Indiana University planning to major in political science. In her first semester, Nela had a great professor for political science and a not-so-great grad student who taught her economics class. Despite the contrast in teaching, Nela knew she loved economics more. So, she changed her major to economics, and added math and philosophy to round things out. Nela graduated with a triple major; this made it a little hard to figure out what she wanted to do.
Nela thought about being a lawyer, but her honors thesis advisor, a music professor, encouraged her to think about getting a PhD. She imagined teaching, which was a comfortable choice since both her parents were teachers.
"I saw my honors advisor and told him I took his advice and was getting my PhD. He asked in what," Nela recalls. "When I said economics, he said, 'Oh no – maybe you'll be different than most economists I know!'"
She got her master's degree in economics at the University of Pennsylvania, then went on to a doctoral program at the University of Maryland.

Above: Nela Richardson
Becoming an economist
Nela met her husband, who was a fellow economics undergrad student. They eventually married and had a baby two months before she graduated with her doctorate. "I wrote my dissertation when the baby slept," said Nela. "You never know when or how long they are going to sleep. By the time I got to the job market, I was exhausted."
One of her interviews was with the General Accounting Office, the watchdog agency for the federal government located in Washington, D.C. When the hiring manager asked her what she did for fun, Nela replied, "I like to eat and watch TV." Realizing this was probably not a great answer, she tried to clean it up and said, "Sometimes I combine them and watch Food Network." At that point, Nela realized that the interview was effectively over. "I was one of the few people too boring to be in government accounting," Nela quipped.
After she had a little more sleep, Nela landed a job with Freddie Mac and learned about housing finance. She was interested to learn how international it is. This was 2005, when things were building toward the mortgage crisis that started in 2007.
"It was interesting to be at the eye of the storm at Freddie Mac, seeing decisions on an industry wide basis and how they were justified. There were a lot of stories concocted to justify greed," Nela said.
She then did a stint in Boston at the Harvard Joint Center for Housing, a think tank where she continued her research in housing. After that, Nela moved back to D.C. working for the Commodity Futures Trading Commission.
"This was when the Dodd Frank regulation was enacted. Data was at the center of the storm. I spent a lot of time arguing with lawyers as we were doing cost benefit analysis on the new rules. I got a lot of valuable experience," Nela recalled.
A couple years later, Nela was ready for a change. She had also realized that she was making about 60 thousand dollars less than a recently hired male peer doing similar work. Since government pay is lockstep, there was no way to make up the difference.
"I recognized quickly that the only way to increase my compensation was to leave," Nela said. "My husband, who has always been my biggest supporter and who's an even bigger feminist than I am, told me, 'It's not the money itself that matters; it's about the measurement of your worth.' I saw it was not just my own worth; it was important for other women who look like me."
Don't let your title or job description limit your opportunities. Good companies reward people who think beyond labels.
- Nela Richardson, SVP and Chief Economist
Smart women should be normalized.
Nela moved to Bloomberg as their senior economist. The pay was better, and the work was fascinating. But she also ran into assumptions. "I was on a panel with Maxine Waters and some other economists," Nela recalled. "One of the men walked up to me and asked for directions to the bathroom and to bring him a cup of coffee. When I sat down next to him on the stage, he apologized."
"Another time, I was in a meeting where a company executive had come to visit. I was in the room because of my expertise on derivatives. When I asked a question, the executive proceeded to mansplain derivatives to me. Even the other men in the room were uncomfortable because they knew I was the expert. Smart women should be normalized."
Next, Nela moved to Redfin as their chief economist. "I fell in love with tech, having data and a real time indicator of the market," Nela said. "Helping people make better, faster, and more efficient decisions is my North Star!"
Coming to ADP
"I was doing a lot of interviews during 2020, talking about why the markets were performing well, but the economy was devastated. ADP contacted me about working with them. I could not think of a better moment to study labor, especially with ADP's data and their approach to using data transparency to make better decisions," Nela recalled.
Nela joined ADP in late 2020 and is the Senior Vice President and Chief Economist. She is the co-head of the ADP Research Institute® and is leading the economic research for ADP. She's excited to help give both ADP and its clients better insights and tools.
"Whether it's understanding the macro economy or ADP's data, I want to make sure we can do the best for our clients," Nela said.
Best advice
The best advice Nela has received is from her husband, mom, and many others along the way. There is a consistent message from each: be yourself.
"Just be yourself. Be authentic. Be true. And trust yourself. You can only make decisions based on your best knowledge at the time," Nela said. "There's not a lot in this world that can't be changed. If you can change it, don't sweat it."
It's also important to forge your own path. "Don't stick too closely to other people's paths; find people who will support you. Go with the opportunities you have and make the best of them."
"Also, think beyond labels," Nela advised. "Don't let your title or job description limit your opportunities. Good companies reward people who think beyond labels."
To take this approach, you have to be able to imagine new things and be open to learning. For Nela, this means reading a lot. "Reading is your pathway to the world."
It also means connecting and developing meaningful relationships with people who are doing different things. "Develop your network. Get to know people. Be digitally social. Make time for coffee (after it's safe to do so) with people, both inside and outside your organization," Nela said. "Everything is about relationships, and relationships are the key to your career and personal happiness."
Ready for more?
Explore the stories of these and other ADP Women in STEM, and learn about careers at ADP.