How to Complete the I-9 for Remote Workers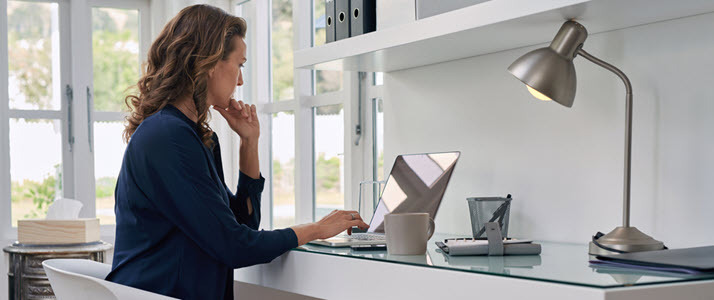 I-9 verification for remote employees doesn't have to be complicated. By understanding the fundamentals of the I-9 form and following current guidance for COVID-19, employers can stay compliant.
I-9 verification for remote employees doesn't have to be complicated. By understanding the fundamentals of the I-9 form and following current guidance related to the global health crisis, employers can stay compliant. Here's what to know.
What is an I-9 form?
Employers use Form I-9 to verify a new hire's identity and work authorization for employment in the United States. All employers (or authorized representatives of the employer) are required to complete an I-9 form for each individual they hire, including citizens and noncitizens.
At the time of hire, employers need to ensure each employee properly completes the I-9 form as well. As part of the I-9 verification process, new hires fill out Section 1 of the I-9 and present appropriate documents to the employer to affirm their identity and prove employment eligibility. Employers must then evaluate whether the documents presented to them appear genuine and relate to the employee. Employers need to record the document information received in Section 2 of the I-9.
The table below shows the basics of Form I-9, which is broken out into three sections. The form also includes a list of acceptable documents that establish both identity and employment authorization.

Completing section 2 for remote workers
Prior to the COVID-19 health crisis, employers were required to examine Section 2 documents with the employee physically present. To start this process, employers would typically ask the new hire to come to the workplace for this purpose. Employers could also designate an authorized agent, such as an attorney, agent or notary public, to fill out Section 2 on behalf of the organization. Reviewing or examining documents via webcam, email, fax or a similar method was not permissible.
However, for workplaces operating remotely as a result of COVID-19, the Department of Homeland Security (DHS) and U.S. Immigration and Customs Enforcement (ICE) have been allowing employers to inspect I-9 documents remotely and postpone review in the employee's physical presence. The current guidance was set to expire on April 30, 2022, but DHS has recently extended Form I-9 requirement flexibility, effective May 1, 2022 through October 31, 2022, as part of ongoing COVID-19 precautions.
The latest guidance, under Section 274A of the Immigration and Nationality Act, states that if an employee is hired on or after April 1, 2021 and works exclusively in a remote setting due to COVID-19-related precautions, they are temporarily exempt from the physical inspection requirements associated with Form I-9. This condition remains until the remote worker undertakes "non-remote employment on a regular, consistent or predictable basis, or the extension of the flexibilities related to such requirements is terminated, whichever is earlier."
What to do when normal operations resume
Once normal operations resume, all employees who were onboarded using remote verification will need to report to their employer within three business days. At that time, the employer verifies and physically inspects the documents that were previously provided by remote means for Form I-9. The employer should then add "documents physically examined" with the date of inspection, either in Form I-9's Section 2 additional information field or in Section 3, if appropriate. Keep in mind that Section 3 is for reverification and rehires.
Employers should also note that, although the I-9 form's requirement flexibility has been extended, they are encouraged to commence, at their discretion, the in-person verification of identity and employment eligibility documentation for employees. This includes employees who were hired on or after March 20, 2020, and those who presented documents to corroborate their identity and eligibility remotely in accordance with the DHS's more relaxed rules, which were first announced in March 2020.
Employers are advised to monitor the DHS and ICE websites for announcements about when the extensions end and when normal operations resume.
Ways to ensure remote I-9 compliance
Employers can ensure that their processes for I-9 verification for remote employees are carried out compliantly in a few ways.
The first action item is to create a policy that clearly outlines who can act as an agent for the organization. Doing so will help the organization avoid potential violations, as state law may restrict who can complete the I-9 on the organization's behalf. For example, California state law limits such services to licensed attorneys, individuals authorized under federal law to provide immigration services and individuals who are qualified and bonded as immigration consultants.
Next, employers should provide clear instructions for completing the I-9 form to prevent costly fines. For instance, employers sometimes designate a notary public as an authorized representative to fill out Section 2 of Form I-9. However, although a notary public is often a responsible choice, notaries should be reminded that Form I-9 does not require a notarial act. Therefore, the notary public should not affix their notary seal on the form. This potential mistake could lead to a violation on a future audit.
Lastly, employers should review all remotely completed I-9s by establishing a review process and validating that all information is entered correctly. Common errors to look for include wrong documents being accepted, missing document information and not retaining photocopies required by the organization or E-Verify.
According to federal regulations, employers need to retain original I-9 forms for three years after the date of hire, or one year after the date employment ends, whichever is later. The forms should be readily available for inspection by authorized government officials, including those of the DHS, the Department of Justice's Civil Rights Division, the Immigrant and Employee Rights Section, and the U.S. Department of Labor. Employers or personnel should never mail Form I-9 to U.S. Citizenship and Immigration Services (USCIS) or ICE.
For additional guidance, employers can refer to the Handbook for Employers M-274 provided by the USCIS.
You can't afford the risk of business HR problems, especially when it comes to compliance. Learn more about small business HR features from ADP.
This article was originally published as an "ADP HR Tip of the Week" which is a communication created for ADP's small business clients.