Ask Addi P.: How Do I Manage Important Employee Communications in Today's Work Environment?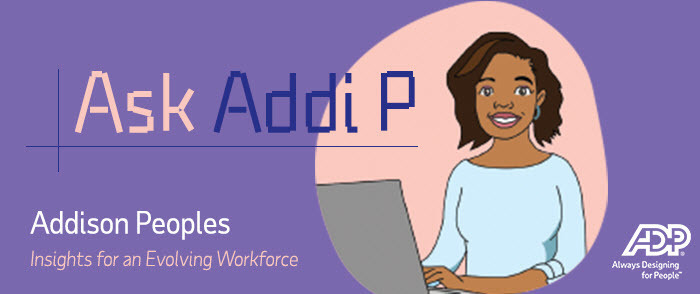 Dear Addi P.,
What are the best practices for HR leaders to discuss topics like promotions, raises and career development with their employees as they navigate the changing workforce landscape? If companies have furloughed employees, how can they communicate with them sensitively and effectively?
— Navigating in Nevada
Dear Navigating in Nevada,
The best way to navigate the changing workforce landscape and approach difficult conversations with your employees is to start with a solid internal communication plan. Your employees are likely going through a lot right now — they may be experiencing everything from health and safety fears to work-from-home isolation to layoffs and concerns about childcare. However, by effectively communicating with them, you can help keep your staff healthy, informed and motivated during these difficult times. Here's what to keep in mind:
Modes of Communication
Consider your employees' well-being when setting the tone for your internal communication plan. Your priority should be finding the best ways to sustain their physical and mental health and meet your business requirements. Once the appropriate tone is established — one that is open, honest and empathetic in nature -you'll be in a better position to discuss other pressing topics like return to work strategies, promotions, raises, career development and annual events such as benefits open enrollment.
Start by establishing a communications platform where important information like the business's COVID-19 response, safety protocols, organization announcements and sources of support for employees will be relayed. Platforms may include e-newsletters, business intranet, social media and video feeds or a combination of all your internal communication channels. Keep in mind that not all employees have access to electronic modes of communications and may be on a worksite or job location. This may require preparing managers to have socially distanced meetings with small groups of employees to relay information, post information in common areas, breakrooms or even mail information to the home to reach the entire workforce.
Confirm that your entire staff — including furloughed employees, employees on a leave of absence, returning from a leave or employees - have access to the proper technology tools and resources for assistance. This will provide an effective forum to address concerns about business impact and employee health and safety as well as answer any questions your employees may have in a timely way.
Performance Evaluations
As you navigate the various changes due to the global health event, it's important to continue having regular conversations about performance to keep your employees motivated and productive during this unusual time. In a pre-COVID-19 world, you might evaluate your employees' performance against goals set last year to see if they're eligible for a promotion or raise. Now, however, you'll have to determine whether those goals have been affected by unforeseen events and, if so, adjust accordingly. This will help ensure a fair evaluation of employee accomplishments, even if a raise or promotion isn't possible due to financial constraints.
There are also other factors to consider when developing your internal communication plan and conducting performance reviews. Some of your employees may now be working remotely due to COVID-19, which could affect your communications method, feedback delivery and goal setting for performance evaluations. Because of this, be sure to have a work policy in place to support remote work and determine the platform you'll use to discuss employee performance (e.g. phone or video conferencing) beforehand.
Whether communication happens in-person or remotely, be sure to listen to the employee carefully and, if possible, address concerns or challenges they raise. Be sure to outline additional resources offered to employees, such as information about your time off, work from home, leave policies and health benefits program (i.e. current health benefits, Employee Assistance Program (EAP), wellness programs and / or voluntary benefit offerings).
Furloughed Workers
Remember that your furloughed employees are still a part of the organization, even if they're not working, and ensure that your internal communication plan accounts for these employees. Employees on furlough should not be working or checking their company email or voice mail daily so you will need to figure out to best communicate with these workers. Designate a person of authority — perhaps an HR leader — who will relay important information like news about the business, COVID-19 policies and updates on furlough-related decisions.
Regular communications will keep the lines of communications open and let your furloughed employees know about important updates on return to work and other information.
Career Development
The global health event has imposed many restrictions on businesses, including bans on travel, events and in-person meetings. However, the bright side of the slowdown is there's additional time for career development. Take this time to talk to your employees about areas they're interested in learning more about. You can also cross-train to gain workplace flexibility, which could help you if your business requirements or demands change in the future.
There's never been a better time to rely on webinars, podcasts, e-books and other digital information resources for career development. This is also a good time for your employees to earn online continuing education credits or take online classes at a university. If your organization has employees who are not desk workers, think about ways to provide them with similar opportunities.
As you can see, there are some bright spots in all of this. With a solid internal communication plan, you can make positive changes in your business and be ready to adapt to whatever comes your way.
Take care,
Addi P.
Get customizable email templates and in-depth information on direct deposit, recent legislation and other valuable topics in the COVID-19 Employee Communications Toolkit.
Addi P. is a digital character who represents the human expertise of ADP. The questions and challenges come from professionals who manage people at companies of all sizes. The advice comes from ADP experts who have a deep understanding of the issues and a passion for helping leaders create a better workplace. If you have a challenge you'd like to pose for Addi P, complete this simple form.
The information provided here is for general informational purposes only and not legal, accounting or tax advice. The information and services ADP provides should not be deemed a substitute for the advice of a professional who can better address your specific concern and situation. Any information provided here is by nature subject to revision and may not be the most current information available on the subject matter discussed.