Workplace Payday Advance Helps Deliver a Competitive Talent Edge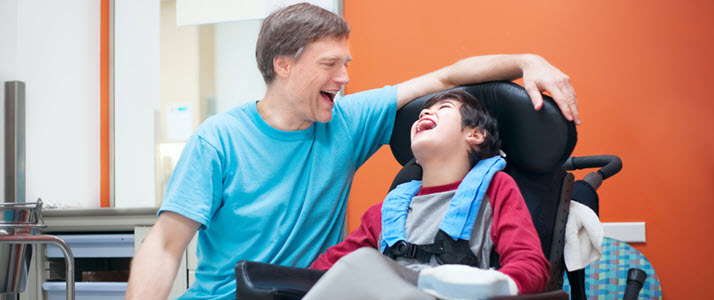 Learn how a new employee benefit offering gave this St. Louis nonprofit a recruiting and retention lift while providing a valuable service for employees.
In today's climate, many organizations struggle to recruit and retain employees. This was especially true for Sunnyhill Inc., a nonprofit in St. Louis, Missouri, that provides services, programs and opportunities for children and adults with developmental disabilities.
The organization — an ADP® client with 435 employees serving over 1,000 children and adults in six St. Louis metropolitan counties — set out to add a new employee benefit solution for two key reasons: One, it realized employees were having difficulty with unexpected bills for things like medical care or car repairs (and even gas money, in some cases). The other driver was Sunnyhill sought out a perk that could set them apart from other employers in the talent wards, while delivering a much-needed benefit to their valued employees. To meet those challenges, it turned to PayActiv, a financial wellness solution available on ADP Marketplace.
With PayActiv, part of a growing trend of tools to help employee better manage their finances, Sunnyhill employees can quickly and easily access their earned, but unpaid income to address those unexpected and immediate needs — without the fear of overdraft or late fees or additional debt, and without having to wait for their regular payday.
"With lower-wage earners, especially when you get into the nonprofit sector, it's hard for people to make it from paycheck to paycheck," says Rosi Neil, Sunnyhill's director of HR.

In fact, according to a 2017 Bankrate.com report, almost six in 10 Americans don't have enough savings to pay for a $500 car repair or a $1,000 emergency room bill.
"Today's climate prompted us to look for a solution like PayActiv," Neil says. "We have been struggling in finding new employees. Also, with the economy where it is right now, we were having trouble retaining people."
Neil explains, for example, that employees will move to another employer for a desired perk or a minor pay boost.

"We were looking not only for something to attract, but also something to create some 'stickiness' with our existing employees," she says. "People can simply move to work with some of the big-box retail stores, with many offering more competitive starting salaries right now."
An opt-in program with a small per-transaction fee, PayActiv operates through a membership model to meet those pressing employee needs and helps them build savings. For instance, should an unexpected medical bill or car repair occur, PayActiv is available to help. Once enrolled, employees can select the amount they need using the "Get" feature in the PayActiv app, and transfer it to their bank, load it on a prepaid card, get it as cash, or pay bills with it—all with a few clicks.
Neil says ADP Marketplace, a digital HR storefront that allows ADP clients to customize their HCM ecosystem, provided the perfect antidote. Through PayActiv, employers like Sunnyhill can also offer access to budgeting and financial counseling and savings tools — a value-added service at no charge. For employers, PayActiv smoothly integrates with the ADP Workforce Now® platform.

When Neil heard about PayActiv, she intuitively knew it would be well-received by Sunnyhill employees, and that's just what happened, as a majority of the workforce uses it. The best part? It requires no administration or costs to Sunnyhill.

"It caught on like wildfire," Neil says. "We introduced the new service at our annual companywide meeting and it just took off."
While Neil doesn't have exact numbers on employee usage, every pay period Sunnyhill sees approximately $8,000 in PayActiv deductions. "I can only imagine that equates to quite a few employees," she says.

To help promote PayActiv, each new hire attends a class to learn about the program. "Word of mouth gets around our workforce," she says. "This is really like a godsend in some ways."
On the attrition front, she says Sunnyhill's management is in favor of anything that can keep the turnover down. There was concern that easy access to emergency cash might incent employees to depend too much on the concept or keep employees from managing their household budgets efficiently. Neil countered with the fact that PayActiv delivers training and support to employees, offering strategies and tools on how to budget, so they may not have to lean on an emergency service when an unexpected event happens. If it does, they have the advance option. Neil says the PayActiv experience has opened her mind to start thinking about other ways Sunnyhill might use more integrated solutions available on ADP Marketplace to improve her HR processes and offerings.
"The entire implementation experience was so simple. It was ridiculously easy," she says. "If in my professional travels I'm asked about PayActiv and ADP Marketplace, I'm definitely going to give both a very good review," she concludes.
Company: Sunnyhill Inc.

Location: St. Louis, Missouri
Industry: Nonprofit
Employees: 435
ADP Marketplace partner: PayActiv
Learn more about PayActiv: https://marketplace.adp.com/payactiv

Each ADP Marketplace solution has passed a world-class security assessment to help safeguard the confidentiality and integrity of your employee data. Security Magazine ranked ADP's security program in the top five in 2017 and 2018.
---