"Better For It" Episode 4: Joah Spearman Discusses the Entrepreneurial Spirit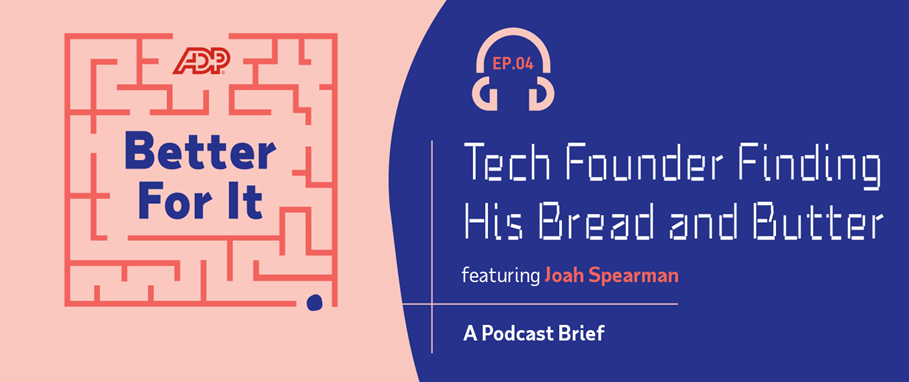 "I've learned more working for other people, working with other people, and supporting someone else's idea as opposed to just trying to constantly convince someone to follow with mine. I think you learn what kind of leader you want to be."
Have you ever thought about a time when your work mistakes may have taught you a lesson that fuels the way you work today?
ADP's "Better For It" podcast talks with leaders about exactly this. We're talking about critical moments — times when you almost lose a business, or question your character.
In this episode, Joah Spearman, CEO and co-founder of Localeur, discusses how he has become a better business leader through adversity and how he continues to cultivate his entrepreneurial spirit.
Joah Spearman and The Entrepreneurial Spirit
Spearman grew up with a single mom who worked two jobs, which developed his financial awareness early in life. "Just being in an environment where you're very aware of your financial circumstances can be really challenging — and definitely instilled in me a very keen understanding that life is what you make it mentally," he says.
From his early entrepreneurial beginnings mowing neighborhood lawns, Spearman's career evolved to include a speechwriting role for FEMA, working at a social media agency and retail opportunities. Ultimately, he founded Localeur, a travel app that helps people experience the best local options in any city they're visiting. Throughout his journey, Spearman realized that he wanted to do more creative work and lean into his strengths, which focused on building communities.
When a pop-up sneaker shop venture ultimately failed, it inspired him to continue innovating. Spearman describes this as "failing forward," taking the positives from an experience and using them to help shape your work.
"You never lose — you just win or you learn," he says.
Spearman applies that same insight to how he now runs Localeur. Advertising wasn't attracting the customers that would help his business grow, so he took success into his own hands.
"That means finding a better story and a better model for how to grow our business," Spearman says. "Even if that means slower — even if that means we're not going gangbusters with crazy numbers and doing something that feels more rooted in quality and authenticity."
Helping Small Businesses Grow
Small business leaders can support their growth and streamline administrative tasks by collaborating with a knowledgeable partner. ADP is supporting small businesses in nearly every industry, with wide-ranging expertise.
Learn more by listening to the "Better For It" podcast today.
Related content
To learn about the other episodes in this series, visit this page.