"Better for It" Episode 2: Wearing All the Small Business Hats with Chef Iliana Regan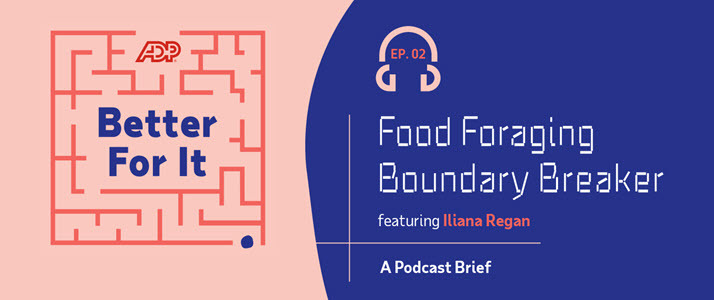 As organizations grow, it is natural to struggle with finding the right ways to overcome small business challenges and map out a way forward.
Have you ever thought about a time when your work mistakes may have taught you a lesson that fuels the way you work today?
ADP's "Better For It" podcast talks with leaders about exactly this. We're talking about critical moments — times when you almost lose a business, or question your character.
In this episode, host Franchesca Ramsey interviews Iliana Regan, head chef and owner of the Michelin-starred restaurant Elizabeth in Chicago. She also wrote the award-winning book "Burn the Place" and founded the cabin-style B&B Milkweed Inn in Michigan's Upper Peninsula. She discusses strategies for meeting small business challenges with creativity, adaptability and a willingness to wear multiple hats.
You have to change your hat throughout the day maybe 10 different times, from dealing with an employee who has a question about their insurance to making sure that they're making their puree smooth enough.
- Iliana Regan, founder and chef at Chicago's iconic "Elizabeth" restaurant
Making Great Food ... and Scrubbing the Floors
After an early career working in some of Chicago's top eateries, Regan decided she wanted her own establishment. She brought an earth-to-table perspective to building her restaurant that included going out of the kitchen to forage for her own ingredients.
When a friend mentioned the underground restaurant trend, Regan began experimenting. Today, that venture has evolved into a Michelin-starred restaurant.
Yet being at the helm of one of America's leading restaurants doesn't mean that the day-to-day demands of running the business don't take a toll, or that it's all glamorous. Regan notes that, while she's training the next generation of culinary leaders (she's opened multiple restaurants and bakeries in Chicago), she's also heavily involved in working to overcome everyday small business challenges. She says that this raises the importance of asking what an entrepreneur wants in their life, both from their business and their lifestyle.
"All of this comes at a cost. I'm still going to Elizabeth and scrubbing floors with [my employees] at night," says Regan. "At a certain point it's like, 'When do I want to try to have a different lifestyle?'"
A critical strategy she notes is the importance of delegating tasks, including the HR function, to expand your success. "Opening the other restaurants had given me that opportunity to relinquish control, which helped me eventually become a better business person — because being a successful entrepreneur is being able to delegate."
Helping Small Businesses
As an organization grows, it's natural to struggle with finding the right ways to meet small business challenges and mapping out your own way forward. ADP has extensive experience with helping small businesses — including those in the restaurant and hospitality industry — manage their payroll, HR and other essential functions. Saving time here can afford owners more time to focus on improving and growing their business.
Learn more by listening to the "Better For It" podcast today.