"Better For It" Episode 1: Patty McCord Talks Culture and Talent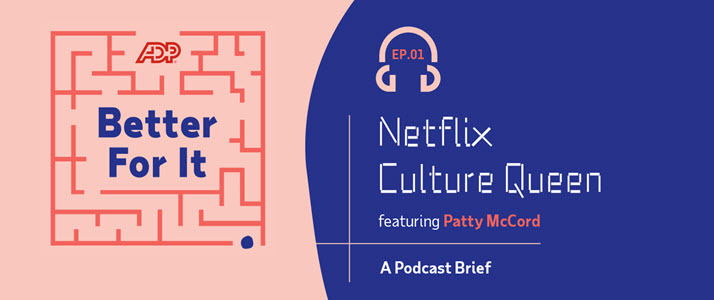 "I want [employees] to really make a difference. I want them to have freedom and responsibility…I had to go look at every single process in the company where somebody has to ask somebody else for permission what to do and remove it." - Patty McCord, HR expert and former chief talent officer of Netflix
Have you ever thought about a time when your work mistakes may have taught you a lesson that fuels the way you work today?
ADP's "Better For It" podcast talks with leaders about exactly this. We're talking about critical moments — times when you almost lose a business, or question your character.
In this episode, host Franchesca Ramsey interviews Patty McCord, an HR and management visionary and former chief talent officer of Netflix. She discusses strategies for making learning and development one of your organization's competitive differentiators.
Culture Drives Talent Development and Success
Creating a successful culture is a cornerstone of evolving your workforce. Netflix's infamous culture deck (a document that's been viewed over 19 million times) was a collaborative effort, and gaining input across the business was critical. McCord says, "We did it collaboratively with the management team, with every employee in the company, and anybody could suggest an edit or make a change to it." The deck was intended to be an onboarding document, as well as a reference point to help Netflix hire and develop their talent smartly.
McCord's commitment to culture and employee development came after she worked at a business that primarily viewed their employees as a number and a position. "And as I drove away, I thought, 'I never want to work in a place where people are just headcount,'" she says.
In addition to setting the tone for cultural development, McCord believes in giving talent the freedom to do their best work. In an organization where she's surrounded by innovation, she felt encouraged to explore new approaches to traditional HR processes by operating as though she was developing a product and starting with the end in mind.
"I'm inviting all of us in HR to take a look at literally every single thing we do, every process, every initiative, every rule, and say, 'What's the purpose of this activity, and does it still meet its purpose?'" McCord says. "I was around innovators all the time, at Netflix, nobody says, yeah, I know it's kinda funky, but we'll just work on it, make it a little bit better. We'd be like, throw it away. We can do better."
Supporting Talent Development in a New Way
As organizations grow, creating strong cultures and designing talent development programs is key. ADP has extensive experience helping organizations of all sizes develop high-performing leaders and managers, and implements customized talent management strategies. Managers have the ability to track team strengths, performance and productivity to encourage ongoing collaboration and make educated decisions to help their employees grow in their careers.
Learn more by listening to the "Better For It" podcast today.