SMBs are collecting more HR data than ever, but SMBOs aren't always sure how best to leverage it. Making the most of emerging "people analytics" requires consideration across four key areas: location, permission, interpretation, and integration.
Small and midsize businesses (SMBs) often struggle with HR data analytics. And it makes sense — as Digitalist Magazine notes, SMB budgets are often stretched thin, and implementing analytic solutions to stay competitive has become more necessary than ever. While owners recognize the value of analyzing collected HR data, determining which data points would be most useful and how to leverage them effectively can prove challenging given the limited time and resources at their disposal.
Need a solid starting point? Build out SMB analytics with four key foundations in mind: location, permission, interpretation and integration.
HR for SMBs: Information in Waiting
According to Venture Beat, while 97 percent of HR departments collect valuable metrics, the number of teams that struggle to gather and analyze these metrics is roughly the same, "mainly due to data systems that are poorly integrated and uncertainty over what to measure."
It's an all-too-familiar refrain for SMBOs: HR data is quickly accumulating and the vast majority of it has value, but extracting this value remains a challenge because the sheer volume of data sources and input types can easily overwhelm SMB staff and owners.
To tackle this issue, small businesses should first identify key data categories within their HR systems, such as:
Benefits —Benefits information can help track existing spend patterns and enable SMBs to predict future use cases and budgets.
Payroll —Knowing how much you spend on hourly wages, salaried employees and applicable tax withholding is about more than just the bottom line: Leveraging this data can help identify staffing trends that can be addressed, such as sharp increases in overtime.
Time Tracking —Minutes and missed shifts matter. Data contained in time tracking software can be used to discover weekly, monthly or seasonal attendance patterns and inform long-term scheduling policies.
Compliance —Size doesn't matter when it comes to compliance. SMBs are responsible for both consumer and employee data security, even if that data is managed or stored by a third-party provider. Regular compliance insight can help inform necessary changes before warnings or fines are levied.
Permission Critical
Permission forms the next pillar of effective HR data analytics. As Deloitte notes in a recent study, while 84 percent of survey respondents said "people analytics" is an important part of performance improvement and 70 percent are "in the midst of major projects to analyze and integrate data into their decision-making," this shift to people-driven insight also comes with the critical step of seeking permission.
Just as consumer data use requires notification about potential third-party utilization in accordance with new legislation like the GDPR and compliance regulations like HIPAA and PCI DSS, staff information must be treated in the same way. For SMBOs, this means asking permission — not forgiveness — when obtaining and analyzing employee information.
Context is King
According to Information Age, less than half of all organizations are using HR-driven analytics to inform day-to-day operations, and almost 30 percent of businesses point to the quality of data they collect as a limiting factor. While this remains a potential roadblock, many cloud-based big data solutions have largely solved the problem of low-quality data collection. So what's the disconnect?
In many cases, the challenge here lies with context. Simply having valuable data isn't enough in isolation; the ability to derive actionable insights depends on the application of context when interpreting data and crafting responses.
For example, consider an SMB struggling to understand why payroll expenses skyrocket during the spring. On their own, records of overtime hours and staff shortages don't explain the phenomenon, but when they're taken in context with other HR data — such as sick leave stats from the same time period — it may be possible to draw more effective conclusions. Moderate-to-severe seasonal allergies affect millions of Americans each spring, and the added costs could be tied to increased benefits usage or overtime to account for sick staff.
In turn, insights like these could allow businesses to bring in extra staff during the seasonal transition to dodge paying more in overtime.
Putting Data to Work
Last but not least is the issue of integration. Despite advances in HR technology, many SMBs are still using legacy systems to track HR data. What's more, owners don't have time to analyze existing shortfalls. As Forbes notes, 86 percent of SMBOs work weekends, more than half only eat one meal at home each day and over 75 percent are still working even when they're on vacation.
As a result, small businesses need solutions for payroll, benefits and time tracking that integrate with existing workflows without increasing operational complexity. It's often more time- and cost-effective to consider HR outsourcing, as the right partner can not only streamline human resource reporting and data collection but also provide the analytic framework necessary to deliver valuable insights on demand.
Better data drives better SMB outcomes, and for SMBOs to realize the full value of HR data analytics, it's critical to opt in across the four key areas of location, permission, interpretation and integration.
SIGN UP FOR THE SPARK NEWSLETTER
Flexible HR support, Plus Technology, All-In-One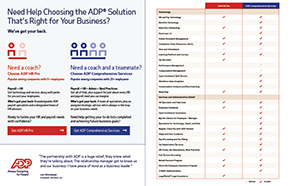 Need help choosing the solution that right for your business?
Get the infographic
Partnering With an HR Tech & Service Provider Can Support Your Business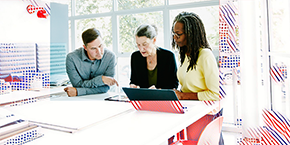 HR Tech & Service Buyer's Guide: Choosing the right administrative services offering for your organization.
Access the guide
The Business Case for Outsourcing HR
The 6 ways outsourcing HR can help boost your ROI.
Get the Guidebook