Improving the Employee Experience Through Diversity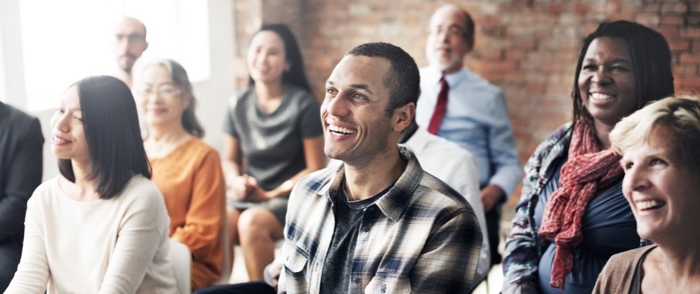 To retain their high performing talent, organizations are focusing on improving their employee experience by fostering employee engagement.
Due to a tightening labor market, employees have more options and are switching jobs to ones that accommodate diversity in lifestyles — jobs where they have opportunities to grow and advance their careers.
To retain their high performing talent, organizations are focusing on improving their employee experience by fostering employee engagement. The employee experience is the entire journey an employee takes with an organization, beginning with the application process and continuing through to their departure. Engagement is the connection the employee feels with their organization, and it can change throughout the employee experience.
Studies have shown that employees who are satisfied with their organization's commitment to diversity and inclusion (D&I) are twice as engaged as dissatisfied employees. Changeboard notes that diverse and inclusive organizations work 12% harder, are 19% more likely to stay longer with the organization, and collaborate 57% more effectively with peers.
Culture Drives Turnover
Diversity is about more than just gender, race and ethnicity. Today, many organizations employ a multigenerational workforce that includes differences in sexual orientation, physical ability, experience, religion, education, politics and socio-economic status. There is evidence of a direct link between organizations with diverse workforces and improved financial performance, engagement and high performance. The message is clear: Employers can generate loyalty and benefit from increased engagement and employee retention by optimizing the employee experience.
Many organizations are using resources on strategies to attract and hire diverse talent only to bring in talent that leaves due to the lack of formal proactive retention programs. Businesses are putting forth recruitment efforts, but many are losing their diverse talent at alarming rates because they struggle with inclusion. Some common barriers to inclusion are systematic biases that stem from business culture. These might manifest in the form of underwhelming support for D&I initiatives from leadership or unconscious bias around work assignments, performance appraisals, promotions and compensation.
Underrepresented employees often face microaggressions and are more likely to be critiqued unfairly for their work contributions or passed over for mentorships and promotions. McKinsey reports that women in unbalanced environments are more likely to have their judgement questioned and face unprofessional or demeaning remarks.
The Kapor Center conducted a national study which revealed that "workplace culture drives turnover, significantly affecting the retention of underrepresented groups, and costing the tech industry more than $16 billion each year." The financial impact cannot be ignored, but there are other negative impacts of a toxic workplace culture. Social media makes it easy for employees to report poor behavior, discrimination, bullying, harassment and other unfair treatment. In this way, mistreatment of underrepresented groups can directly impact branding, talent attraction, recruitment and customer loyalty.
Diverse turnover can directly hurt your customer service if your workforce does not reflect your customer base, and it may hinder expansion into new markets. An organization's reputation can also be adversely affected, which may cause strained relationships with suppliers and shareholders. Studies show that diversity increases innovation, so it follows that a lack thereof would reduce innovation and impact product development.
The Boston Consulting Group reports that businesses with above average diversity in their leadership teams earned nearly half of their revenue from innovative products and services, which is nearly 20 percentage points more than businesses with below average diversity in their management teams.
Challenges to Diversity and Inclusion
Unfortunately, many D&I efforts are hampered by difficulties. One key challenge is a lack of understanding around D&I — for instance, how is diversity defined? If you ask around your organization, you will get different answers, but it's important that employees understand that diversity is not one-dimensional or defined by stereotypes.
Diversity is multidimensional, and I define it as the inclusion of different types of people in a group or organization. Those differences may include race, ethnicity, gender, sexual orientation, socio-economic status, age, physical abilities, religious beliefs, political beliefs, indigenous status, experience or other characteristics that are intrinsic to who we are.
Diversity isn't about filling a quota, and encouraging diversity should not mean bringing in unqualified or less skilled individuals to do so. Leaders should highlight the benefits of diversity in the workplace and share the organization's personal goals throughout the organization at all levels.
Engaging Employees Through D&I
Diversity is about variety in representation; inclusion is about engagement. To encourage inclusion, one must create an environment where everyone, regardless of their dispositions and viewpoints, feels respected, welcomed, valued and included by their teammates and superiors. Inclusion is felt when people are inspired to contribute, when they feel like they belong, when they feel valued for their participation, and when they can be their authentic selves in the workplace. If these points are satisfied, inclusive cultures can leverage the diverse experiences, perspectives and ideas of their workforce to drive customer engagement and business results.
Supporting D&I allows for an environment where people aren't judged unfairly; instead, they are given an opportunity to contribute to the overall success of the organization. Encouraging D&I is not just the "right thing to do," it is critical to enhancing business performance because it can bridge the gaps between diverse talent attraction, engagement and retention.
Keeping your diverse talent engaged and motivated is essential to retention, and building a culture that supports D&I can lead to more positive employee experiences. By providing diverse employees with tools, resources and support, organizations can encourage participation, foster engagement and empower all their employees to share ideas and grow.
Prioritizing the Employee Experience
While most leaders understand and prioritize the need to improve the employee experience, some find it challenging to support their diverse workforce and measure the effectiveness of their initiatives. Best in class organizations tie their employee engagement initiatives to their overall business objectives and clearly communicate the strategy via multiple channels at all management levels. Organizations must clearly articulate their D&I statement and ensure that their people, policies and processes reflect those values.
Deloitte reports that the behavior of executives and managers can drive a difference of 70 percentage points between the proportion of diverse employees who feel included and those who do not. The senior leadership team should demonstrate inclusive behaviors and hold all levels of management accountable for fostering inclusive environments that help all employees to thrive and innovate.
When leaders prioritize the employee experience, they position themselves to join the growing number of organizations who yield positive results. Research from Harvard Business Review concludes that businesses that invest in optimizing their employee experience are included 11.5 times as often in Glassdoor's Best Places to Work and are listed 28 times more often among Fast Company's Most Innovative Companies. Engaged employees deliver 57% more effort than uncommitted ones, and businesses with diverse teams tend to see greater engagement, innovation and productivity.
Research shows that diversity in the workforce affects financial performance and engagement, and greater engagement can increase employee retention and contribute to business success. To flourish in these areas, organizations should support diversity and inclusion initiatives that can help create a positive employee experience for all.