Record-Breaking ADP Conference Spotlights Workforce Transformation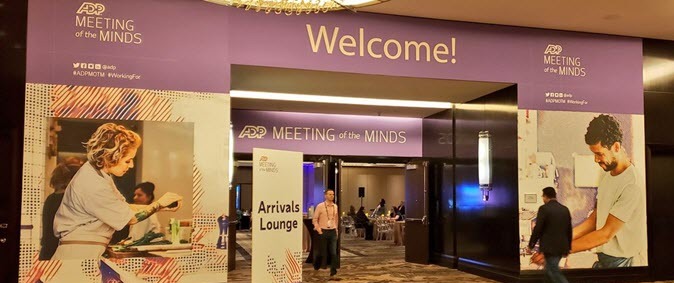 HR professionals gather in Las Vegas to learn, network and grow.
Human resources professionals from across the U.S. learned about the latest trends in human capital management (HCM) at the 26th annual ADP® Meeting of the Minds Conference (MOTM). More than 1,600 people representing more than 400 large enterprises gathered in Las Vegas for this year's ADP MOTM – breaking conference attendance records. In addition to inspiring speakers and performances, participants had the opportunity to earn continuing education credits through more than 150 conference sessions on topics, such as HR, benefits, payroll, global and compliance solutions.
President of ADP National Account Services Debbie Dyson welcomed conference attendees by reinforcing ADP's newly-launched brand platform -- Always Designing for People, which means ADP never stops reimagining a better world at work, so people can focus on what they do best. In keeping with the ADP campaign, Dyson also asked attendees and speakers, what are you #working for?
Dyson shared what she's working for, "I am working for what I love best. It is hopefully creating an environment that helps people bring their best selves to work every day by challenging them to see something they don't."
The event included an inspiring performance by Grammy Award-winner and Hamilton star Leslie Odom Jr., who later joined Dyson on stage for an interview during which he shared his personal and professional motivation.
"I'm working to find a deeper sense of purpose," Odom Jr. said. "What I have discovered since leaving Hamilton is, really, if I bring myself, all of myself, to each interaction, to each moment in the day, I just get so much – I can do so much more," he added.
Award-winning journalist Soledad O'Brien, who delivered the opening keynote presentation, shared the importance of diversity in business as witnessed throughout her life and career. O'Brien also emphasized the value in empowering people to tell their own stories.
"I would guess a lot of us are all working for the same thing, even if we have different stories…" O'Brien said. "We're working for our families. We are working for a legacy. We are working to put someone through college. We are working to take care of our parents. These are the things that unite us."
The event closed with quite the inspiring story from Eric Weihenmayer, who's the first person to summit Mount Everest blind. He has gone on to conquer all the top peaks on every continent. Now, he is on a journey to help others through his No Barriers organization.
The learning and inspiration carried through the conference breakout sessions, in which attendees also had the opportunity to earn continuing education credits. In addition, the Solutions Lab, provided ADP clients the ability to engage subject matter experts across HCM solutions. Clients also participated in research sessions helping to shape future product innovation and also spent time with our learning organization at the MOTM Learning Café.
As part of conference tradition, ADP closed the conference by honoring five enterprise clients who demonstrated excellence in HCM. This year's Client Awards recognized outstanding achievement in employee culture and engagement, workplace innovation, diversity and leadership.
"Our 2019 winners are driving change and innovation in the workplace, are breaking down barriers to create more productive, people-centric cultures, and are demonstrating how HR leaders can help design the future of work. ADP is proud of their achievements and honored to partner with them to create better ways to work through increased productivity and employee engagement," Dyson said.
ADP selected the winners with input from independent industry experts, who provided an objective analysis of best practices and HCM technologies. The 2019 honorees are:
Culture at Work Award Winner: Casey's General Stores
This award honors an organization that deploys programs that drive sustained employee engagement through a dynamic, best-in-class workplace culture. Casey's, a convenience store/gas station chain with 2,000 stores in the Midwest, actively promoted an enhancement with ADP Recruiting Management to mitigate issues with new hires being ineligible for the Work Opportunity Tax Credit (WOTC) due to hire date discrepancies. As a result, Casey's experienced zero new hires dropping from WOTC eligibility, with an anticipated result of six figure improvement in tax credit dollars captured. Additionally, with the rollout of ADP DataCloud and Executive and Manager Insights, Casey's was able to serve necessary HR data straight to the managers without using cumbersome spreadsheets. This data was delivered directly to the smartphones of the managers that need to make real time decisions, resulting in greater control over employment spend by greatly reducing overtime Costs, while saving the managers 30 minutes per week at the same time.
People at Work Award Winner: Victra
This award showcases an organization that encourages its people to thrive in the face of HCM transformation, resulting in improved efficiencies and/or saved resources. Victra, an exclusive agent for Verizon Wireless with operations in 1,040 stores and 47 states, partnered with ADP to implement Optimized Scheduling and Budgeting with our Enterprise eTIME® solution to leverage POS and traffic data to align their staff with customer demand. As a result, Victra store sales conversion rose by 4.5 percent and Net Promoter Scores (NPS) rose by 6.5 percent. The tools implemented for Victra were made available as an option for all Enterprise eTIME Retail and Hospitality clients. Victra has since implemented the ADP proprietary program to place their best employees during peak business times creating significant incremental sales conversion.
Innovation at Work Award Winner: Valley Bank
This award recognizes an organization that has demonstrated a commitment to driving workplace innovation. Valley, a national bank headquartered in Wayne, New Jersey, is dedicated to implementing the latest technology to engage employees while building a culture where innovation, collaboration and ideas are drivers for success. Recently, Valley turned its HR systems into a "one stop shop" through MyADP. Employees were quick to deliver positive feedback regarding the new interface, with many employees embracing the single point of entry for all HCM services. Valley's early adoption of the ADP Mobile Solutions App helped it establish its own mobile presence and provided key insight in the innovation of this solution for all ADP clients. Valley's dedication to best in class, cutting-edge solutions has kept it on the forefront of HCM innovation.
GlobalSolutions at Work Award: Cisco Systems, Inc.
This award celebrates a global organization that has successfully demonstrated HCM leadership by leveraging technology and processes around the world. The Marcus Buckingham Company, an ADP company, partnered with Cisco Systems, Inc., to conduct engagement research with a focus on helping employees use their strengths to drive excellence in their teams. To encourage every team to harness individual team member excellence, build trust and create shared understanding of excellence, Cisco Systems, Inc., embraced a comprehensive approach to supporting employees using the StandOut platform with over 90 percent of Cisco employees completing the StandOut Assessment. Powered by StandOut technology, Cisco Systems, Inc., has embedded the rituals of the world's best team leaders into the day-to-day practices of the company and found that frequent check-ins between team leaders and team members drives higher employee engagement.
Humanity at Work Award Winner: Sodexo
This award distinguishes an organization that has developed a workplace environment where diversity and inclusion are embraced and recognized. Sodexo is a multinational organization that provides "Quality of Life" on-site and home services to multiple sectors, including government services, healthcare, schools, energy and sports and leisure. Among Sodexo's core values are diversity, inclusion, opportunity and sustainability; these pillars have built an environment for employee and client growth. Among the world's largest employers, Sodexo's policies serve as an industry benchmark. It has been recognized by nonprofits, NGOs and other trade organizations and media outlets from around the world for its efforts in driving an open, inclusive environment. Sodexo partners with ADP to ensure a streamlined approach to the demanding logistics of payroll, HR support and employee training that a truly global company requires.