Reflections from ADP ReThink: Top 3 Lessons in Global Transformation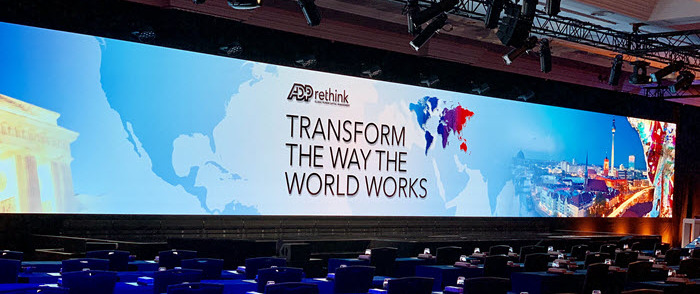 Today, most businesses are focused on how they can transform the way they work and adapt to the needs to come.
The 2019 ADP ReThink Global HCM Conference drew the world's top human capital management (HCM) leaders to Berlin for three days of networking and learning. Given its own transformative history, Berlin provided the perfect backdrop to talk about pivotal changes driving global business. The event, which marked its 15th year, set a new attendance record with more than 250 leaders representing nearly 150 global enterprises.
The slate of speakers tackled topics from globalization to shared services to talent activation and beyond, all providing a mix of global leadership and industry expertise.
Host of Fareed Zakaria GPS for CNN Worldwide, columnist for The Washington Post, and bestselling author Fareed Zakaria set the stage providing perspective on the dynamic shifts in international relations and their impact on the global economy.
"There's a lot of crazy politics happening around the world," Zakaria said. "Despite all this politics, there has been a period of synchronous global growth that you have not had in 40 years."
President and CEO of the International Rescue Committee (IRC), The Right Honourable David Miliband, who was the former Foreign Secretary of the United Kingdom, spoke about the global refugee crisis. "There are more people caught up in conflict and disaster than ever," Miliband said. His organization, the IRC, helps refugees and displaced people rebuild their lives.
ReThink's closing keynote brought the audience to its feet. Legendary musician and global human rights activist Peter Gabriel earned a standing ovation after his performance of Solsbury Hill.
Joined by his daughter, singing backup, Gabriel also performed Mercy Street. Before the performance, Gabriel spoke in an interview moderated by British TV personality and musician Bill Bailey. In it, Gabriel addressed the importance of using music as a platform to make a difference in the world.
"More and more of the problems we're looking at are global in nature," Gabriel said. "[Musicians] can harness the emotions with music, but you still need ideas. For peaceful means…music is a powerful tool."
The remarks from these international headliners were threaded by in-depth sessions from global business leaders, ADP clients, whose stories of organizational transformation delivered eye-opening lessons for most, if not all, businesses. ADP client speakers included Facebook, Microsoft, First Data, Delphi Technologies, Kennemetal and SEG Automotive. As I reflect on their presentations, I recall some universal truths that stand the test of time.
Embracing change is the recipe for success – even when it doesn't come easily.
Most, if not all, of businesses face change throughout their existence. Ready or not, global business is evolving, along with the workforce and technology that support it. Anticipating change is typically the best course of action, but in many cases, business leaders find themselves forced to adapt to new conditions without a clear path. These changes can come from any number of sources – global regulation, workforce patterns, new technology and more. Regardless of the source of change, businesses most likely to thrive through it take the time to assess how work gets done and find new ways to empower their teams.
We have more in common than we may realize.
Story after story, across diverse industries and different global footprints – business leaders encountered some of the same challenges. Some had to transform to adapt to new regulations in specific countries or others needed support to transform their HCM processes. Many experiences tied back to data and the need to create a single source of data truth. With quality data as the key tool – businesses could identify strategic opportunities, put insights to action and gain the necessary support to make better business decisions.
Innovation goes beyond technology, but new technology certainly drives us.
While the next product and tool certainly piques the interest of most business leaders, the reality is that innovation cuts across the business landscape. Within HCM, we saw innovative ways to support, create and lead teams that combined the human element with technology. The innovation, enhanced by state-of-the-art tools, also involved shifts in perspective on how to activate talent and tap into teams in ways that elevated the employee experience and drove productivity.
With these takeaways in mind, global business leaders are more connected than ever, operating with a global workforce better able to seize new opportunities. Today, most businesses are focused on how they can transform the way they work and adapt to the needs to come. For me, it is point of pride to see the role ADP has taken in enabling these transformations to unfold.
Please follow this link for resources from ADP® ReThink Global HCM Conference.